Minister for Children Katherine Zappone has contradicted the Taoiseach over some details of the McCabe controversy.
Minister Zappone says she told Enda Kenny last week that she had met Sergeant McCabe and his wife Lorraine before last week's Cabinet meeting and that they had discussed allegations involving Tusla.
However, yesterday, the Taoiseach said he would not have been aware of any of the details of Minister Zappone's meeting with Sgt McCabe. 
"What did Katherine Zappone tell you, and what did her officials tell your officials?" the Taoiseach is asked. pic.twitter.com/6qCZDyUSMU

— RTÉ News (@rtenews) February 12, 2017
In a press conference this afternoon, Minister Zappone said she did not mention the file regarding unfounded allegations of sexual abuse against Sgt McCabe to the Taoiseach to protect the family due to the highly sensitive nature of the material.
In a statement this evening, a Government spokesman said Minister Zappone took the correct course of action by not divulging any of the details with the Taoiseach or anyone else in government.
The spokesman added that Ms Zappone engaged with Sgt McCabe about sensitive and personal matters and "quite rightly respected his privacy and confidentiality in relation to these matters".
He said: "As the Taoiseach has said previously, he was not aware of the details, or of the very serious and disturbing issues that arose at the meeting". 
Brendan Howlin says there is a contradiction in the accounts between the Taoiseach and Minister Katherine Zappone over McCabe meeting pic.twitter.com/3qCzsfkSZW

— RTÉ News (@rtenews) February 13, 2017
Minister Zappone also revealed that electronic files involving Sgt McCabe and the allegation have been cleared as per his request, but a paper record is under "lock and key" to be examined as part of the Commission of Investigation.
Minister Zappone said if she could be accused of anything it is that she is politically naive but she does not think she is.
The minister said when she met the McCabes on 25 January the heavy burden of the hurt and devastation they felt "was so apparent to me".
She said they told her that the most recent information they had received under Freedom of Information with regard to Tusla was worse than anything they imagined.
The minister has announced that an independent statutory investigation will be set up to look at how the child and family agency, Tusla, manages allegations of child abuse.
She said the Health Information and Quality Authority would assist in the drafting of the terms of reference.
Katherine Zappone has asked HIQA to 'undertake an independent statutory investigation' pic.twitter.com/tAzmYDh4gb

— RTÉ News (@rtenews) February 13, 2017
Labour leader Brendan Howlin said there is a direct contradiction between the accounts of the Taoiseach and Minister Zappone.
Speaking on RTE's Six One, Mr Howlin questioned that if Ms Zappone had the meeting with the Taoiseach in advance of the Cabinet meeting, where Tulsa was mentioned, how could it have been that neither of them mentioned anything in the Cabinet meeting in relation to Tusla. 
He said he understands the McCabes' view that they cannot have another 18 months of a "private" investigation.
He said he also believes there is a need for a public inquiry and there is scope for the Garda Siochana Ombudsman Commission to carry out a criminal investigation.
"I'm very loathed to say we should have a public inquiry again. But I've never in my political life seen a more compelling reason to have one."
He also said he believes the Garda Commissioner should stand aside "until all matters are determined".
O'Callaghan says 'crazy' to collapse Government
Earlier, Fianna Fáil justice spokesperson Jim O'Callaghan said he is "100% certain" that he mentioned the Tusla file on Sgt McCabe to the Minister for Justice last Wednesday.
Tánaiste Frances Fitzgerald yesterday said the first she heard of details of the file and unfounded allegations against Sgt McCabe was when she watched RTÉ's Prime Time more than 24 hours later on Thursday.
Mr O'Callaghan said this evening that it would be crazy if the Government collapsed over differences between himself and the Tánaiste about what was discussed.
He said: "If we don't get this sorted out, the Government will collapse. I think that would be crazy, for the Government to collapse. I think the important thing is that common sense enters into this.
"The public aren't too worried about a discrepancy between what I say and what the Tánaiste says. What they're interested in is getting a Commission of Investigation established, and the terms of reference agreed.
He added that "If the Dáil collapses this week we won't have a Commission of Investigation. That serves the interests of no one."
This is now a bitter row between the main Government party and Fianna Fáil, which facilitates the minority Government from the Opposition benches.
Both sides remain entrenched in their positions ahead of this week's no confidence motion in the Government tabled by Sinn Féin.
Labour leader Brendan Howlin has said his party will be voting no confidence in the Government on Thursday.
Speaking on RTÉ's Today with Sean O'Rourke this afternoon, Mr O'Callaghan said he met Ms Fitzgerald to forewarn her and the Government about the Prime Time programme and said he referenced the State agency at least three times in the conversation.
O'Callaghan '100% certain' he mentioned Tusla file to Tánaiste https://t.co/9NSjzwxn4J pic.twitter.com/yvQF8D9DT9

— RTÉ News (@rtenews) February 13, 2017
He said he also told Ms Fitzgerald that she should speak with Ms Zappone as Ms Zappone had met Sgt McCabe and knew about the Tusla file.
He said: "I'm 100% certain that I did mention Tusla and I'm also 100% certain that I said to the Tánaiste, and the words I used were - 'Frances, you need to speak to Katherine Zappone' because she has met Sgt McCabe and she has full knowledge about this issue."
Mr O'Callaghan added that he and the Minister for Justice also spoke at length about extending terms of reference for the Charleton Commission of Investigation.
The commission is to examine whether there was a smear campaign against Sgt McCabe orchestrated by senior gardaí.
Mr O'Callaghan said he did not mention Tusla in the Dáil debate on the terms of reference last week because he had a limited amount of information.
He also said that Commissioner O'Sullivan should assess where she stands, and if she thinks the matter is interfering with her ability to do her job then she should take that into account.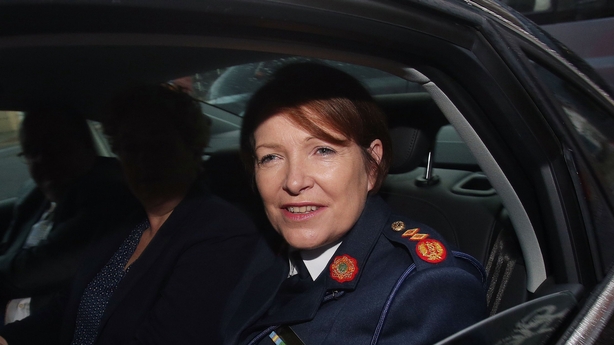 However, he said there is a principle that allows individuals to defend themselves and this should apply to Commissioner O'Sullivan.
If the allegations against Commissioner O'Sullivan are found to have substance, Fianna Fáil would call for her to be removed, he added.
Ms Fitzgerald avoided speaking to waiting media about the scandal at an event at the Department of Justice this morning.
The minister launched a report on the findings of a family intervention programme for prisoners, and gave a speech at the event, but arrived and left through a back door in the room, and a back door of the building.
Minister for Housing Simon Coveney has said an explanation is clearly needed about what happened in the conversation between Ms Fitzgerald and Mr O'Callaghan.
Speaking on Red FM this morning, Mr Coveney said he believes Ms Fitzgerald when she says something and added that the Fianna Fáil statement disputing her version of events was a twist he was not expecting.
The sooner the issue is resolved, he said, the sooner they could move on from a "political disagreement" to the establishment of a commission of investigation that needs to do very important work.
The idea seemed "non-credible" that Sgt McCabe, "probably the most high-profile whistleblower in the State", happened to be the victim of a clerical error which was damaging and smearing him and linking him to allegations of child sex abuse in the worst possible way, he said.
He said that is why it was now important to move from rumour and allegations to establishing the facts.