Taoiseach Enda Kenny has said he is not ruling out a criminal investigation into the Maurice McCabe affair but said there has to be evidence of criminality.
Speaking on RTÉ's This Week programme, Mr Kenny said the central issue for the Charleton Commission of Investigation is to find out the truth and determine if there was a scheme against Sgt McCabe based on erroneous allegations of sexual misconduct.
"In order to have a criminal investigation you have to have evidence of criminality. As the Charleton Inquiry gets under way, who knows what may arise here.
"So, I don't rule that out."
He continued: "The central issue here is, was there a programme of systemic doing-down of Sgt McCabe based on erroneous sexual allegations and rumours by senior police?"
"It is about the truth and I hope that we can find that in the shortest time and provide justice and understanding so the people of the country that they can trust the system."
When asked if he heard the false rumours about Sgt McCabe, the Taoiseach said: "I don't deal in rumours or allegations or hearsay. I have to deal in fact".
Taoiseach is asked "When did you first hear the rumours that were circulating about sergeant McCabe?" pic.twitter.com/zgezEqiAYj

— RTÉ News (@rtenews) February 12, 2017
Mr Kenny said an allegation of this nature against anybody would be "soul destroying".
When asked if he would like to apologise on behalf of the State agencies he replied, "I do".
Garda whistleblower Sgt McCabe rejects HSE apology
Mr Kenny said the Minister for Children Katherine Zappone had told him that she intended to meet with Sgt McCabe privately.
"What did Katherine Zappone tell you, and what did her officials tell your officials?" the Taoiseach is asked. pic.twitter.com/6qCZDyUSMU

— RTÉ News (@rtenews) February 12, 2017
He said "that is all I knew", adding that he told her to make a thorough account of the meeting.
The Taoiseach said he was not aware of any of the details of the meeting when the Cabinet met last Tuesday and he did not ask her about it because Ms Zappone was meeting him in a "private capacity".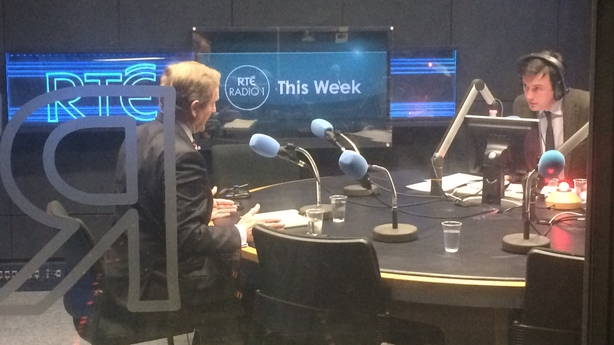 In relation to Brexit, Mr Kenny repeated his view that there will be no return to the borders of the past.
He warned he would not stand for a situation where there are customs posts along the border and he wants to continue the good relationship between the gardaí, the PSNI and British police to tackle any criminality that could arise.
In relation to his upcoming visit to Washington for St Patrick's Day, the Taoiseach said the visit is not about presentations in the White House, but symbolism about the contribution made by Irish people in the US.
He said he intends to raise the issue of the undocumented Irish.
Whatever his values, he said, the Government has a duty to work with the Trump administration.
He added that the Government has a responsibility to stand up for Ireland and its people in the US, and that they will not shirk that responsibility.
In relation to his leadership of the Fine Gael, the Taoiseach said party colleagues have "certainly not" put a timeline of the summer for him to step down.
He said Fine Gael have an agreed timetable in place with Fianna Fáil and number of challenges they want to address, including several pay disputes, Brexit and the Eighth Amendment.