Taoiseach Enda Kenny has ordered a "complete review" of US preclearance in Ireland after the Trump administration's decisions on immigration over the weekend.
Over the weekend, Mr Trump put a 120-day hold on allowing refugees into the US, an indefinite ban on refugees from Syria and a 90-day bar on citizens from Iran, Iraq, Libya, Somalia, Sudan, Syria and Yemen.
Dublin and Shannon airports are among a small number of sites in the world that offer preclearance to passengers travelling to the US.
By clearing customs and immigration checks before departure, they are then treated as domestic arrivals on reaching the US.
"In respect of the policy introduced by the American government, I disagree with it," Mr Kenny told a press conference at Government Buildings.
"I will obviously say that to the president and vice president when I meet with them."
The issue of preclearance at Irish airports will be discussed at Cabinet tomorrow.
Speaking on RTÉ's Clare Byrne Live, Minister for Foreign Affairs Charlie Flanagan said he "fundamentally disagrees with what President Trump has done".
He agreed with the Taoiseach's decision to carry out a review.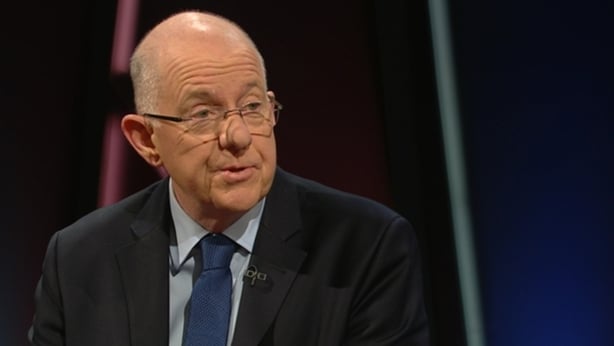 The minister flies to Washington for a series of pre-arranged meetings tomorrow. He said he would be using the time available to highlight difficulties experienced by undocumented Irish citizens.
A spokesman for the Department of Transport confirmed that there has been one case where a person was refused preclearance to the US at Dublin Airport. It is not known where the individual is from.
It is understood that the new immigration regulations have so far had no impact on passengers travelling to the US through Shannon Airport.
Minister for Transport, Tourism and Sport Shane Ross has said the Trump administration's decisions on immigration will have earth-shattering consequences globally.
Speaking after addressing a meeting of the Association of European Journalists, Mr Ross said he was very concerned about what President Donald Trump had done.
He stressed that the US immigration policy is being implemented by American officials, with no Irish involvement by staff of the DAA, the body that oversees Dublin Airport.
He said that was the agreement, and it is being adhered to at the moment.
Asked about his Cabinet colleague Katherine Zappone writing to the Taoiseach seeking an investigation into the operation of preclearance arrangements, Mr Ross said he would be making his views known to the Cabinet tomorrow, and will also discuss the issues with his Independent Alliance colleagues.
The Independent Alliance was also due to discuss whether it would be appropriate for the Taoiseach to meet Mr Trump on St Patrick's Day. The planned visit has been criticised.
Mr Ross said he was not sure all members of the Independent Alliance would reach a common position, but they would not make their position public until after Cabinet tomorrow.
Minister of State John Halligan said it is his personal view that Ireland should take a strong stance against Mr Trump and what he called the US president's racist views and obnoxious view on women by declining the invitation to the White House for St Patrick's Day.
Meanwhile, Richard Boyd Barrett of the Anti-Austerity Alliance-People Before Profit said his party is looking to put down a Dáil motion calling on the Taoiseach to cancel the White House invitation.
He said Ireland should ensure that the Taoiseach does not go to Washington and "grovel" before a "racist and dangerous bully".
Minister for Children Ms Zappone earlier said that she is requesting a review in relation to preclearance at Dublin and Shannon in light of Mr Trump's measures.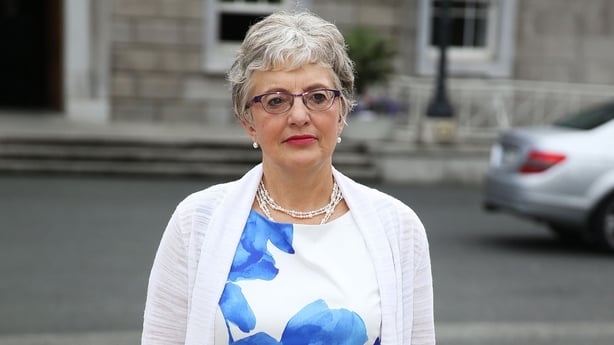 She described the travel ban as "deeply objectionable from a human rights and equality perspective".
However, she has said that despite Mr Trump's actions, she thinks Mr Kenny should go to the White House for St Patrick's Day, but that it should be kept under "constant review".
She said that there are a number of things he needs to discuss with President Trump, in terms of trade and the economy.
Minister for Education Richard Bruton said he believes the Government should use its influence with US decision makers to try to influence their actions.
He said Ireland had long associations with the US administration and with Congress.
Legal permanent residents of US exempt from ban
Meanwhile, a senior US administration official in Dublin has clarified that legal permanent residents of the US are exempt from Mr Trump's executive order.
This means that green card holders, including dual citizens of Ireland and one of the seven countries on the list, will not be turned away from the US.
However, dual citizens who were due to have a visa interview at the embassy are being advised not to attend as the visa will not be issued.
Minister of State for European Affairs Dara Murphy said the travel ban imposed by Mr Trump gives rise for "a lot of concern".
Speaking on RTÉ's Morning Ireland, Mr Murphy described the order as a "blunt instrument" and said that this is a time when we should be working hard to reach out to those who want to travel and operate in a global fashion.
He said that, in his view, this type of measure will only play into the hands of those who have suspicions about how the western world operates.
Mr Murphy said he did not believe it would be particularly noticed by the current administration, if the Taoiseach did not visit on St Patrick's Day.
He added it would be important for Mr Kenny to deliver a strong message about Irish and European values.
Speaking on the same programme, Professor of Global Legal Studies at Birmingham Law School Fiona de Londras said that Irish law applies at US preclearance in Irish airports and if someone is refused at preclearance, they should have the opportunity to request protection in Ireland and to ask not to be sent back from the place they originated.
In addition, they have the right to redress in the Irish legal system, Prof de Londras said.
She said that Ireland has a clear obligation to prevent and not engage in nationality-based discrimination, and must protect those who may have dual citizenship with the EU and one of the seven countries listed under the temporary US travel ban.
Prof de Londras said that it was important that we get answers from US authorities and that the Government properly assesses what is happening at preclearance, and if necessary, make a decision on whether to allow the laws be applied on Irish soil.