US President Donald Trump has insisted that his executive order temporarily halting travel from seven majority-Muslim countries was "not a Muslim ban," after it was met with global outrage and huge protests across the United States.
In a statement, he said: "America is a proud nation of immigrants and we will continue to show compassion to those fleeing oppression, but we will do so while protecting our own citizens and border. America has always been the land of the free and home of the brave.
"To be clear, this is not a Muslim ban, as the media is falsely reporting. This is not about religion - this is about terror and keeping our country safe," he said, adding that more than 40 Muslim countries were not affected by his order.
His statement comes amid growing international criticism, outrage from civil rights activists and legal challenges over his order which came into force last Friday.
But confusion persisted over details of implementation, in particular for green card holders who are legal residents of the United States.
In his most sweeping action since taking office, Mr Trump put a 120-day hold on allowing refugees into the country, an indefinite ban on refugees from Syria and a 90-day bar on citizens from Iran, Iraq, Libya, Somalia, Sudan, Syria and Yemen.
Yesterday, he said that his "very strict" crackdown on Muslim immigration was working "very nicely".
"Our country needs strong borders and extreme vetting, NOW. Look what is happening all over Europe and, indeed, the world -a horrible mess!" Mr Trump tweeted.
Our country needs strong borders and extreme vetting, NOW. Look what is happening all over Europe and, indeed, the world - a horrible mess!

— Donald J. Trump (@realDonaldTrump) January 29, 2017
"Christians in the Middle-East have been executed in large numbers. We cannot allow this horror to continue!" he added.
Mr Trump presented the policy as a way to protect Americans from the threat of Islamist militants. His comment could fuel charges that the new policy singles out Muslims.
The so-called Islamic State militant group has targeted minorities with brutal attacks and systematic oppression in Syria and Iraq, but it has also killed, tortured and punished both Shiite and Sunni Muslims in areas under its rule.
In an indication that the policy is evolving on the fly, White House Chief of Staff Reince Priebus said on NBC's "Meet the Press," that the order "doesn't affect green card holders moving forward."
However, he added that such people would be subjected to extra questioning by Customs and Border Patrol agents when they tried to re-enter the US.
A senior administration official said green card holders will be subject to a rescreening but it had not been determined where and how those screenings would be carried out.
Specific guidelines were being put together, the official said, adding "they could be screened in many different ways and in many different places."
Civil rights and faith groups, activists and Democratic politicians have promised to fight Mr Trump's order, which caused anguish for affected travellers and sparked protests at several US airports.
Thousands protest against Trump's immigration policies
Tens of thousands of people have rallied in US east coast cities in protest against Mr Trump's executive order.
In New York, Washington and Boston, a second wave of demonstrations began after spontaneous rallies at many airports yesterday, when US Customs and Border Protection agents began enforcing the president's directive.
One of the largest protests today took place at Battery Park in lower Manhattan, within sight of the Statue of Liberty in New York Harbor, long a symbol of welcome to US shores.
The keynote speaker, Democratic Senator Charles Schumer of New York, told the crowd that Mr Trump's order was un-American and ran counter to the country's core values.
"What we are talking about here is life and death for so many people," he said. "I will not rest until these horrible orders are repealed."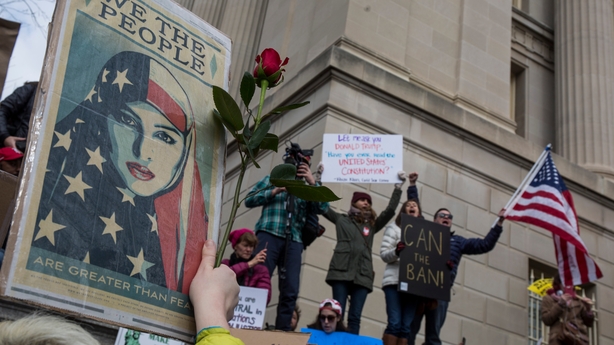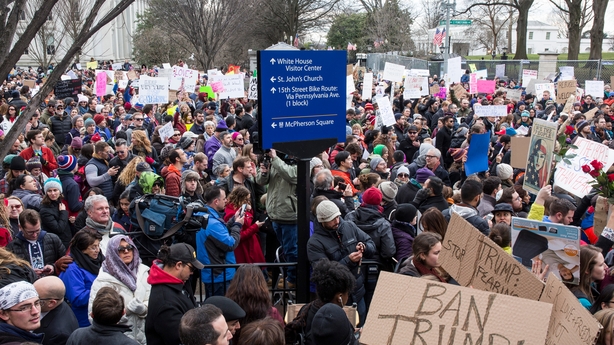 View from the Newseum this afternoon #MuslimBan pic.twitter.com/0JScYG705a

— Brittany Harris (@brittharr) January 29, 2017
In Washington, a throng that swelled to more than 2,000 by early afternoon gathered at Lafayette Square near the White House, chanting: "No hate, no fear, refugees are welcome here."
At the same time, about 200 protesters chanted this afternoon at Dulles International Airport near Washington, where a much larger crowd staged a noisy demonstration yesterday evening.
Organisers estimated that more than 10,000 people were gathering at Boston's Copley Square to hear speakers including Senator Elizabeth Warren of Massachusetts, a vocal critic of Mr Trump and a leader of the Democratic Party's liberal wing.
Boston is a compassionate, strong & welcoming city, and we will never turn our backs on those who helped build our country #StandUpFightBack pic.twitter.com/YIuwgJCesP

— Mayor Marty Walsh (@marty_walsh) January 29, 2017
Rallies were also planned later today in other cities, including Houston, Detroit, St Louis and Los Angeles.
Several senior Republicans voice concern over orders
US Senate Majority Leader Mitch McConnell, a Republican, said on ABC's "This Week" program, that it was a good idea to tighten the vetting of immigrants, but "it's important to remember that some of our best sources in the war against radical Islamic terrorism, are Muslims, both in this country and overseas ... We need to be careful as we do this."
A Republican colleague in the Senate, John McCain, was more critical, saying the order had been a confused process and could give the self-styled Islamic State group propaganda material.
"It wasn't chaos," Mr Priebus told NBC. He added that of 325,000 people who arrived from foreign countries yesterday, 109 people were detained for further questioning, and most of them were moved out, with just a "couple dozen more that remain" detained.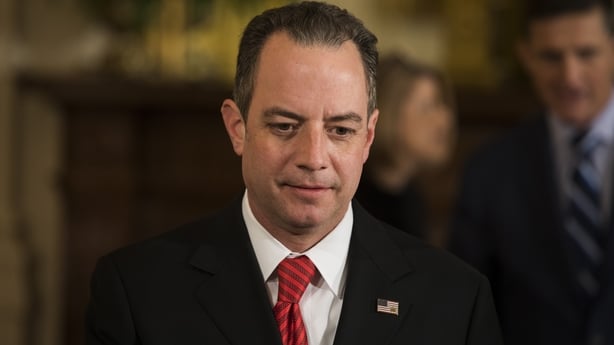 Such travellers were spared the threat of deportation by a federal judge in Brooklyn, New York, who granted a temporary reprieve late yesterday evening.
The American Civil Liberties Union, representing two Iraqis caught by the order as they flew into the country, successfully argued for a temporary stay that prevented travellers denied entry to the US from being deported.
In total attorneys general from 16 US states, including California, New York and Pennsylvania, have issued a joint statement condemning Mr Trump's executive order.
The statement said: "We are committed to working to ensure that as few people as possible suffer from the chaotic situation that it has created."
Global backlash grows against Trump's immigration order
A global backlash against Mr Trump's immigration curbs has gathered strength as several countries including long-standing American allies criticised the measures as discriminatory and divisive.
Governments from London and Berlin to Jakarta and Tehran spoke out against Mr Trump's order which, he said, would help protect Americans from terrorism.
In Germany - which has taken in large numbers of people fleeing the Syrian civil war - Chancellor Angela Merkel said the global fight against terrorism was no excuse for the measures and "does not justify putting people of a specific background or faith under general suspicion", her spokesman said.
She expressed her concerns to Mr Trump during a phone call and reminded him that the Geneva Conventions require the international community to take in war refugees on humanitarian grounds, the spokesman added.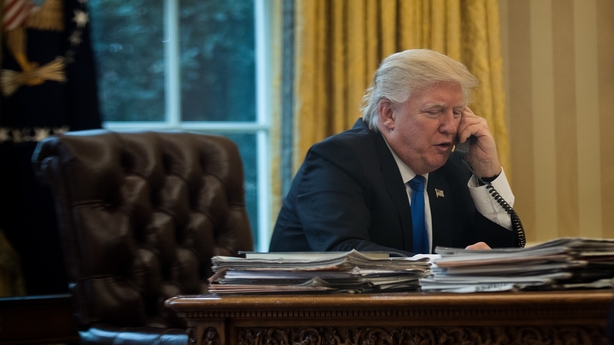 Ms Merkel's sentiments were echoed in Paris and London; "Terrorism knows no nationality. Discrimination is no response," said French Foreign minister Jean-Marc Ayrault, while his British counterpart Boris Johnson tweeted: "Divisive and wrong to stigmatise because of nationality."
Along with Syria, the US ban of at least 90 days affects travellers with passports from Iran, Iraq, Libya, Somalia, Sudan, Syria and Yemen, including those with dual nationality that includes one of those countries.
Mr Trump said his order, which indefinitely bans refugees from Syria, was "not a Muslim ban", though he added he would seek to prioritise Christian refugees fleeing the country.
Washington's Arab allies, including the Gulf states and Egypt, were mostly silent.
The government in Iraq, which is allied with Washington in the battle against ultra-hardline Islamist group Islamic State and hosts over 5,000 US troops, also did not comment on the executive order.
But some members of the parliament said Iraq should retaliate with similar measures against the United States.
Iran vows to respond
In Baghdad, influential Shi'ite cleric Moqtada al-Sadr said American nationals should leave Iraq, in retaliation for the travel curbs.
"It would be arrogance for you to enter freely Iraq and other countries while barring to them the entrance to your country ... and therefore you should get your nationals out," he said on his website.
The Tehran government vowed to respond in kind to the US ban on visitors from Iran, but Foreign Minister Mohammad Javad Zarif has said on Twitter that Americans who already hold Iranian visas can enter the country.
He said: "Unlike the US, our decision is not retroactive. All with valid Iranian visa will be gladly welcomed."
Authorities in Sudan, which is also targeted by the ban, summoned the US charge d'affaires in Khartoum. They said the order sent a "negative message", coming two weeks after Washington announced it would ease economic sanctions on the country.
The Department of Homeland Security said about 375 travellers had been affected by the order, 109 of whom were in transit and were denied entry to the United States.
Another 173 were stopped by airlines before boarding.
Fuad Sharef, his wife and three children were among the first victims. They had waited two years for a visa to settle in the United States, selling their home and quitting jobs and schools in Iraq before setting off for a new life they saw as a reward for working with US organisations.
They were prevented from boarding their connecting flight to New York from Cairo airport yesterday, detained overnight and forced to board a flight back to northern Iraq.
Mr Sharef told Reuters: "We were treated like drug dealers, escorted by deportation officers.
"I am broken, I am totally broken."
Canadian Prime Minister Justin Trudeau said his country welcomed those fleeing war and persecution, even as Canadian airlines said they would turn back US-bound passengers to comply with an immigration ban on people from seven Muslim-majority countries.
To those fleeing persecution, terror & war, Canadians will welcome you, regardless of your faith. Diversity is our strength #WelcomeToCanada

— Justin Trudeau (@JustinTrudeau) January 28, 2017
"To those fleeing persecution, terror & war, Canadians will welcome you, regardless of your faith. Diversity is our strength #WelcomeToCanada," he tweeted.