A spokesperson for Taoiseach Enda Kenny has said that his meeting with US President Donald Trump will go ahead on St Patrick's Day, despite calls for his visit to be called off.
In a statement, the spokesperson said that it is important that Mr Kenny continues to engage with Mr Trump and his administration "in order to maintain the historically strong links between the Irish and American peoples".
The statement also said that the visit to Washington allows the Taoiseach to "outline, in person, his Government's views on a range of issues, including business and economic ties, immigration and other matters of common interest.
"He will continue to act in the interests of Irish people and to that end he will raise these matters again this year."
It follows calls from both the Labour Party and the Green Party for Mr Kenny not to travel to the White House following Mr Trump's controversial travel ban.
People Before Profit also renewed its call for Mr Kenny to cancel his trip to the White House on St Patrick's Day.
In a statement, it said it will circulate a motion to all parties for support in the Dáil this week, calling on the Taoiseach to cancel the visit.
President Trump's sweeping executive order, signed on Friday, suspends the arrival of refugees for at least 120 days and prohibits issuing visas for travellers from Iran, Iraq, Libya, Somalia, Sudan, Syria and Yemen for the next three months.
Labour leader Brendan Howlin said that if Mr Kenny could not articulate the country's complete rejection of what President Trump stands for, then he should not go to the White House to celebrate St Patrick's Day.
Speaking on RTÉ's This Week, Mr Howlin said, however, he did not believe Mr Kenny would do that.
Mr Howlin said things have fundamentally changed and we have never experienced anybody as hostile to Irish values as Mr Trump.
Sinn Féin leader Gerry Adams said that the Government should not allow Irish airports to enforce the order by the US President. He said that he will be raising the matter with the Taoiseach.
Meanwhile, Minister for Social Protection Leo Varadkar said Mr Kenny's St Patrick's Day visit to the White House cannot be just about smiles and shamrocks.
Rejecting a call from the Green Party that the visit should be postponed, Mr Varadkar said it would be a different type of visit to previous ones.
Also speaking on RTÉ's The Week in Politics, he said this country needs to work with the US in areas of common interest but it must also use its voice to raise concerns and stand by its values.
Earlier, Minister for Foreign Affairs Charlie Flanagan said that he "shares the concerns of other EU partners" regarding changes to US immigration policy.
In a statement Mr Flanagan, said that "while US immigration policy is a matter for the US authorities, it is clear that the most recent decisions could have far-reaching implications - both on humanitarian grounds and on relations between the US and the global Muslim community."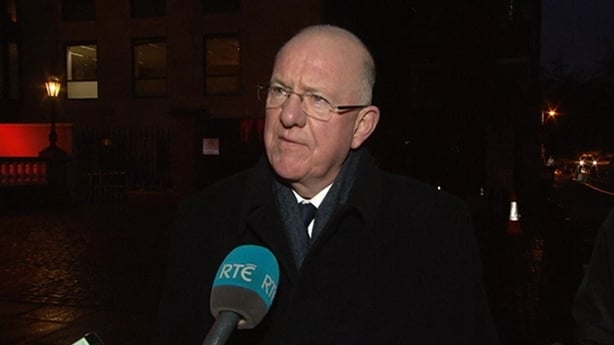 He said that many people are "feeling great concern about these changes including some Irish citizens in the United States."
He assured people that the Irish embassy in Washington and Irish consulates are in active and ongoing contact with Irish immigration centres throughout the US.
The minister added that he is conscious that matters are still evolving and that the US courts are now involved. He said that the Irish Government will continue to monitor developments "very closely".
Mr Flanagan is due to visit the US next week and said he will be in Washington DC for political meetings on Capitol Hill "where immigration issues will be among those discussed".
Minister for Children and Youth Affairs Katherine Zappone has said that US pre-clearance facilities at Dublin and Shannon airports should be stopped if discrimination is shown to be taking place. 
She is seeking a review of those operations in the light of executive orders signed by President Trump. 
I am deeply concerned that discrimination maybe happening at US immigration in Irish airports and am seeking an urgent review.

— Katherine Zappone (@KZapponeTD) January 29, 2017
Ms Zappone said that Mr Flanagan should bring the message from the Irish people to Washington next week that "we do not accept these policies of discrimination and certainly are not willing to implement them on Irish soil."
The minister said that as a member of Cabinet, she is asking Minister Flanagan to deliver that message strongly. 
Ms Zappone suggested the review of the pre-clearance operation would be a legal review and that when those facilities first came here, there were agreements put in place with the Irish Government.
She said that the agreements contain our commitment to fundamental protections on discrimination in relation to our constitution.
Meanwhile, it is understood that Independent Alliance Ministers Shane Ross, Finian McGrath and John Halligan are incensed with what is happening. Both Mr Ross and Mr McGrath will be raising it at Cabinet. 
When asked about the implementation of Mr Trump's executive orders on Irish soil, the Department of Justice said that people "applying for asylum, having arrived in Ireland, are considered under the International Protection Act 2015."
In a statement, it said: "The US Pre-clearance arrangements do not impact on this. The lead department in relation to the negotiations on the establishment and running of the pre-clearance facility with the US is the Department of Transport, Tourism, Arts and Sport."