Trade union SIPTU has said that ambulances are facing significant delays at some emergency departments due to overcrowding.
Paul Bell, SIPTU health division organiser, said that it is affecting responses to emergency calls and also routine patient transfers.
He said a normal handover takes an average of 20 minutes but this has now increased to between one and three hours.
Ambulances are arriving with patients outside emergency departments, but unable to hand them over, due to overcrowding.
SIPTU says the problem has been experienced at around 15 emergency departments.
The union has said the hospitals affected include Letterkenny, Waterford, Our Lady of Lourdes in Drogheda and St Vincent's in Dublin.
It has called on Minister for Health Simon Harris to contact HIQA, the regulator of the National Ambulance Service, to brief it on the impact the emergency department crisis is having on the ability of ambulance staff to comply with response times.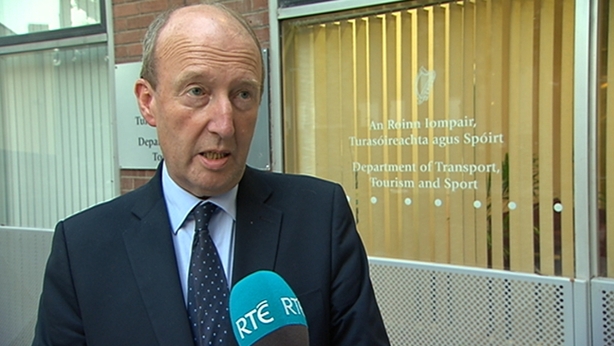 Earlier, Minister for Transport Shane Ross said the current situation in hospital emergency rooms is unacceptable and "close to a crisis".
However, the Independent Alliance minister stopped short of calling the current situation a crisis and instead said it had to be addressed as an emergency.
He said he believes the Government has responded quickly to the problem and that all possible measures are being introduced to bring down the numbers on trolleys around the country.
The minister's comments come as the latest figures show there has been a marginal fall in the number of patients on trolleys or wards at Irish hospitals waiting for admission to a bed.
There are 602 people waiting on trolleys today, down slightly on yesterday's record-high figure of 612, according to figures from the Irish Nurses and Midwives Organisation.There have been increases at some hospitals, including University Hospital Limerick where there were 66 people waiting this morning, a significant increase on the 46 who were waiting yesterday.
There were also 45 people waiting on trolleys at the Midlands Regional Hospital in Tullamore, an increase on yesterday's figure of 41. 41 people are on trolleys at South Tipperary General Hospital.
Under the HSE target, the number of patients on trolleys on any given day should not exceed 236.
Consultant in Emergency Medicine at Tallaght Hospital Dr James Gray this evening said the current crisis was entirely predictable.

Dr Gray told RTÉ's Six One News that he has no confidence that the current minister for health or the HSE have the wherewithal to solve the problem at the moment.
He said that on the first Tuesday of this year there were 612 people on trolleys and that this time last year there were 558 on trolleys.
In 2015, there were 601 on trolleys on the first Tuesday of the year.
Dr Gray said that we know every year that there is a surge.
He said that most of those who have symptoms of influenza-like illness during winter are not admitted to hospital and do not require seeing a doctor at all.
Dr Gray said that the problem is that there are not enough beds in the system.
He said the minister could have planned well in advance. The Winter Initiative Plan was announced to great fanfare in September, he said, but the results have not affected the trolley problem, which he said is getting worse.
The HSE warned in September that an influenza outbreak could affect its ability to meet its Winter Initiative Plan.
According to the plan for 2016/2017, "events such as the outbreak of flu or significant bad weather conditions may impact on the full delivery of the plan due to additional surge activity".
It also warned that emergency department attendances were consistently running at 5% ahead of 2015 levels.
It projected that in setting targets for October 2016 to February 2017, emergency department attendances will continue to run at this rate of growth.
It added that any material increase in activity levels would have an impact on delivering on emergency department targets.
The plan published by the HSE last September provided for 950 extra home care packages, 55 extra acute beds and other measures.
Taskforce brings forward meeting to this Friday
The Emergency Department Task Force is due to meet this Friday to discuss the overcrowding problem.
The meeting is being brought forward following a request by Stephen McMahon of the Irish Patients Association, who is a member of the task force.
It had been scheduled to meet on Friday 13 January, having previously met early in December.
The increase has been linked to an outbreak of influenza. Health officials say cases of the flu have doubled in the past two weeks.
Ambulances queue outside University Hospital Limerick yesterday as the number of patients on trolleys reaches record levels. pic.twitter.com/z3F1CakqGl

— RTÉ News (@rtenews) January 4, 2017
Minister for Health Simon Harris said the country's hospitals were facing a challenging time and he promised to review bed capacity.
Speaking on RTÉ's Morning Ireland, Consultant in Emergency Medicine at Sligo University Hospital Fergal Hickey took issue with the minister's handling of the problem.
He dismissed suggestions by Mr Harris that the trolley situation is "not a crisis".
He said the minister is currently "moving deckchairs around the Titanic" and warned the problem would get much worse.
Dr Hickey added that while the flu season may have arrived three weeks earlier than expected, it was not an unpredictable problem and until bed capacity was increased, it would continue to happen every year.
"Unless we solve the capacity problem we're never going to get out of this mess. And no amount of politicking, talking about it, offering deckchair moving solutions is going to solve the problem.
"I mean what the minister talks about a lot of the time is moving deckchairs around the Titanic. We need to deal with the fundamental problem, which is a lack of capacity."
Dr Hickey noted that it was interesting that both Britain and Ireland had the greatest emergency department trolley crisis of anywhere in Europe, but had less acute hospital beds than any other country.
Calls for investment in health service
The Irish Medical Organisation has also said the Government should stop blaming influenza for the crisis.
In a statement Dr Peadar Gilligan, chairman of the union's consultant committee, said that overcrowding and cancelled procedures are inevitable until the Government invests in extra beds for public hospitals.
The consultant in Emergency Medicine at Beaumont Hospital said it also must create a working environment that is attractive to Irish-trained doctors.
Dr Gilligan said politicians often complicate what is a very simple explanation for the overcrowding crisis and it is not because of seasonal issues, or a spike in flu cases.
He said it was because politicians knowingly and deliberately took 1,600 beds out of hospitals.
The General Secretary of the INMO echoed these calls, saying emergency departments are on a spiral to nowhere and the current trolley crisis is the result of continuous poor planning and investment.
Speaking on RTÉ's Today with Sean O'Rourke, Liam Doran said that there are 602 people are currently on trolleys and he pointed out that 93,600 were admitted for care from trolleys last year, compared to 50,000 in 2007.
Mr Doran said he feared for the future if significant money is not invested now in capital and staff.
He added that there cannot be beds without staff and, in addition to gross under-staffing, the recruitment battle was being lost.