The Health Service Executive's Winter Initiative plan will provide 55 extra acute beds at five hospitals which are suffering severe overcrowding.
They will be provided at the Midland Regional Hospital in Tullamore, Beaumont Hospital, Naas General Hospital, University Hospital Waterford and in the Midland Regional Hospital in Mullingar.
In addition, 18 step-down beds are being provided for the Mercy University Hospital Cork.
Under the plan, overcrowding cannot exceed 236 patients on any single day.
Delayed discharges must also not exceed 500.
An extra 950 home-care packages will also be provided to focus on the problem hospitals.
The initiative is due to commence during the October-November period.
The 55 extra beds are in addition to 300 added last year.
However, Professor Stephen Cusack, a consultant at Cork University Hospital Emergency Department, has said that the known details of the Winter Initiative will not fix the problems being experienced.
He said: "We simply have a health service that is very short on capacity. It is extremely difficult to hire staff in all areas, nursing in particular, medical also, and you know, this is a year-round problem that really needs to be addressed.
"I don't know, for example, if Minister Harris' ten-year programme that he is planning might help in some respect, but maybe we all just have to hold up our hands and say 'we don't have the resources and won't have the resources to throw at healthcare that, maybe, we should have'."
The Lead Consultant in Emergency Medicine at University Hospital Galway has also said he doubts the plan will "make a huge dent" in helping to overcome the problems being experienced at the hospital.
Speaking on RTÉ's Drivetime, John O'Donnell said the emergency department in Galway is not fit for purpose, with just 12 adult cubicles.
He said one patient had been waiting for 68 hours on a trolley before they had access to a bed, describing the situation as "not great" and "not sustainable".
Dr O'Donnell said: "It's been ten years since Mary Harney announced the overcrowding situation as a national emergency. Certainly, here in Galway, we haven't seen any improvement - it's worsened over the years."
He added that 35 extra beds, at least, would be needed in Galway.
The Director General of the HSE has defended the Winter Initiative, saying the additional 55 beds will be backed up by community supports.
Speaking on RTÉ's Six One News, Tony O'Brien that the HSE is not promising or suggesting that the scheme will make the issue of trolley waits disappear, but hopes it will improve the situation.
Mr O'Brien said the health service "will not throw the towel in on this" and that every health system in the western world is experiencing difficulties.
He said the HSE's recruitment target will vary from hospital to hospital, but that the HSE will work with each hospital to ensure that everything that can be done to achieve the Winter Initiative objective is achieved.
318 patients waiting on trolleys and wards
This morning, the Irish Nurses and Midwives Organisation said 318 patients were waiting on trolleys and wards in hospitals.
According to the INMO figures, the hospitals worst affected are University Hospital Galway with 26 patients waiting, Our Lady of Lourdes in Drogheda with 25 and the Midland Regional Hospital Tullamore with 24.
Meanwhile, there were 22,000 cancelled operations last year, according to official figures from the Health Service Executive's Special Delivery Unit.
Between January and March this year, 4,436 operations were cancelled at 43 major hospitals.
This is lower than the 5,966 cancelled operations for the same period last year.
Some operations were cancelled by the hospital and some by the patient.
The HSE says that any cancelled operation is rescheduled as soon as possible and that the primary concern for hospitals is to ensure that the most clinically urgent cases are prioritised when capacity is constrained.
Overall last year there were 1.1 million admissions to hospitals of which 2% were cancelled for various reasons.
Full capacity in UHG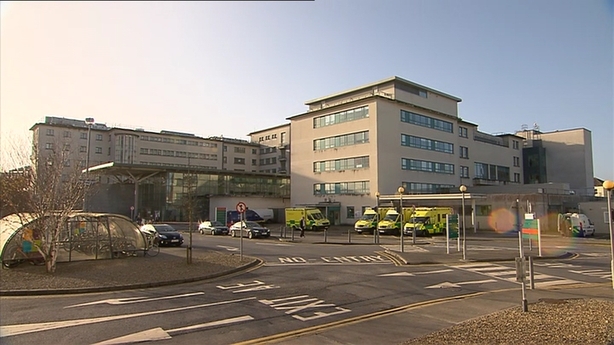 Full capacity protocol remains in place at the emergency department at University Hospital Galway.
A spokesperson for the Saolta Healthcare Group says efforts are continuing to identify patients who are appropriate for discharge today to help alleviate the pressure.
Management at the hospital appealed to people not to present at the emergency department, unless absolutely necessary.
Management at the Bon Secours Hospital and the Galway Clinic are understood to be on standby to assist UHG patients if the need arises.