The Minister for Health has said the country's hospitals are facing a "challenging time."
Simon Harris made the remarks after the Irish Nurses and Midwives Organisation said 612 patients were admitted for care on trolleys in hospitals around the country this morning.
The figure marks a record high for the amount of people on trolleys at Irish hospitals, according to the organisation.
However, Mr Harris has rejected an assertion by the Irish Association of Emergency Medicine that this situation was "entirely predictable".
Earlier today Dr Fergal Hickey, a spokesperson for the IAEM, said the situation could have been avoided and that the Government has repeatedly been told there are not enough beds available.
According to Dr Hickey, Britain and Ireland, both of which have a crisis currently, have 2.6 beds per 1,000 of the population whereas most EU countries have at least twice that.
In response, Mr Harris said no one could have predicted the outbreak of influenza seen in the past few weeks - an outbreak Dr Hickey said is making things worse.
Mr Harris said he will now begin a bed capacity review, although he said while there are calls for extra beds it is important there is extra staff.
We need your consent to load this rte-player contentWe use rte-player to manage extra content that can set cookies on your device and collect data about your activity. Please review their details and accept them to load the content.Manage Preferences

Speaking on RTÉ's Six One News, Mr Harris said 1,000 new nurses will be recruited. While he acknowledged the majority would be replacing agency nurses, he said there can be an issue with availability of agency nurses.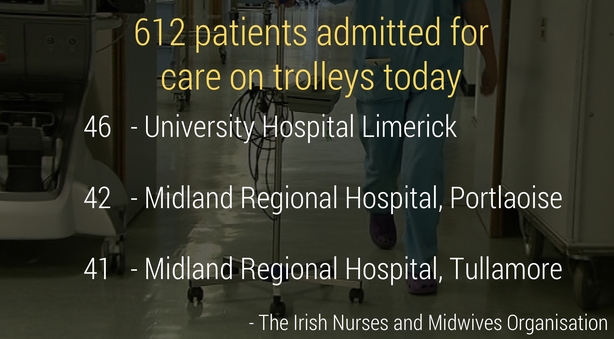 Speaking this morning, INMO General Secretary Liam Doran said the number of patients on trolleys amounts to "a truly shocking figure"
"The compromising of care, not to mention the loss of privacy and dignity, cannot go unchallenged and must be acknowledged and addressed by health management," he added.
A number of hospitals had more than 40 patients waiting on trolleys, with the highest figure recorded at University Hospital Limerick, where 46 people were on trolleys this morning.
The INMO's representative in the Mid West said the crisis in the Limerick area is exasperated by the closure of 30 beds in the city's Saint John's Hospital.
Mary Fogarty said these could act as back up to the acute University Hospital, but a shortage of nurses has prevented them from being opened.
Similarly high figures were reported at the Midlands Regional hospitals in Portlaoise (42) and Tullamore (41), while 41 people were waiting on trolleys at St Luke's Hospital, Kilkenny and 40 at University Hospital Galway.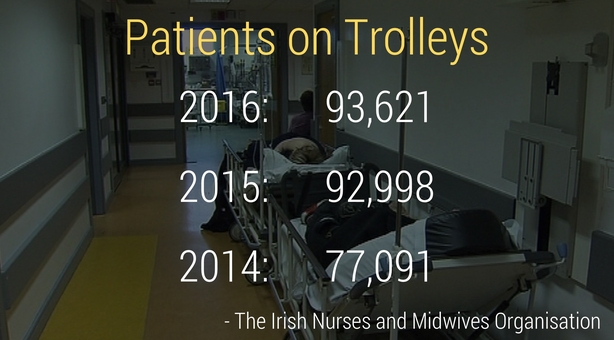 The INMO has also said that in 2016 there were 93,621 patients on trolleys around the country - also a record for a calendar year.
Warning over GP services
Meanwhile, the medical director of an out-of-hours GP service in the southwest has warned that the GP service is at crisis point
Dr Gary Stack, who is the director of SouthDoc, said there was a 40% increase in patient contacts over the Christmas period, and a 53% increase over the New Year period compared to the same periods in 2015.
Speaking on RTÉ's News at One, Dr Stack said the number of children under six attending the service had increased by 25% year-on-year.
He said that the number of GPs nationwide has dropped dramatically, adding that in his own area of south Kerry there are now two GPs instead of six.
He also said that for the first time there are waiting lists for GPs and it is vital that more are recruited.