Pat Hickey has been discharged from hospital in Rio and taken to a police station to complete a deposition, according to the Olympic Council of Ireland.
Mr Hickey stepped aside from all his Olympic roles yesterday after being arrested at his hotel in connection with an investigation into the alleged illegal resale of tickets for the Olympics.
The 71-year-old was admitted to Samaritano Hospital, in the suburb of Barra da Tijuca, for chest pains after his arrest.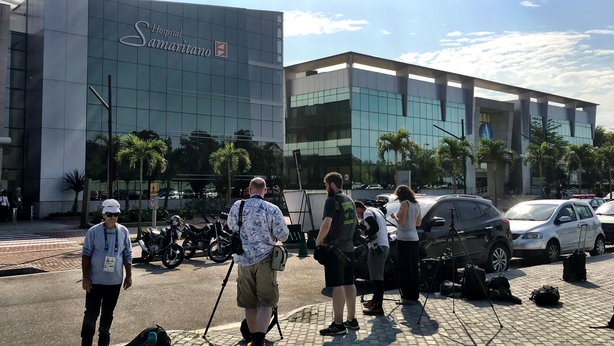 Mr Hickey is facing three charges of facilitating ticket touting, formation of a cartel, and ambush or illicit marketing.
He last night stepped down temporarily from his role as president of the Olympic Council of Ireland, and as an International Olympic Committee member, president of the European Olympic Committees and vice-president of the Association of National Olympic Committees.
Meanwhile, Minister for Sport Shane Ross has said a decision will be made tomorrow on what sort of inquiry will be carried out into the tickets controversy.
Calling it a grave situation, Mr Ross said he would be meeting officials from the Attorney General's office tomorrow.
Speaking to reporters after arriving in Dublin Airport from Brazil, the minister said they would be sensitive to "the international implications" of what they are doing.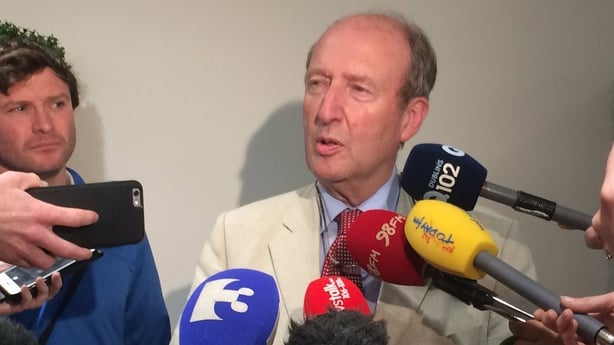 Mr Ross said any inquiry carried out should be totally independent and he believed that the OCI would have to accept it.
The Independent Alliance TD said things had moved a long way since his meeting with Mr Hickey on Monday when the OCI turned down Mr Ross's request to add independent members to the OCI investigation.
Mr Ross said he had felt all along that an independent inquiry was the most important thing to give it credibility.
The minister said he does not know what form the inquiry will take yet, but said it needed to be headed up by someone utterly independent to provide credibility to it.
There is no reason why two inquiries cannot run in parallel, he added.
When asked about the timeframe for inquiries, Mr Ross said he could not see why something could not start immediately.
Mr Ross said he hopes to speak to Taoiseach Enda Kenny this evening, and said communication has been going on between the Taoiseach's office and his office.
The minister said he would be meeting Minister of State for Sport Patrick O'Donovan, various officials from the Attorney General's office and the Department of Foreign Affairs and they would decide tomorrow - as a matter of urgency - what sort of inquiry would be carried out.
He said he takes the advice of the Attorney General very seriously, and said there was also a good case for the Oireachtas Transport Committee to look into the matter.
OCI will defend itself 'to the hilt'
Earlier, acting president of the Olympic Council of Ireland Willie O'Brien said the organisation will defend itself "to the hilt" following the arrest of Mr Hickey in Rio yesterday morning.
Mr O'Brien was speaking after visiting Mr Hickey in hospital.
Speaking to reporters outside the hospital, Mr O'Brien said Mr Hickey had made no comment to him about the allegations during his visit. "We have very little, restricted access to him. That's all I can tell you for the present."
Mr O'Brien confirmed he has taken over the position of president of the OCI while this investigation is ongoing.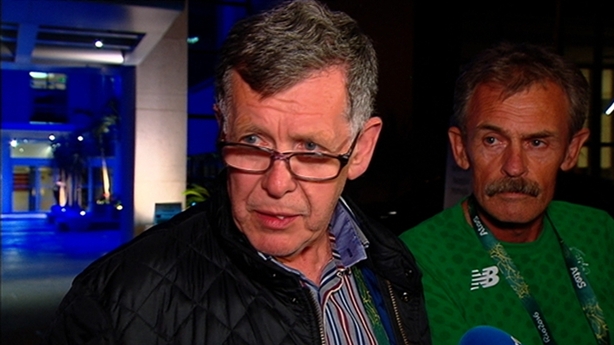 "We can't make any comment while the legal case is going on here. We will defend ourselves to the hilt. That's all I can say at the moment."
Asked by a reporter if that meant defending Mr Hickey too, he said: "Exactly, yeah".
A statement from the OCI last night said Mr Hickey would be co-operating and assisting all ongoing inquiries.
Earlier, Mark Adams of the International Olympic Committee (IOC) said it had had no communication with Mr Hickey as he was in hospital.
He said the IOC had no details on the charges Mr Hickey may face and repeated that he was entitled to the presumption of innocence.
Mr Adams said IOC President Thomas Bach may look to speak to Mr Hickey.
He could not confirm if Mr Hickey was still in receipt of his IOC per diem expenses, and said that he would check this.
Earlier, a senior law lecturer at NUI Galway said the OCI is effectively independent of Government.
Tom O'Malley said the OCI is a voluntary body and a limited company that files its returns with the Companies Office and appears to be in good standing in that regard, which means the Government cannot order the council to do anything.
Mr O'Malley said that while Mr Ross was entitled to make his views known to the OCI, because the council receives public funding, there is little the minister can compel the organisation to do in terms of directing how it carries out its business.
But, he said, a public inquiry of some kind could take place if something illegal is found to have taken place under Irish law.
Speaking on RTÉ's Morning Ireland, Mr O'Malley said Sport Ireland can set down terms and conditions for bodies to which it provides financial assistance.
He said it can withhold funds or demand a refund if it felt a body had failed to comply with its terms and conditions.
Mr O'Malley said there is a possibility of a commission of investigation taking place, but that generally such an investigation would take place after any prosecutions were completed.