Police in Rio de Janeiro investigating allegations of ticket touting at the Olympics have said they have issued arrest warrants for four executives of the sports company THG Sports.
At a news conference this afternoon, officers from Rio's Civil Police Fraud Unit named the four men as Irishman David Patrick Gilmore, Marcus Paul Bruce Evans (UK), Martin Studd (English) and Maarten Van Os (Dutch).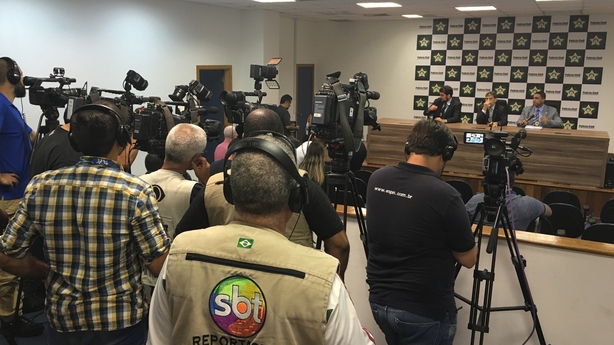 THG's Dublin-based Finance Director, Irishman Kevin James Mallon, is already facing charges of illegally selling tickets at the Games.
Police confirmed that none of the four people named today have "entered Brazil legally" in recent weeks, and that they would be immediately arrested, should they attempt to do so.
Police say the four men have been cited on arrest warrants as "all directors had knowledge of, and contributed to a scheme that involved the illegal selling of tickets at prices well above face value, under the camouflage of hospitality packages".
In a statement this evening, THG Sports said that the allegations against Mr Mallon and the company are "entirely without foundation".
It said that Pro 10, the Authorised Ticket Reseller (ATR) of the Olympic tickets, also said that the tickets held by Mr Mallon were "held for collection by Pro 10 clients in Rio".
It said: "Having tickets on the ground for collection is standard practice for an ATR during games time."
It said that at no time did Mr Mallon "sell or seek to sell tickets for the Rio Olympic games.
"The tickets that he held were authorised tickets held on behalf of clients of the Authorised Ticket Reseller and he was acting as the collection point for the Authorised Ticket Resellers' customers."
"It is our understanding that all of these tickets are sold by the ATR at face value plus the mark ups allowed under the agreements with ROCOG [Rio Olympic Games organising committee]."
They say that they will be "vigorously defending all charges that have been brought".
Earlier, Pro 10 issued a statement in respect of the tickets held by Mr Mallon.
It said: "In relation to the Pro 10 tickets given to Kevin Mallon for collection by Pro 10 customers in Rio, approximately 60% of those tickets were unsold inventory that Pro 10 would continue to try and sell through their ticket portal and would be available to purchasers in Rio through collection from Kevin Mallon."
It said the "majority of the remaining 40% were sold to corporate Pro 10 customers from Ireland and the EU".
It said anyone who did not receive their tickets will be fully refunded by Pro 10.
"Fortunately, due to the extremely low attendances at these Olympics the vast majority of our clients have been readily able to source replacement tickets for the events they wish to attend from other ATRs," it added.
Ross says he has not given up on idea of independent voice in OCI inquiry
Minister for Sport Shane Ross has said that he has not given up on the idea of an independent member being appointed to the Olympic Council of Ireland's (OCI) inquiry into the ticketing controversy.
He was speaking following a meeting with the Director General of the International Olympic Committee Christophe de Kepper in Brazil.
Mr Ross said the discussion had been business-like and frank, and but did not resolve anything.
He declined to go into detail about what had been said by all parties at the meeting because he did not want relationships to deteriorate in any way.
Mr Ross met with OCI President Pat Hickey in Copacabana in the early hours of Monday morning to discuss the matter, and said that he was "absolutely stunned" that the OCI turned down his request to add independent members to the panel investigating the controversy.
The minister described that meeting as "fairly tense, fairly direct and fairly frank" and said the mood was sombre.
But afterwards, Mr Hickey described the meeting as "excellent", saying there had been "a great exchange of views".
Minister Ross has now arranged to meet Donovan Ferreti, director of ticketing with ROCOG. He also said that he was gathering a lot of information.
This evening. he said he remains disappointed and stunned that the Olympic Council of Ireland had rejected the idea of an independent appointment to the inquiry.
"We are asking for something very reasonable, but I haven't given up and I haven't made a decision yet on what's going to be done," he told reporters after the meeting.
"Whether we hold our own internal inquiry, which hasn't been ruled out, whether we go to Oireachtas committees or whether we can still reach some sort of a settlement which enables us to have an input into an inquiry which others are joined in with.
"We are keeping all our options open and we are certainly not giving up hope on any of them".
Mr Ross attended a reception hosted by the temporary Irish Consulate in Rio last night, at which Mr Hickey was also present.
Mr Ross said the pair had a civilised conversation, and he hoped they could talk more constructively in the coming days.
Committee seeks to put questions to OCI
The chairperson of the Oireachtas Committee on Transport, Tourism and Sport has said he hopes to call a scoping meeting of the committee as soon as possible so that questions can be put to the Olympic Council of Ireland about alleged ticket touting in Rio.
Brendan Griffin said there needed to be maximum accountability by the OCI.
Speaking on RTÉ's News At One, he said: "The public needs accountability, questions need to be answered and I want to be sure the maximum amount of questions are put as soon as possible."
Fianna Fáil's Timmy Dooley has said Minister for Sport Shane Ross needs to initiate an independent investigation into the controversy over ticket sales for the Rio Olympics.
Fine Gael TD Noel Rock, a member of the Public Accounts Committee, has said the minister should "get tough" with the Olympic Council of Ireland.
In a statement he said: "The OCI are trying to hide in the shadows of legal advice - but that's not good enough: legal advice doesn't preclude them from having an external individual take part in their own investigation."
Mr Ross said he was concerned that no charges had yet been brought against Mr Mallon, who has been detained by Brazilian police since Friday 5 August.
He said consular assistance was provided to him and his family.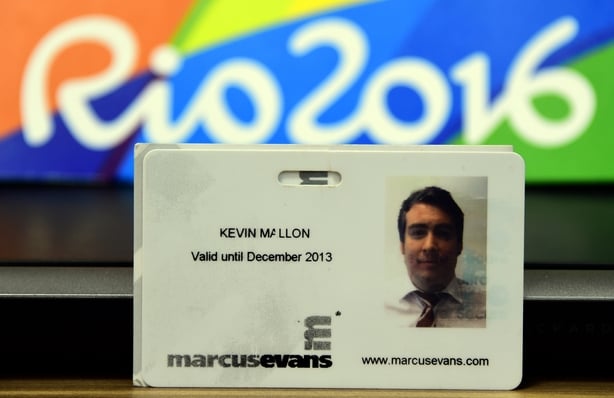 THG does not have a permit to sell Irish Olympic tickets.
Mr Mallon has been in a Brazilian jail since his arrest.
Pro 10 Sports Management has said that Mr Mallon was its representative in Rio and had an official letter of authorisation to act on its behalf relating to the collection of tickets.
Pro 10 said Mr Mallon was not paid for being its representative.