Olympic Council of Ireland President Pat Hickey has said there is no impropriety whatsoever from himself, or anyone in the OCI, in the dealing of tickets for the Olympic Games.
He said work is continuing on gathering all of the relevant information in relation to allegations that Olympic tickets, earmarked for the OCI, were sold on the black market in Rio de Janeiro.
Speaking to RTÉ News, Mr Hickey said the OCI does not handle tickets.
We need your consent to load this rte-player contentWe use rte-player to manage extra content that can set cookies on your device and collect data about your activity. Please review their details and accept them to load the content.Manage Preferences
The tickets involved in the controversy were issued to Pro-10 Sports Management by the Rio 2016 organisers, he said.
The OCI has written to the Rio organisers and the International Olympic Committee to advise it on exactly what happened and was awaiting replies from both parties, he added.
He said the OCI is working very diligently and would be in a better position to share the information with everyone when they had a final report.
"What I can tell you very clearly is that there is no impropriety whatsoever from anyone in the OCI or myself in the dealing of tickets and I want to reassure you on that 100%," he said.
Mr Hickey said he fully expects that the OCI will come out of this with a clean bill of health.
"I would of course be very sorry for any embarrassment caused to Ireland in this issue. I intend to rectify it as soon as I can," he added.
The OCI president said he had no advance knowledge of the controversy and found out about it from the media.
He was responding to calls for him to make a public statement to clarify issues. 
In a statement this evening THG Sports, the company whose director - Irishman Kevin Mallon - has been arrested in Rio in connection with the allegations, said it was committed to the highest ethical and professional standards.
It said it was fully co-operating with the Brazilian authorities and was seeking Mr Mallon's release.
THG Sports said the allegations against Mr Mallon were brought by police last Friday; it said there were no previous charges or police investigations into the matter.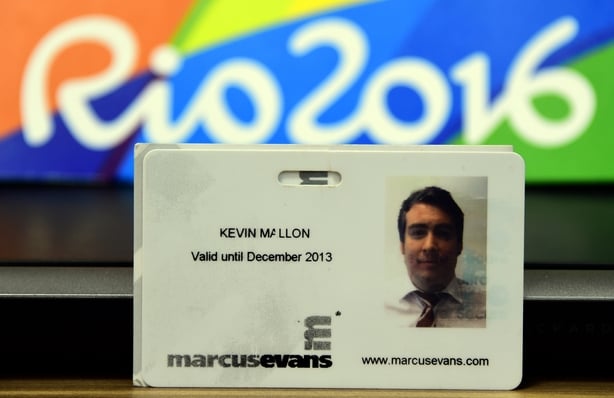 It said police action was "taken in response to allegations made to the police by a private individual". It says in its statement that "there is no evidence to support these claims and certain allegations made have been shown to be false".
THG Sports also said: "The widely reported claim that James Sinton, former CEO of THG Sports, was arrested in relation to wrongdoing at the Brazil FIFA World Cup is false.
"He voluntarily made a statement to the police in relation to an investigation they were conducting around the World Cup in Brazil.
"No action was taken against him," the statement concluded.
The OCI has begun an investigation into how Mr Mallon and an interpreter Barbara Carnieri were allegedly in possession of OCI allocated tickets for the Games in Rio. THG Group is owned by Marcus Evans Group.
In 2010 THG Sports was appointed by the OCI as its official ticketing agent for the 2012 London Olympics. That role is now occupied by Pro 10 Sports Management. 
Mr Mallon is expected to face charges in connection with the investigation in the coming days.
He and Ms Carnieri, who was working as an interpreter at the Games, were arrested in Rio on Monday on charges of the fraudulent marketing of tickets.
Mr Mallon was detained on suspicion of illegally reselling tickets at inflated prices and faces charges of false marketing. Ms Carnieri was detained on suspicion of false marketing.
Mr Mallon is expected to be charged at a special sitting of 'The Court of Supporters and Large Events' at the Maracana Stadium in the coming days.
As yet the charges have not been made public.
Any trial is not expected until after the Olympic Games end.
Ireland's reputation 'tarnished' by ticket scandal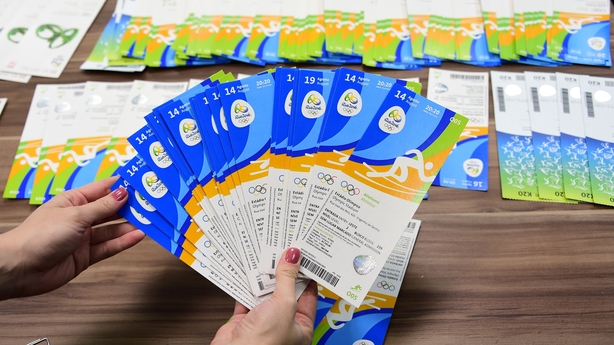 Earlier Fianna Fáil TD Timmy Dooley said the controversy has tarnished the reputation of Ireland and given a perception of corruption within Irish sport. 
Mr Dooley said he believes the two investigations being carried out by the police in Rio and the OCI are not enough and that it should be the responsibility of the Government to act also.
He said Minister for Sport Shane Ross needs to take a proactive role in investigating the situation and "if there is evidence that there is something further awry" there should be a "judicial investigation led by a senior counsel".
Mr Dooley also criticised the idea of waiting for Mr Hickey to come before the Oireachtas Public Accounts Committee when it meets again after the summer recess.
Fine Gael TD and PAC member Noel Rock said this morning that there are a number of questions for both Mr Hickey and the OCI about how the tickets, earmarked for the OCI, allegedly ended up being sold on the black market in Rio de Janeiro.
He said if the answers are not given to Minister Ross when he travels to Rio this weekend, then Mr Hickey needs to come before the PAC.
However, Mr Dooley said: "The idea of waiting until October for Pat Hickey to come in to explain what is going on in the OCI is farcical.
"I don't think there is a role for the PAC because this is an issue of corruption, not about the use or misspending of Government funds that is given."