The Olympic Council of Ireland has said it has launched "an immediate investigation" into how two people arrested in Brazil on charges of fraudulently selling tickets to the Rio Olympics were allegedly in possession of OCI allocated tickets.
In a statement last night, the OCI said it has no knowledge of the two individuals arrested.
It stated that it has begun "an immediate investigation with our ATR, Pro10, into how the individuals were allegedly in possession of OCI allocated tickets".
The statement continues: "The OCI strictly adheres to the IOC regulations around ticket allocation, sale and re-sale. We are treating this matter with the utmost seriousness."
Brazilian police detained a director of international sports hospitality company THG Sports and a woman working as an interpreter at the Rio Olympics on charges of fraudulent marketing of tickets for the Games.
Police said they seized more than 1,000 tickets that were being marketed at very high prices for the first Games to be held in South America, which opened on Friday.
Police identified the THG director as Kevin James Mallon and the translator, who they said was also an employee of the company, as Barbara Carnieri.
THG did not immediately reply to a request for comment.
Mr Mallon was detained on suspicion of illegally reselling tickets at inflated prices and faces charges of false marketing. Ms Carnieri was detained on suspicion of false marketing.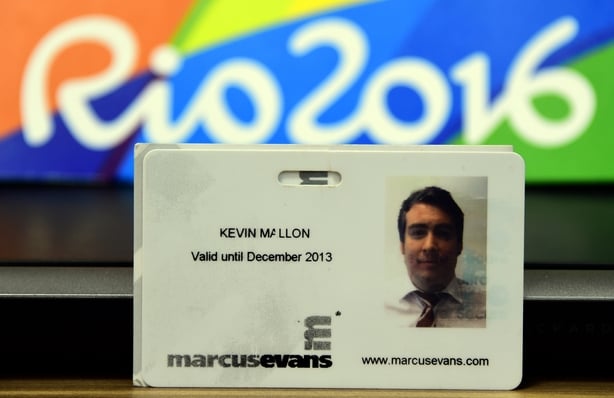 "THG was not accredited, they got these tickets from an accredited company and sold them for a much higher price", said police official Ricardo Barbosa at a news conference yesterday.
A spokesman for the organisers of the Games said Brazil had learned from the experience of hosting the World Cup in 2014, with measures in place to tackle this type of crime.
In their statement, the police noted that in 2014 the chief executive of THG, James Sinton, was detained in Rio de Janeiro, accused of forming part of a "ticketing mafia" for the World Cup in 2014.
Police in Rio this evening released footage of them seizing tickets in relation to the investigation.
Ticket touting inquiry - Police in Rio release footage of them seizing tickets in relation to the investigationhttps://t.co/ZejV95mY0k

— RTÉ News (@rtenews) August 9, 2016
THG Group is owned by Marcus Evans Group, which also controls English football club Ipswich Town.
In 2010, the Olympic council of Ireland appointed THG as its official ticketing agent for the 2012 London Olympics and the 2014 Winter Games in Sochi.
Pro 10 released a statement this afternoon, saying: "As the Authorised Ticket Re-seller for the OCI, Pro 10 Sports Management have been made aware of the ticketing situation in Rio.
"Pro 10 Sports Management have at all times strictly complied with all regulations around ticket sales and re-sale."
It said it will await further details on the nature of the investigations before commenting further.
A ticketing director with Rio 2016 said around 40 ticket touts were also arrested on the streets outside the Olympic Park in recent days by local police, thanks in part to co-operation from spectators and fans attending the Games.
Under a law passed in 2010, selling tickets at prices above their face value - even as part of a corporate hospitality package - is considered to be a "crime against the popular economy," and carries a sentence of between six months and two years.
If the tickets originated from a national Olympic committee, then Rio 2016 has previously threatened to levy a fine of up to 100 times their face value on the original holder as punishment.
Inspector Barbosa said that THG was offering tickets for the opening ceremony for more than four times the original price, and claimed the combined worth of the illegal ticket sales could have been up to €3m.
According to Brazilian broadcaster Globo, in one case a man bought ten tickets for his family spending $80,000.
Police intervened, and instead of going to the event, the family were brought to the police station to give statements.
Civil police chief Fernando Veloso told Globo: "These are real tickets. They are originals. They are offered as part of the package, facilities like the transport of passengers, and other things like that."
He said those arrested were trying to claim the sales were legitimate even though they were not authorised as re-sellers.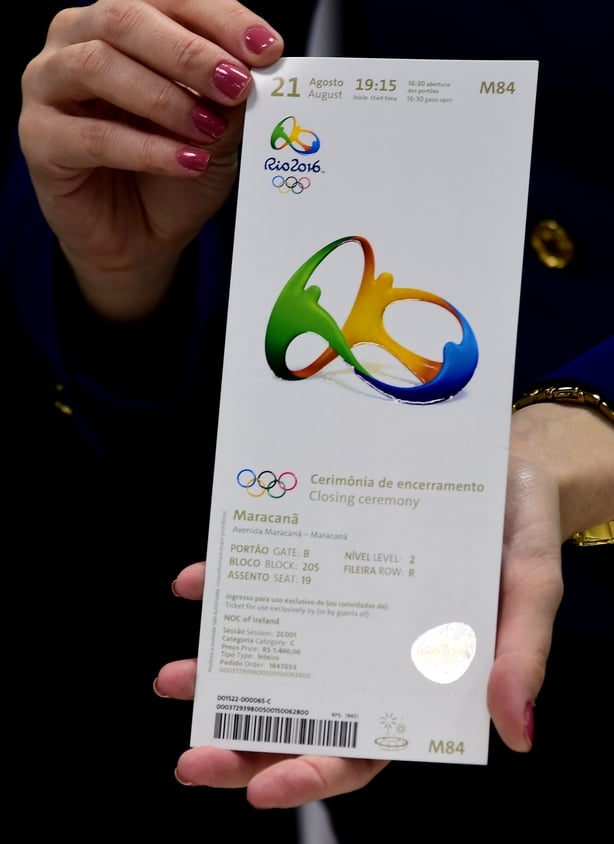 THG was authorised to sell tickets for Ireland at London 2012, but has not been licensed to sell tickets for Rio 2016.
Mr Ferreti said they were working in a very effective way with police to combat those kinds of illegal ticket sales at this tournament.
"The committee helped to create a group to combat this type of trade two years ago," he said.
"We support them (the police) and share information, so we can guarantee fairly priced tickets for fans"
Minister of State for Sport Patrick O'Donovan, who is in Rio for the Olympics, called on all organisations to which the tickets can be traced to co-operate fully with the local authorities in Rio de Janeiro.
Speaking to RTÉ News, he said: "People come to these events like this - whether at home or here in Brazil - in the hope of being able to attend and that they'll be able to attend and enjoy the spectacle of sport and they should do so at the face value of the tickets that are up for sale.
"And anyone who engages in any practice that removes that, in my estimation, is doing a huge disservice to sport, and to the country as well."

The Irish Consulate in Rio confirmed it was aware of the arrest and was offering consular assistance.