Mourners at the funeral of Bishop Edward Daly have heard that he was passionate in his struggle against violence and injustice from all quarters.
His requiem mass took place in Derry this afternoon, with President Michael D Higgins among the dignitaries in attendance.
Hundreds of people gathered in Saint Eugene's Cathedral to say farewell to Dr Daly who had served the community for almost 60 years.
He was a much-loved cleric whose memorable image from Bloody Sunday was known the world over.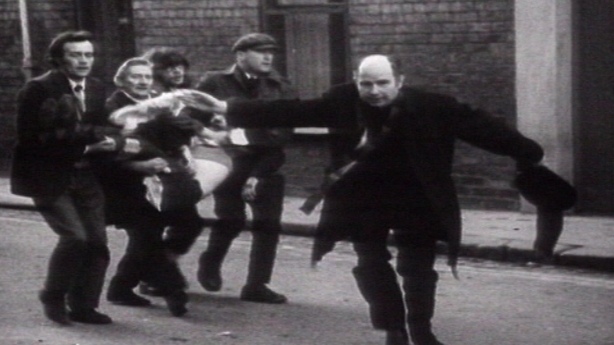 A message of condolence was read out on behalf of Pope Francis, who said that Bishop Daly had dedicated his life to serving peace and justice.
Bishop of Derry Donal McKeon, the Derry-born Archbishop of Armagh Eamon Martin and former Primate Seán Brady were among those con-celebrating the mass.
Archbishop Martin said: "Many hearts are hurting in Derry and around Ireland this week."
He paid tribute to "a great priest, a caring and compassionate pastor, a man of prayer and peace, a courageous and fearless leader, a special person".
In the homily, Bishop McKeown said Bishop Daly's ministry "was marked by total dedication to the people he served".
He said "that dedication was visible in outstanding courage".
He said Dr Daly showed "physical courage on Bloody Sunday" and that "his moral courage was evident in his passionate struggle against violence and injustice from all quarters".
"It takes enormous courage to be a peacemaker and he was an apostle of mercy, whether as a curate, as a bishop or as chaplain in the Foyle Hospice."
Bishop McKeown said they were grateful for Bishop Daly and thousands of others across the community and churches who took risks and paid the price that peace might take roots in their hearts and communities.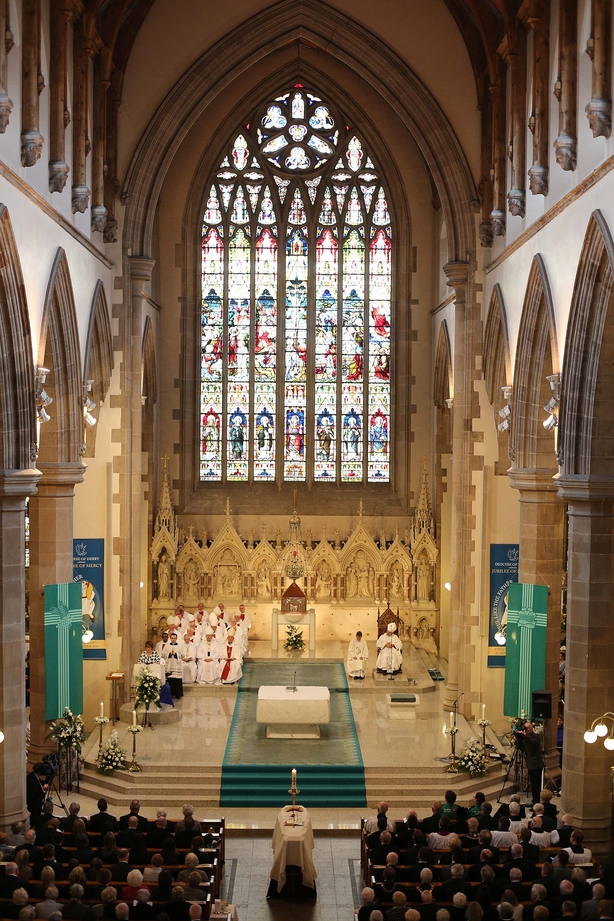 He said a key element of Bishop Daly's peacebuilding was his growing friendship with other church leaders, noting that in his early years as bishop, Dr Daly accepted the ground-breaking invitation to attend the consecration of the young Bishop Robin Eames.
Dr Daly "knew about murder and loss. He knew the years of conflict followed upon decades of terrible poverty and discrimination – as well as heroic generosity.
"He knew the enormous resilience of people who could face almost anything together."
He concluded the homily saying, "Edward Kevin Daly, your time of faithful service is over. You have fought the good fight, you have run the race, you have kept the faith."
Dr Daly died on Monday after a brief illness aged 82.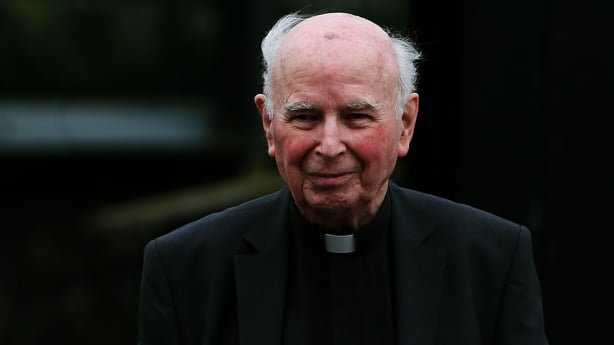 The events on what became known as Bloody Sunday in January 1972 changed the life of Bishop Daly - then a Catholic priest.
He was filmed, waving a blood-stained handkerchief, as he tried to assist the mortally wounded 17-year-old Jackie Duddy after paratroopers opened fire during a civil rights march killing 13 unarmed civilians.
A fourteenth man died later from his injuries.
His accounts of what he saw influenced international opinion as well as sealed his relationship with the people of Derry.
At the time Dr Daly was a 39-year-old curate at St Eugene's Cathedral in Derry and joined the march as it passed the cathedral en route to the city centre.
He was near Jackie when he was shot by soldiers and anointed him and gave him the Last Rites.
Among those attending the funeral included former SDLP leader John Hume and his wife Pat, Northern Ireland's Deputy First Minister Martin McGuinness and Kris Hopkins MP representing the British government.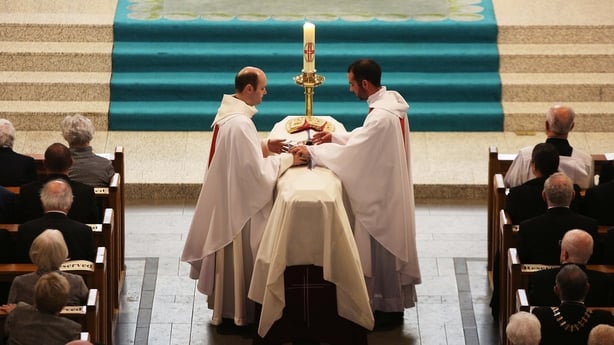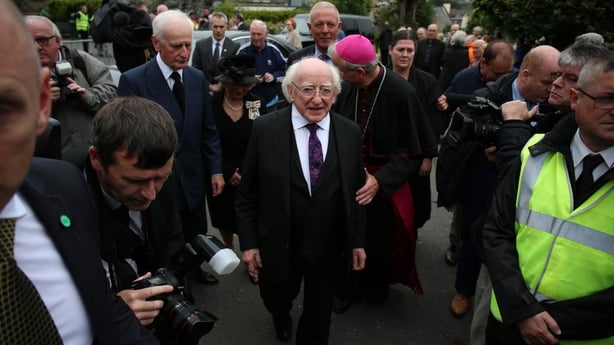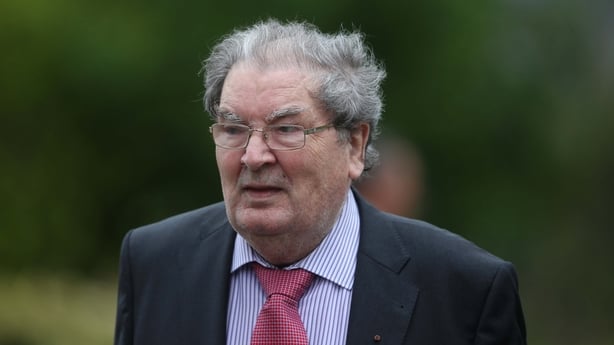 Minister of State Joe McHugh, Leas-Cheann Comhairle Pat the Cope Gallagher and Foyle MP Mark Durkan also attended.
Retired Church of Ireland Bishop Dr James Mehaffey, who worked closely with Bishop Daly during The Troubles, and retired former Church of Ireland Primate of All Ireland Robin Eames, were also among the dignitaries.
Today was also an occasion for the people of Derry to say their final farewell to a man who earned their affection as well as their respect. More than 25,000 people have visited Saint Eugene's Cathedral since Monday to pay their respects.
There was rapturous applause as Bishop Daly left the cathedral for the last time.
He was buried in the cathedral grounds this evening.