The death has taken place of Catholic Bishop Edward Daly who was present in Derry's Bogside on Bloody Sunday in 1972.
He was filmed, waving a blood-stained handkerchief, as he tried to assist the mortally wounded 17-year-old Jackie Duddy after paratroopers opened fire during a civil rights march killing 13 unarmed civilians.
A fourteenth man died later from his injuries.
At the time Dr Daly was a 39-year-old curate at St Eugene's Cathedral in Derry and joined the march as it passed the cathedral en route to the city centre.
He was near Jackie when he was shot by soldiers and anointed him and gave him the Last Rites.
Dr Daly and other marchers attempted to bring the teenager to safety with the priest leading the way with a handkerchief in his hand.
From 1974 until 1993, he served as Bishop of Derry and in recent years was chaplain at the Foyle Hospice despite poor health. 
He also served as a Diocesan Archivist.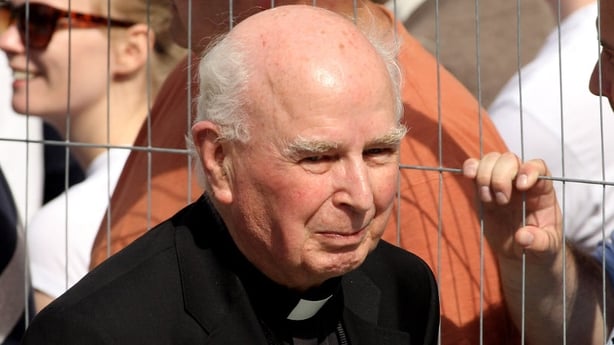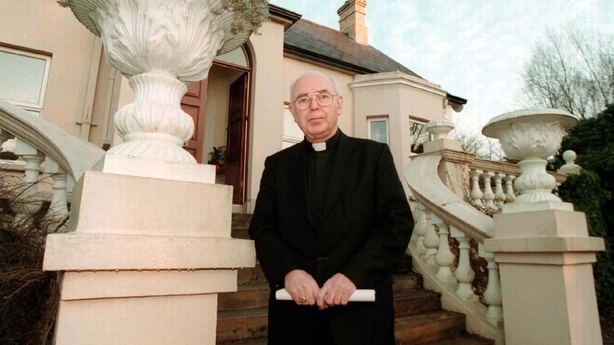 Dr Daly was born in Ballyshannon, Co Donegal and spent most of his formative years in Belleek, Co Fermanagh. He boarded at St Columb's College in Derry and completed his studies for the priesthood at the Irish College in Rome. 
He was ordained on 16 March 1957 and his first appointment was a curate in Castlederg, Co Tyrone.
Dr Daly was appointed as a curate in St Eugene's Cathedral in 1962 and in 1973 was appointed as the Religious Advisor to RTÉ.
Aged 82, he was awarded the Freedom of the City by Derry City Council last year. 
He died at 9am, with family members by his bedside.
Hundreds of people this evening attended the removal of Dr Daly.
The late bishop's remains will lie in repose until the funeral Mass on Thursday afternoon.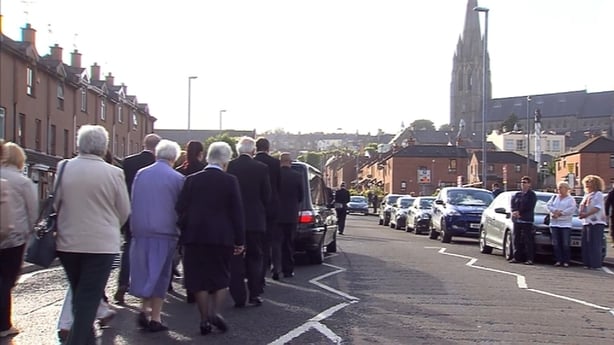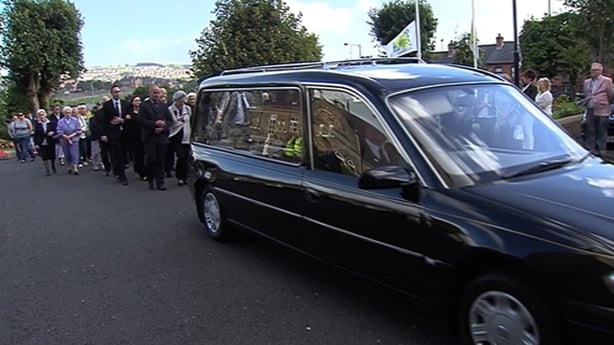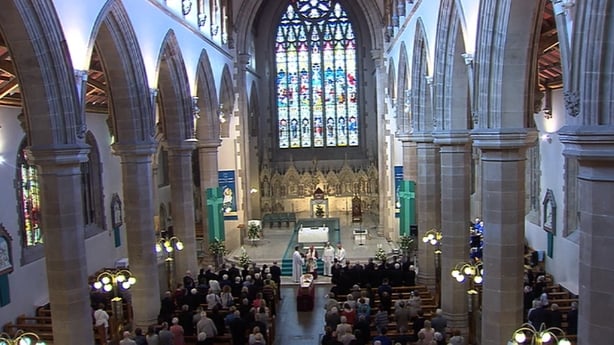 In a statement, Bishop of Derry Donal McKeown said Dr Daly "provided an example of priestly ministry which was exemplary, inspired by service of God and the people he encountered".
He said Dr Daly served "without concern for himself throughout the traumatic years of the Troubles, finding his ministry shaped by the experience of witnessing violence and its effects; through this dreadful period he always strove to preach the Gospel of the peace of Christ".
Dr McKeown added: "The bishops, priests and people of the diocese were blessed to have such a dedicated and faithful priest among them".
Primate of All Ireland Archbishop Eamon Martin said he had huge admiration for Dr Daly who ordained him in 1987, saying he will "always be grateful for his pastoral guidance, kindness and support".
He described Dr Daly as an iconic figure in the civic and church life of Ireland, north and south, and as a pastor who took personal interest in those who suffered miscarriages of justice.
"His untiring advocacy for the Birmingham Six, the victims of Bloody Sunday and for the families of those murdered by paramilitaries earned him respect from some, suspicion from others."
Dr Martin said it was a pity that ill-health forced Dr Daly to retire prematurely, but "always a priest, he continued through his hospice ministry and gentle presence to witness to his love for the priesthood, his unfailing duty and service to the Church, and his generosity of heart".
He said: "Bishop Edward will be remembered as a fearless peacebuilder - as exemplified by his courage on Bloody Sunday in Derry - and as a holy and humble faith leader".
President Michael D Higgins said he learned of Dr Daly's death with great sadness and said he will be remembered for his peaceful, compassionate, humanitarian and courageous actions during the appalling events of Bloody Sunday.
Minister for Foreign Affairs Charlie Flanagan paid tribute to the former Derry bishop, who, he said strove to heal a divided city and was a key advocate for peace in Northern Ireland.
Tributes paid to 'remarkable friend'
Retired Bishop of Derry and Raphoe James Mehaffey said he was deeply saddened to learn of the death of his very great friend.
In a statement, he said their paths first crossed in 1980 and that they became "firm friends".
"We ministered to a divided community at a difficult time in its history, and sought to provide true Christian leadership."
He added: "What Bishop Edward and I did together was based on faith, friendship, respect and trust. He was a man of God and a man of the people, a great church leader and a remarkable friend."
President of the Methodist Church in Ireland Rev Bill Mullally said that as well as being a man of peace, Bishop Daly was a practical ecumenist.
Former SDLP leader and Nobel laureate John Hume also paid tribute to Dr Daly, saying he was a "beacon of light".
Mr Hume and his wife Pat said Bishop Daly was a "great source of strength to us in difficult times, as he has been to countless others" and "above all he was kind".
Kate Nash, whose 19-year-old brother William was killed on Bloody Sunday, said Bishop Daly was dedicated to non-violence.
She said: "He has spoken out loudly and bravely on non-violence. He knew what happened on Bloody Sunday and said often that it was murder and he understood the struggle for justice."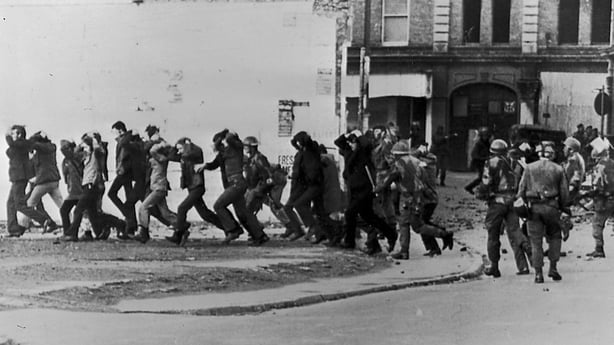 She said he and those carrying Jackie Duddy's body could have been shot.
"He was a very brave individual doing that because soldiers were firing at everybody really, he was definitely in danger of getting shot that day."
The brother of Jackie Duddy said that it meant the world to his family that Bishop (then Father) Daly had risked his life to be by his brother's side as he died.
Speaking on RTÉ's News At One, Gerry Duddy said that Bishop Daly also spoke in defence of his Jackie in the aftermath of the shootings which gave his family hope that his killers would be brought to justice.
He said that Bishop Daly had been a fantastic family friend and had kept a framed photograph of Jackie in his office.
Mr Duddy added that he knew the shootings had changed Bishop Daly who was never the same afterwards.
Northern Ireland Deputy First Minister Martin McGuinness said Bishop Daly was an immense figure in Derry who was very "forthright in his view at a time when a war was raging in the city but thankfully he also lived to see the peace".