Crowds jeered France's leaders at a tribute to victims of last week's truck attack in Nice as an opinion poll showed a sharp drop in confidence in the ability of President Francois Hollande's government to combat terrorism.
Before and after a minute of silence held to pay respects to the 84 dead, many of the thousands gathered in the south-coast resort city of Nice chanted "resign, resign" at Manuel Valls, the Socialist prime minister. Others yelled "Hollande, resign".
The poll published in Le Figaro newspaper showed 33% of respondents were confident in the current leaders' ability to fight terrorism, down sharply from confidence levels of at least 50% in the wake of two major attacks last year.
"The government promises us things but nothing sticks," Nice city resident Antony Fernandez told Reuters. "What have they done up to now to make us feel safe? And yet what do we expect? Every six months we're going to mourn for more dead?"
The latest poll came at a moment when, less than a year from a presidential election, political opponents have fast abandoned the initial restraint that usually prevails on such occasions to sharply criticise Mr Hollande and his government.
Ex-president Nicolas Sarkozy, who is competing in a November primary for the ticket to run as presidential candidate for France's mainstream centre-right parties, said overnight Mr Hollande's government had failed to do all it could.
Spontaneous applause on #PromenadeDesAnglais in #Nice following minutes silence. #NiceAttack pic.twitter.com/JSaMiNoQuc

— Brian O'Donovan (@BrianOD_News) July 18, 2016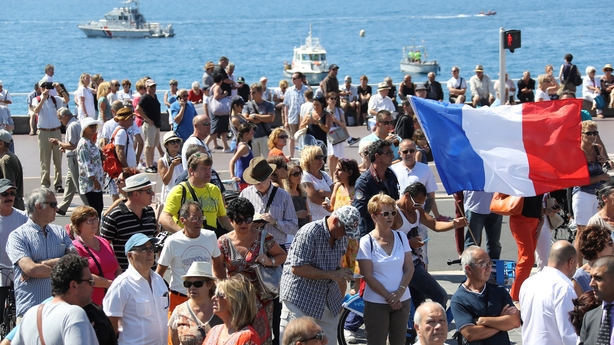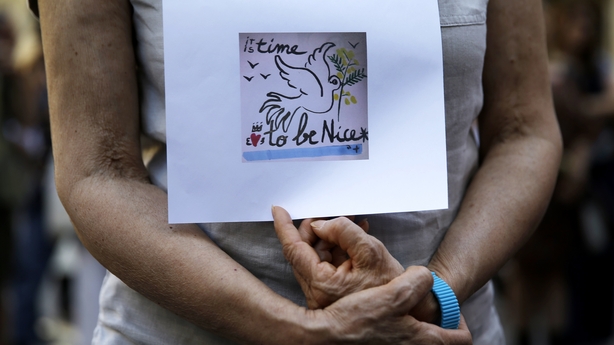 "I know there's no zero risk, I know perfectly well that we don't pull each other apart before the victims have even been buried," Mr Sarkozy told TF1 TV.
"But I want to say, because it's the truth, that everything that should have been done over the last 18 months ... wasn't done," he said, without proposing what could have been done better.
In Thursday's attack, delivery man Mohamed Lahouaiej Bouhlel ploughed a 19-tonne truck into crowds of revellers, killing 84. He was shot dead by police.
The killings plunged France back into a state of grief, fear, and now political recrimination.
The bickering between politicians contrasted starkly in speed and intensity with the restraint seen in the immediate wake of the attack on Paris last November and one in January 2015 on the Charlie Hebdo newspaper.
The government has struck back by denouncing opponents for breaking ranks so fast.
Speaking ahead of the nationwide minute-of-silence, Interior Minister Bernard Cazeneuve accused theg overnment's opponents of breaking ranks in an unseemly way.
"We've seen tirades emerge immediately and personally this is both shocking and sad ... it's undignified in the current context," he said.
Voters also denounced the lack of restraint among competing politicians while many of those killed in Thursday's attack on the seafront Promenade des Anglais boulevard had yet to be identified or buried.
Prosecutor Francois Molins, who is in charge of the investigation, said the attack was premeditated. Bouhlel on had tried to get a 5,000-euro bank loan on 28 June, which he was denied.
From 1 July, he had also made internet searches for festivities in Nice and had driven the route of the attack two days prior to Bastille day.
Mr Molins said the killer had recently developed an interest in radical Islam, telling people he had grown a beard for religious reasons and that he could not understand why the so-called Islamic State group could not have its own territory.
Bouhlel had also carried out daily searches from the start of July of jihadist propaganda websites showing violent images.
"While there are no elements in the investigation to suggest at this stage an allegiance to Islamic State nor links with individuals from the group ... he (Bouhlel) showed a certain recent interest in radical jihadist movements," Mr Molins said.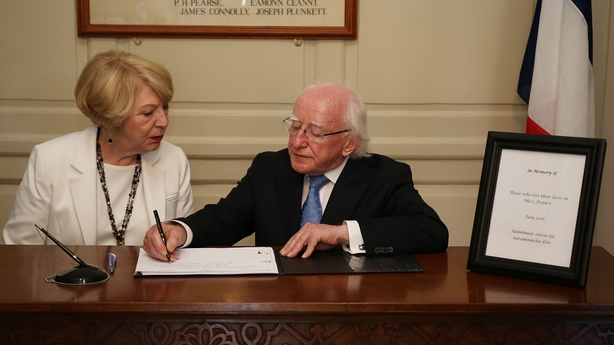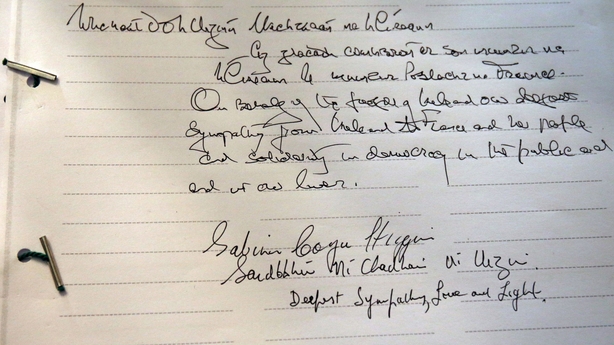 The Tricolour will fly at half-mast over Government Buildings, as well as other public buildings across Ireland, as a mark of respect to those who died in the tragedy.
President Michael D Higgins and his wife, Sabina, signed a Book of Condolence for victims of the attack at the Mansion House in Dublin.
President Higgins called for people to make a stand for democracy.
He said: "We are in a period of time where, for a whole series of different factors, people are seizing and distorting and very often using pieces of text, often sacred texts, massively abusing these in a way that it would be absurd if it did not have such a violent outcome.
"What we all have to do is take a stand for democracy, prepare for democracy."
He described the lorry attack as an appalling, cowardly and incredible act on children and people celebrating France's national day.
President Higgins will meet Mr Hollande when he arrives in Ireland on Thursday for an official visit.
Police in France are continuing to question six suspects in connection with the attack.
In pictures: A minute of silence was held across France this morning for the victims of the #NiceAttack pic.twitter.com/3UFo3loNvH

— RTÉ News (@rtenews) July 18, 2016