The man who mowed through a crowd with a truck, killing 84 Bastille Day revelers in Nice on Thursday, had phoned home hours earlier and sent a 'laughing' picture from the French city, his brother told Reuters.
During a visit to Nice on today, French Health Minister Marisol Touraine said 18 people, including a child, were still in a critical condition, while about 85 people in total were in hospital.
The attack by delivery man Mohamed Lahouaiej Bouhlel at peak holiday time on the Riviera plunged France into new grief and fear, just eight months after jihadist gunmen killed 130 people in Paris.
"That last day he said he was in Nice with his European friends to celebrate the national holiday," Bouhlel's brother Jabeur told Reuters in their native Tunisia. In the photograph, "he seemed very happy and pleased, he was laughing a lot".
Reuters could not verify the existence of the photograph, which Jabeur declined to share.
The attacks, along with one in Brussels four months ago, have shocked Western Europe, already anxious over security challenges from mass immigration, open borders and pockets of Islamist radicalism.
Two more people, a man and a woman close to Bouhlel, were arrested in Nice early this morning and another person in the afternoon. Four others arrested previously were still being held, but Bouhlel's estranged wife was released without charge after being held since Friday.
In a pointer to a possible accomplice, one of these seven people still held by police had received a text from the killer thanking that person for providing a weapon, a source close to the investigation told Reuters.
The so-called Islamic State has claimed the attack, calling Bouhlel one of its soldiers, but authorities have yet to produce evidence tha the 31-year-old, shot dead by police, had any actual links to the militant group.
Prime Minister Manuel Valls said there was no doubting the assailant's motives.
"The investigation will establish the facts, but we know now that the killer was radicalised very quickly," he told newspaper Le Journal du Dimanche.
As of Sunday no evidence had been produced to show how he underwent that rapid transformation from someone with noapparent interest in religion.
Relatives and friends interviewed in Nice painted a picture of a man who at least until recently drank alcohol, smoked marijuana and according to French media even ate pork, behavior that would be unlikely in a devout Muslim.
A report in the Nice Matin newspaper said investigators had found no radical material in his flat, although they were still looking at his telephone and computer.
Speaking from his home town in Tunisia, Bouhlel's sister told Reuters he had been having psychological problems when he left for France in 2005 and had sought medical treatment.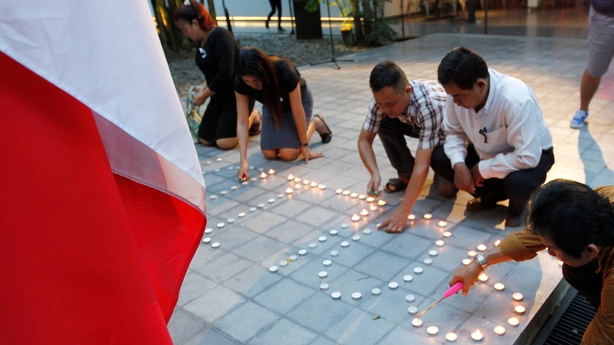 France key target for IS
The so-called Islamic State, which is under military pressure in its Iraqi and Syrian strongholds, considers France a key target given its military operations in the Middle East, and also because it is easier to strike than the United States.
France is also home to Europe's biggest Muslim population, and has been accused by some critics of sowing racial, ethnic and religious discord through strict adherence to a culture that allows no place for religion in schools and civic life.
Long and open borders also make it an easy target for attackers who want to melt away afterwards.
Mr Valls defended France's record on attacks, saying security services had prevented 16 over three years, and said the modusoperandi of cajoling unstable people into striking by whatever means possible was difficult to combat.
"Daesh gives unstable individuals an ideological kit that allows them to make sense of their acts ... this is probably what happened in Nice's case," Mr Valls said, referring to the Arabic acronym for the so-called Islamic State.
Despite mounting criticism from the conservative opposition and the far-right over how President Francois Hollande's Socialist government is handling security, Mr Valls said there was no such thing as zero risk and that new attacks would occur.
"I've always said the truth regarding terrorism: there is an ongoing war, there will be more attacks. It's a difficult thing to say, but other lives will be lost."
With presidential and parliamentary elections less than a year away, opposition politicians are seizing on what they see as security failings that made it possible for the truck to career 2km through large crowds before it was finally halted.
A state of emergency imposed across France after the November attacks in Paris has been extended by three months, and military and police reservists are to be called up.
But the measures appear to have done little to temper concerns. Highlighting the "serious deficiencies" in protecting French citizens, far-right National Front leader Marine Le Pen demanded that Interior Minister Bernard Cazeneuve resign.
"Anywhere else in the world a minister with such a terrible record - 250 deaths in 18 months - would have resigned a longtime ago," she told reporters.
Christian Estrosi, president of the wider Riviera region and a security hardliner, accused the government of failing completely in Nice.
"When the interior minister says there were enough police, it constitutes a blatant lie," he told i-Tele television. "He said there were 64 national policemen on duty. It's false and the investigation will show it."
Mr Valls has said there were no failures, although Cazeneuve acknowledged yesterday that the truck had avoided the police vehicles blocking the way to the promenade by mounting a kerb.
Meanwhile, the national flag will fly at half mast over Government buildings as well as other public buildings tomorrow as a mark of respect to those who died in the tragedy on Bastille day in Nice.
---
Additional reporting by RTÉ's Brian O'Donovan in Nice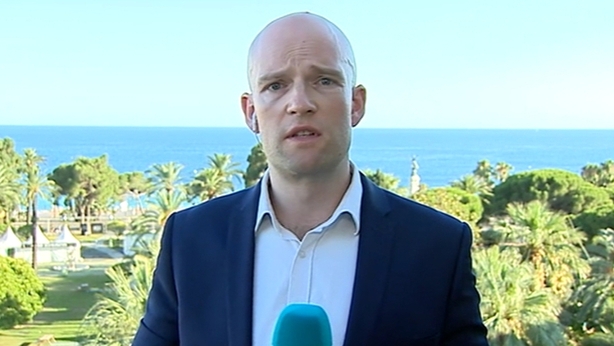 The church of Saint Pierre d'Arene is just one street back from the Promenade des Anglais, metres from the scene of Thursday night's attack.
Today as people gathered for Sunday morning mass they prayed for the victims and their families. An emotional rendition of the French national anthem was sung to honour the dead.
Sisters Jane and Lorna Hennelly from Galway were at today's service. They were on the Promenade des Anglais on Thursday night but left minutes before the attack.
When we talked to them outside the church,  they were clearly moved by the ceremony. They spoke about how they wanted to show solidarity with the victims and about they had come so close to being caught up in the attack themselves.
Sisters Jane and Lorna Hennelly from Galway left Nice's Promenade des Anglais minutes before Thursday's attackhttps://t.co/s83NS8r7RK

— RTÉ News (@rtenews) July 17, 2016
Also at the service was retired bus driver Louis Giordan. He asked us to interview him, eager to tell his story.
He was there when the attack unfolded and he described how he saw someone hanging off the truck as it drove through the crowds.
"I'm from here," he said. "I know this area well and what I saw on Thursday night was a massacre".