French Prime Minister Manuel Valls has said that the man behind the Nice truck attack is a "terrorist" who was "probably linked to radical Islam in one way or another".
The identity of the driver who killed dozens of people in a Bastille Day attack in France has been confirmed through fingerprints.
Mohamed Lahouaiej Bouhlel was of Tunisian nationality and divorced with children. His ex-wife is in police custody.
Paris prosecutor Francois Molins said Bouhlel was unknown to intelligence services.
An investigation is still ascertaining whether the attacker was working alone or in a group.
While nobody has claimed responsibility, the Nice attack bears the hallmark of a terrorist organisation, Mr Molins said.
Bouhlel drove a heavy truck into crowds celebrating the French holiday last night, killing at least 84 people in what President Francois Hollande called a terrorist act.
Ten children and teenagers were killed. Mr Hollande said "many foreigners" are among the dead.
202 people were injured in the attack - 50 of them are said to be in a critical condition.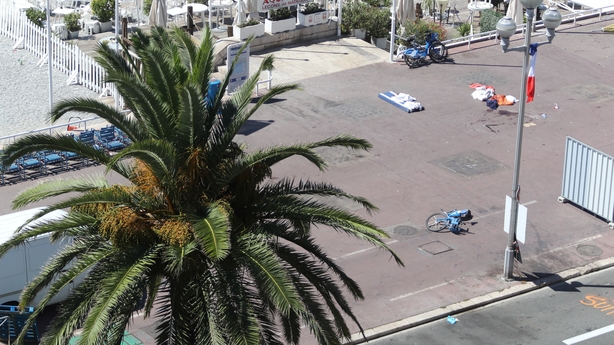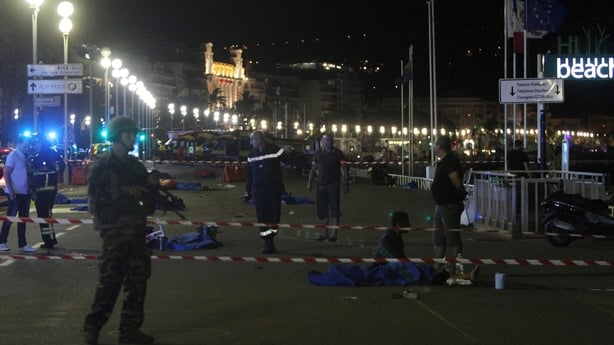 Taoiseach Enda Kenny said one Irish person is believed to have been critically injured.
Two US citizens, a 51-year-old man and his 11-year-old son, were reported to have been killed.
Russian student Viktoria Savchenko was also among the dead, according to the Moscow academy where she studied.
Bouhlel also opened fire on police officers before his lorry was stopped and he was killed. He was said to have hired the lorry in a neighbouring town on Wednesday.
He was not on the watch list of French intelligence services, but was known to the police in connection with common crimes such as theft and violence, a source said.
Police found one pistol and various fake weapons in the truck's cabin. They later seized a telephone and computer at his home.
French Prime Minister Manuel Valls said the man behind the attack in all likelihood had ties to radical Islamist circles.
"He is a terrorist probably linked to radical Islam one way or another," Mr Valls told France 2.
"Yes, it is a terrorist act and we shall see what the links there are with terrorist organisations."
Mr Valls said he was "convinced" that France would win the war against terrorism and radical Islam.
"We are going to reinforce the coalition's resources" to fight against IS in Syria and Iraq, he added.
Truck zigzagged through the crowd for 2km
Bouhlel's white truck zigzagged along the seafront Promenade des Anglais as a fireworks display marking the French national day ended just after 10.30pm local time last night.
According to one city official, the truck careered on for up to 2km.
"People went down like ninepins," a person who runs a restaurant on the seafront, told France Info radio.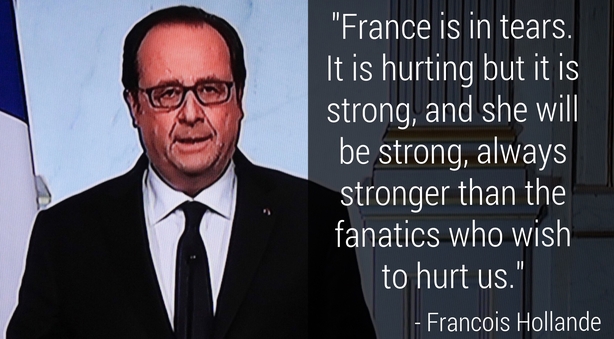 Mr Hollande said in a pre-dawn address that he was calling up military and police reservists to relieve forces worn out by enforcing a state of emergency begun in November after so-called Islamic State gunmen and suicide bombers struck Paris entertainment spots on a Friday evening, killing 130 people.
Only hours earlier he had announced the emergency would be lifted by the end of July. Following the attack, he said it would be extended by a further three months.
"France is filled with sadness by this new tragedy," Mr Hollande said. "There's no denying the terrorist nature of this attack."
Major events in France have been guarded by troops and armed police since the 13 November attacks.
But it appeared to have taken many minutes to halt the progress of the truck as it tore along pavements and a pedestrian zone.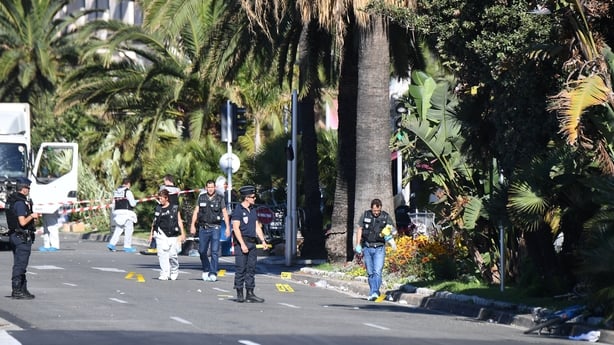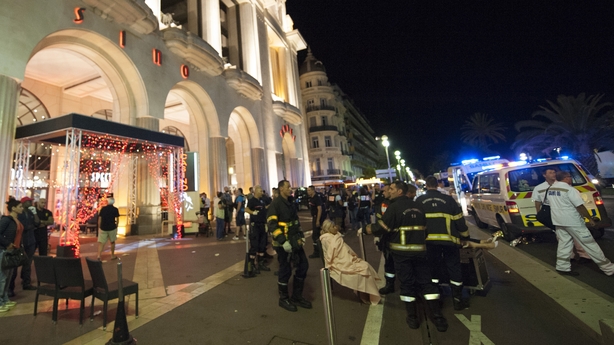 Stephen Milton from Dublin was on holidays in Nice with his partner. He said what had been an enjoyable night out enjoying the fireworks on the promenade ended in chaos and pandemonium.
"We basically ended up in the storeroom of a restaurant that was about a block away from the promenade sheltering in there with maybe 15 other people, without any clue what was going on.
"But the fear and the devastation of the French people that were with us said it all. We obviously found out later the full extent of the carnage."
Robert Greene, from Coolock in Dublin, said the truck "came behind us and beside us as he was cutting through people".
Mr Greene, who is a barman at Ma Nolan's Irish bar was returning to the city with friends after a party on the outskirts of Nice.
"I saw this truck and he cut through three or four people, he was already missing the bumper. It was horrific."
Some of Mr Greene's friends ran down a flight of steps to the beach below the promenade as the driver weaved along the road with the lights of the truck off, running over people indiscriminately.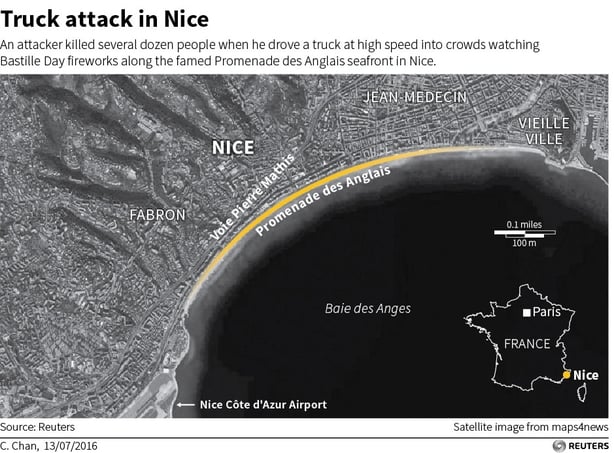 One witness said she thought the attacker was firing a gun as he drove.
"I saw this enormous white truck go past at top speed," said Suzy Wargniez, a local woman who was watching from a cafe on the promenade. "It was shooting, shooting."
A local government official said weapons and grenades werelater found inside the rented vehicle.
Nice-Matin newspaper said on Twitter that police were searching the attacker's home in the Nice neighbourhood of Abattoirs. It gave no source of the information.
Dawn broke with pavements smeared with dried blood.
Smashed children's buggies, and other debris were strewn about the promenade. Small areas were screened off and what appeared to be bodies covered in blankets were visible through the gaps.
The truck was still where it came to rest, its windscreen riddled with bullets.
The truck careered into families and friends listening to an orchestra or strolling above the beach on the Mediterranean Sea towards the grand, century-old Hotel Negresco.
Nice attack: Emergency services transport injured to hospitalshttps://t.co/1eNgmEbiRQ

— RTÉ News (@rtenews) July 15, 2016
Nice attack: truck accelerates towards crowd on busy promenadehttps://t.co/AhgJMtVrkL

— RTÉ News (@rtenews) July 15, 2016
Bystander Franck Sidoli said he had seen people go down. "Then the truck stopped, we were just five metres away. A woman was there, she lost her son. Her son was on the ground, bleeding," he told Reuters at the scene.
Police told residents of the city to stay indoors as they conducted further operations. Officials in Italy, just 30km away, said frontier controls were being stepped up.
Three days of national mourning has been declared from tomorrow, prime minister Manuel Valls said.
Flags are being flown at half-mast, and a law extending increased powers for the police will be put before parliament next week, he said.
Minister for Foreign Affairs Charlie Flanagan has said that his department is monitoring the situation "closely".
Min Flanagan statement:I deplore this evening's events in #Nice & my Department is monitoring the situation closely pic.twitter.com/P6bsbZ34bt

— IrishForeignMinistry (@dfatirl) July 15, 2016
Mr Flanagan said the Irish embassy in Paris is on stand-by to offer assistance to any Irish people affected by the events.
The French Ambassador to Ireland Jean-Pierre Thébault spoke of his sadness following last night's attack in Nice, describing it as an attack on freedom and an attack on all of us.
He echoed the words of French President Francois Hollande describing it as a war, adding "if we don't stand against these terrorists, we will lose this war".
The Irish Embassy in Paris has said that any Irish citizens who need to contact the embassy can call 0033-14 4176 700. Anyone in Ireland with concerns can contact the Department of Foreign Affairs on 01-4082000.