At least 77 people have died in Nice, France after a truck drove into a crowd celebrating the Bastille Day national holiday, according to the city's mayor.
Christian Estrosi, who was at the celebration when the incident happened, said: "We are terrified and we want to present to all the families our sincere condolences."
He said guns and grenades were found inside the truck, "There were guns in this vehicle and larger weapons, but I can't say more than that because that is the prosecutor's job".
French media has reported that a further 15 people were critically injured and dozens more wounded.
It is reported that the driver of the truck was shot dead after he drove at a high speed along the famed Promenade des Anglais seafront. French authorities are investigating if the driver acted alone.
French television station BFM TV said up to 100 people were injured and local authorities were treating the incident as an attack, which one local official described as a "major criminal attack".
A French prosecutor has said that anti-terrorist investigators have taken over the probe into the incident.
Pictures and footage shown on social media showed crowds fleeing in terror from the scene on the promenade.
Eyewitnesses reported hearing gunshots and pictures on social media showed armed police with weapons trained on a badly damaged white lorry with what appeared to be bullet holes in the windscreen.
It is believed that French President Francois Hollande returned to Paris from the city of Avignon to hold a crisis meeting at the French Interior Ministry.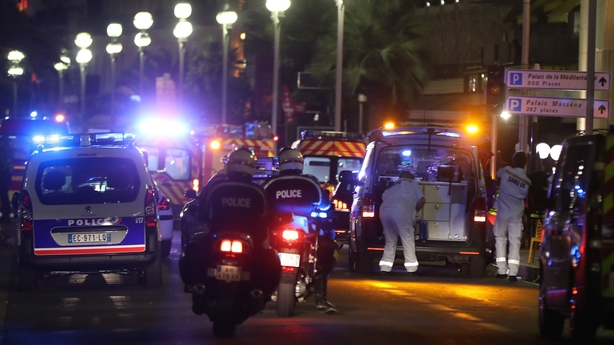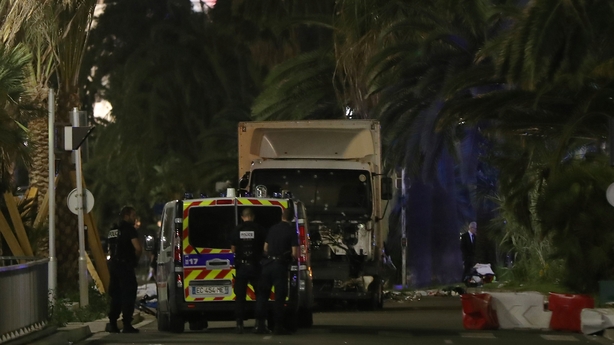 An AFP reporter described seeing a white van driving at high speed onto the promenade as people were leaving after the Bastille Day fireworks.
"We saw people hit and bits of debris flying around," he said.
Minister for Foreign Affairs and Trade Charlie Flanagan has said that his department is monitoring the situation "closely".
He said Ireland's Ambassador to France, Geraldine Byrne Nason, and her staff are "seeking to establish whether any Irish citizens have been caught up" in the Nice attacks.
Mr Flanagan said the Irish embassy in Paris is on stand-by to offer assistance to any Irish people affected by the events.
The Irish Embassy in Paris has said that any Irish citizens who need to contact the embassy can call 0144176700. Anyone in Ireland with concerns can contact the Department of Foreign Affairs on 014082000.
Irish citizens in #Nice who need to contact the Embassy can do so at 0144176700. Stay safe and follow instructions of local authorities.

— Irish Embassy Paris (@IrlEmbParis) July 14, 2016
Obama condemns Nice attack
US President Barack Obama has condemned the attack in Nice, and offered any assistance France needs to investigate.
In a statement he said: "On behalf of the American people, I condemn in the strongest terms what appears to be a horrific terrorist attack ... which killed and wounded dozens of innocent civilians."
Downing St has said that UK Prime Minister Theresa May has been briefed on the "terrible incident" in Nice.