A detailed breakdown of multi-million euro payments to legal firms as well as payments to members of the Residential Institutions Redress Board has been published for the first time.
Set up on 16 December 2002, the board's aim was to hear evidence from people who were abused while they were children living in institutions run by a number of religious orders.
Rather than face the difficult route of taking High Court actions, the Residential Institution Redress Board members would hear the victims in a non-adversarial environment and make an offer of financial compensation.
Around 15,500 people have taken claims seeking redress.
On average they have secured compensation of around €62,000.
The single largest payment was just over €300,000.
In total, nearly €1bn has been awarded in compensation.
The board has also paid legal fees to firms who assisted victims in taking their case.
Nearly one thousand firms have received a total of around €200m.
A detailed breakdown of the figures by RTÉ News has revealed the top ten legal firms involved:
Michael E Hanahoe - €18.8m - 1,090 clients
Peter McDonnell & Assoc - €16.6m - 1,835 clients
Byrne Carolan Cunningham - €14.6m - 1,073 clients
Lavelle Coleman - €13.6m - 1,062 clients
Burns, Kelly, Corrigan - €10.3m - 955 clients
Murphy English - €10.1m - 674 clients
Hodge, Allen, Jones - €5.6m - 531 clients
Matthew Gold - €4.7m - 332 clients
Paul W Tracey - €4.7m - 571clients
Margaret Campbell - €4.6m - 399 clients     
The ten firms and the Law Society were contacted to see if they wanted to comment.
Three firms replied: Hanahoe Solicitors, Tracey Solicitors and Matthew Gold.
In a detailed response, Hanahoe Solicitors pointed out that as well as its own fees, the payments also covered thousands of medical and expert reports as well as witnesses, barristers' fees and court costs.
All three firms pointed out that the costs were approved by the board and were examined by the Comptroller and Auditor General.
For the first time, the Residential Institutions Redress Board also released to RTÉ News the details of the payments made to its members since they joined.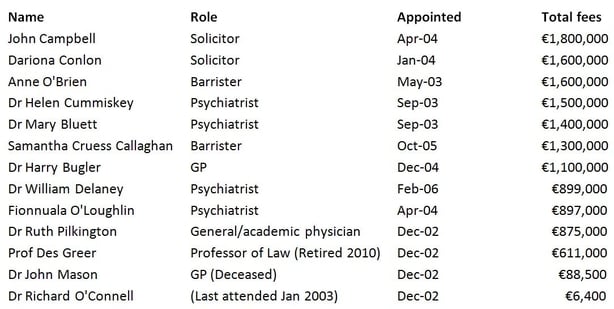 When it was estimated the cost of the scheme would be around €300-400m, an agreement was reached between the then government and the Conference of Religious in Ireland.
In 2002, it was agreed that 61 properties would be transferred from the orders to the State or social organisations in addition to some cash.
The latest figures show that 14 years later 14 properties have still to be transferred from the religious orders.
A subsequent request was also made by the previous government to the orders to increase their contributions.
While some has been forthcoming, it is still far short of the €700m that would equate to the orders and the State paying an equal share of the costs involved.