Garda Commissioner Nóirín O'Sullivan has said she has never regarded whistleblower Maurice McCabe as 'malicious'.
Ms O'Sullivan made the comments in a statement issued tonight, the first public comments on the matter that she has made since the O'Higgins report was published on 11 May.
The report of the commission led by Mr Justice Kevin O'Higgins, identified serious flaws and failures in criminal investigations in the Cavan/Monaghan division in 2007 and 2008 but found no evidence of garda criminality or corruption.
The commission, which was established on foot of complaints by Garda Sergeant Maurice McCabe, found that while he acted out of genuine and legitimate concerns, many of his allegations were inaccurate, incorrect, overstated and unfounded.
In her statement this evening, Ms O'Sullivan said she wants "to make it clear that I do not - and have never, regarded Sergeant McCabe as malicious."
She said his contribution is "valued and the service has changed for the better in response to the issues about which he complained".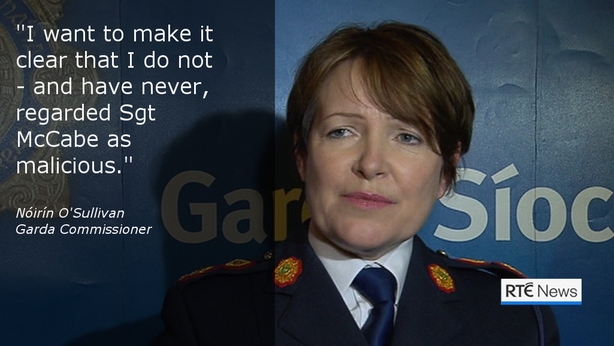 She also apologised to the victims mentioned in the O'Higgins report, saying that they did not receive the service they were entitled to by gardaí.  
She said gardaí will seek to work with the victims.
Ms O'Sullivan also said she is legally precluded from publicly commenting on proceedings before the O'Higgins Commission.
She said any witnesses who gave evidence before the commission "did so on the expectation that their evidence … would remain private."
She also said that any member of the gardaí who raises issues will be fully supported.
She added that An Garda Síochána is "on a journey towards a markedly better policing service and we will learn from every mistake we make."
Nóirín O'Sullivan says she never regarded complaints made by Sgt McCabe as 'malicious' – RTÉ's Paul Reynolds reports https://t.co/PqeU6MCcuE

— RTÉ News (@rtenews) May 16, 2016