Taoiseach Enda Kenny has said he is glad the O'Higgins Report into allegations of garda malpractice and corruption has confirmed former justice minister Alan Shatter "did his work well".
Mr Shatter has insisted that if the Government accepts the findings of the report, then the Taoiseach has a duty to correct the Dáil record.
The report of the commission led by Mr Justice Kevin O'Higgins, which runs to 362 pages, identified serious flaws and failures in criminal investigations in the Cavan/Monaghan division in 2007 and 2008 but found no evidence of garda criminality or corruption.
The commission, which was established on foot of complaints by garda whistleblower Maurice McCabe, found that while the sergeant acted out of genuine and legitimate concerns, many of his allegations were inaccurate, incorrect, overstated and unfounded.
O'Higgins' report identifies serious failures in some investigations but no evidence of Garda criminality/corruptionhttps://t.co/jfhrHvCUs8

— RTÉ News (@rtenews) May 11, 2016
Tánaiste and Minister for Justice Frances Fitzgerald earlier said she accepts its findings, but today declined to apologise to Mr Shatter on behalf of the Government.
Mr Shatter maintained that when the earlier Guerin Report, which was critical of him, was laid before the Dáil, Mr Kenny accepted in full what the former minister called its "flawed opinions and conclusions".
Mr Shatter said the Government had a duty to ensure what he described as the now discredited adverse conclusions and opinions contained in the Guerin Report were acknowledged to be in error and corrected and that the report was withdrawn from circulation in its present form.
In a statement, Mr Shatter highlights findings of the O'Higgins Report that he says vindicate his conduct.
He said controversies in which he was involved and which led to his resignation as minister had now been examined by three different independent retired judges who had irrefutably established that serious charges and accusations made against him were entirely untrue.
Speaking this evening, Mr Kenny said Mr Shatter had set out the reasons for his resignation very clearly in a letter at the time.
Mr Kenny said he received the report before this morning's Cabinet meeting and had not had the chance to read it in full yet.
"I'm glad Alan has had his work as minister confirmed by the O'Higgins report," Mr Kenny said, however.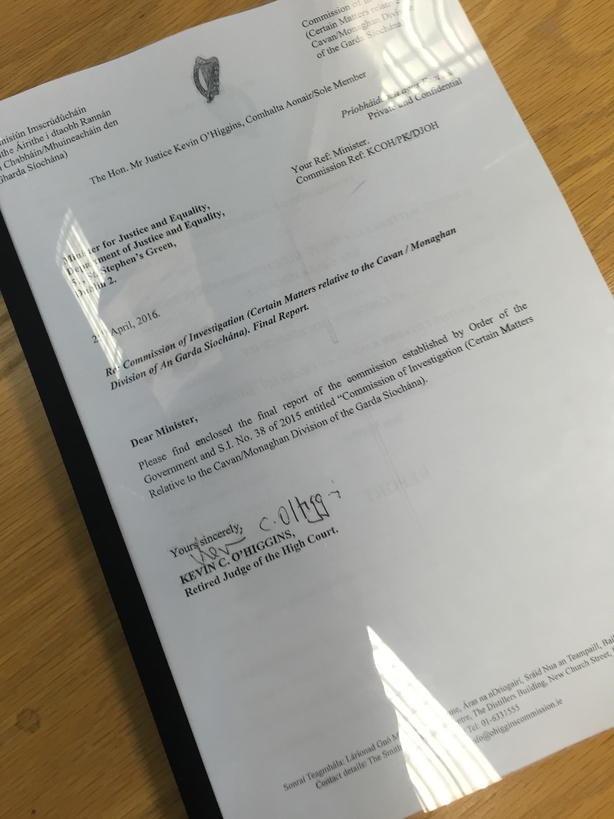 Timeline: Report into allegations against gardaí
Meanwhile, the woman whose serious assault was examined in the O'Higgins report has said she believes senior garda management is not fit for purpose.
Taxi driver Mary Lynch was attacked by Gerry McGrath but the poor garda investigation meant he was released and he went on to murder Sylvia Roche Kelly.
Giving her reaction to the O'Higgins report, Ms Lynch said much of what happened in her case was described as human error by gardaí. However, even though someone died "they can walk away with their hands clean."
Ms Lynch said she has no confidence in the gardaí and no one was held accountable.
Ms Lynch said the attack still had an impact on her to this day. However she is alive while the family of Silvia Roche Kelly have to deal with her loss.
Sea change needed within An Garda Síochána - Fitzgerald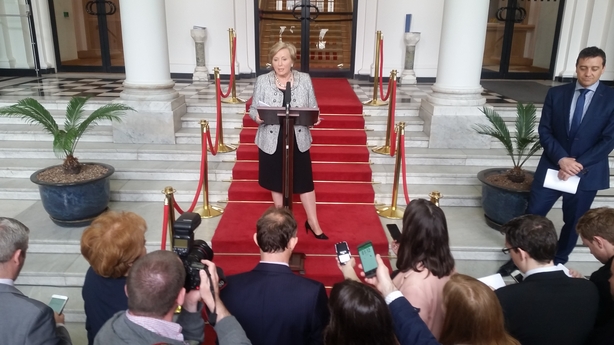 Speaking to the media, Ms Fitzgerald said she received the report last night and brought it to Cabinet this morning.
Ms Fitzgerald said she accepts the findings of the report in full and she said she believes there needs to be a sea change within An Garda Síochána and the wider criminal justice system.
The report vindicated Mr Shatter and former garda commissioner Martin Callinan.
Mr Callinan had retired as garda commissioner in March 2014, while Mr Shatter stepped-down as minister following the publication of the Guerin Report in May 2014.
The minister declined to accept that the former garda commissioner was wronged. She said she has sympathy for his and Mr Shatter's plight, but said there are many victims.
"I believe the Taoiseach & the Govt acted properly at all times" -when asked if Taoiseach should correct Dáil record https://t.co/MCc7FvatZl

— RTÉ News (@rtenews) May 11, 2016
Speaking on RTÉ's Six One News, Ms Fitzgerald said she believes the Taoiseach and government acted properly at all times.
However she did say the report, which she described as nuanced and balanced, highlights that there was cause for concern.
Lessons will be taken on board immediately - O'Sullivan
In a statement, An Garda Síochána said it accepts the findings and the recommendations of the report.
"An Garda Síochána welcomes that there was no finding of corruption against any member of An Garda Síochána by the Commission. The Commission also found that the 'failures investigated by the Commission were at a human level.'"
Garda Commissioner Nóirín O'Sullivan said earlier An Garda Síochána will examine the findings of the report in detail.
She said any lessons that need to be learned will be taken on board immediately and addressed.
Commissioner O'Sullivan said over the past two years a huge transformation programme has been put in place in An Garda Síochána.
She said she was confident a lot of the issues that arise in the O'Higgins report are already being addressed.
Meanwhile, Independent TD Clare Daly has said it is wrong to say that Mr Shatter and Mr Callinan were forced to resign as a result of Mr McCabe.
Speaking on RTÉ's News at One, she said that the two resigned as a result of many other problems within An Garda Síochána, including the penalty point controversy and tape recording in garda stations.
The Dublin North TD said huge procedural changes are being made in the gardaí as a result of the Guerin Report but the problem is that no senior gardaí have been called to account for the widespread indiscipline.