Minister for the Environment Alan Kelly has said he thinks Ireland will be taking a volume of refugees "in the thousands" in the coming years.
Mr Kelly said the matter will be discussed at Government and the country will take its fair share of refugees.
He said: "Irish people want us as a country to step up to the mark and we will... This Government is going to show leadership in order to do that. "
The minister added that he believes Ireland should take a leadership role with regard to the escalating refugee crisis in Europe.
Mr Kelly said Ireland is well placed to do so as "we have always punched above our weight", and because Irish people have experienced a huge sense of sadness, grief and loss.
Ireland has an "opt out" option from a number of Justice and Home Affairs rules under EU law, but has agreed to "opt in" voluntarily on the relocation of migrants who have arrived in Italy and Greece.
A proposal by the European Commission in May called for a binding quota system for the relocation of refugees, but it was rejected by EU leaders in June.
Instead a voluntary quota system was put in place to relocate 40,000 people.
So far, the uptake by member states has fallen short at 32,000 people.
Following a meeting of justice ministers in July Ireland agreed to voluntarily accept 600 people.
The Commission will relaunch a mandatory system next week and justice ministers will seek to agreement on it on 14 September.
Ireland will take 'many more than 600' refugees - Simon Coveney
Minister for Defence, Agriculture and the Marine Simon Coveney has said that Ireland will take in "many more than 600" refugees.
Speaking on RTÉ's Primetime programme Minister Coveney said he had spoken to a lot of ministers today and that they all accepted that Ireland needed to do more in terms of resettling refugees.
"The basis for the 600 figure until now was that Ireland is 1% of the population of Europe, we want to do more than our population suggests we should be doing because of our history and quite frankly because Irish people would expect us to do it, so we will go way beyond that figure in my view." the minister said.
Simon Coveney: "Clearly we are not doing enough" https://t.co/HvnoDxbJpG

— RTÉ News (@rtenews) September 3, 2015
Referring to next week's meeting of the European Commission Minister Coveney said "We will make a much more generous commitment."
Minister Coveney said that Ireland was a small country but he believed it could give leadership on this issue.
He said it was not true to say that Europe had been doing nothing and that there had been emergency meetings about the crisis every month since May.
Ireland had spent around €80m in recent years on a humanitarian aid in response to the refugees emerging from Syria and Somalia, he added.
Speaking in Paris today Taoiseach Enda Kenny declined to give an exact number of refugees Ireland would commit to taking but said he had asked justice minister Francis Fitzgerald to "have a flexible mind" at next week's meeting.
"They are going to have to work out a formula here to see what numbers are appropriate for each individual country" the Taoiseach said.
But he added: "We've got to be realistic in what we can contribute."
Mr Kenny suggested that under the new scheme the overall EU relocation figure would be "over 100,000."
"It's not realistic to set a figure on this, but there will be a real focus following the justice ministers' meeting, which will arise at the [heads of government] European Council in October.
Past experience is that countries will not measure up if they're asked to do so voluntarily," the Taoiseach said.
Mr Kenny described the picture of the young boy on the beach in Turkey as "absolutely shocking."
He said: "Any parent could see that child in their own arms. Here was the body of a young boy, a life lost and wasted, washed up on a beach."
He said the image would "shock political processes into taking action."
"At the moment they need shoes.. warm jackets.. and trousers" https://t.co/O7YjykNRf8

— RTÉ News (@rtenews) September 3, 2015
FF ask Kenny to recall Dáil early over crisis
Fianna Fáil has tonight written to the Taoiseach asking him to recall the Dáil to debate how Ireland can respond to the refugee crisis.
The party said Ireland can no longer wait for a pan European response and should instead lead the way.
In a letter to Mr Kenny the Party's Transport spokesman, Timmy Dooly, said this was a horrific humanatarian crisis - the worst since World War Two.
The Dáil is due to return from its summer recess on 22 September.
Deputy Dooly wrote that "while the Irish Navy's contribution is admirable and to be commended. However Ireland should and can do more."
He requested the Taoiseach to summon the Dáil for an earlier return date under Standing Order 24(1).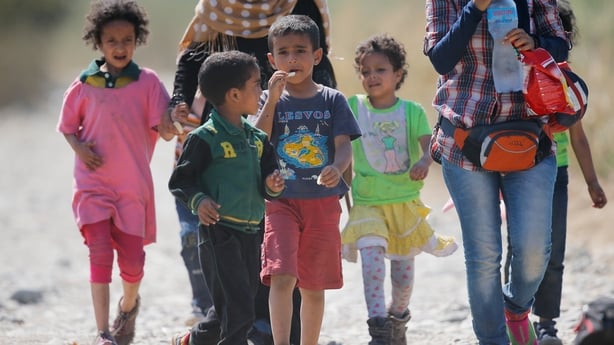 Government expected to make announcement on refugee quota
The Minister of State at the Department of Justice with responsibility for Direct Provision has said the Government will make an announcement in the next few days about increasing the number of refugees to be accepted into Ireland.
Aodhán Ó Ríordáin said the Department of Foreign Affairs, the Department of Defence and the Department of Justice have been working on the issue.
He said that the number of refugees will be a multiple of the 600 figure which we have already agreed to accept.
He said: "If people are asking does the Irish Government intend to work and play a lead role in this and intend to take its responsibility seriously? Yes we do."
Mr Ó Ríordáin said the numbers Ireland had committed to were not enough.
When asked if a figure of accepting 10,000 refugees seemed excessive, Mr Ó Ríordáin said that figure sounded like a lot.
Mr Ó Ríordáin said it would be reasonable to expect if Ireland accepted more refugees it would get financial support from the European Union.
Minister of State, Kathleen Lynch also said the 600 figure was not enough. "Ireland should step up to the mark" she said.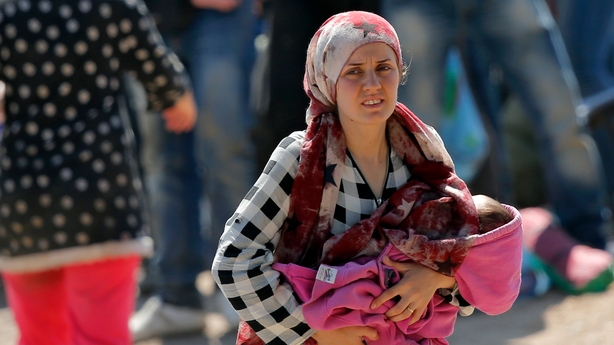 Minister for Public Expenditure and Reform Brendan Howlin earlier said he is sure Ireland will take in more refugees than the 600 it has already pledged to take in over the next two years.
Mr Howlin said Ireland would take part in a quota system and that there is a requirement for Ireland to "step up to the plate".
Minister for Transport Paschal Donohoe described the migrant crisis as "unprecedented in recent decades" and described Ireland's response so far as "positive and comprehensive".
Archbishop of Dublin Diarmud Martin has said parishes in Ireland would be willing to take in refugees.
Speaking on RTÉ's News at One, the archbishop said authorities here should also provide quality as well as quantity and provide something more than just "an emergency bed."
He said this is the largest refugee crisis since the second world war and was not going to go away.
The archbishop said it was not just a question of numbers but of "when can we start?"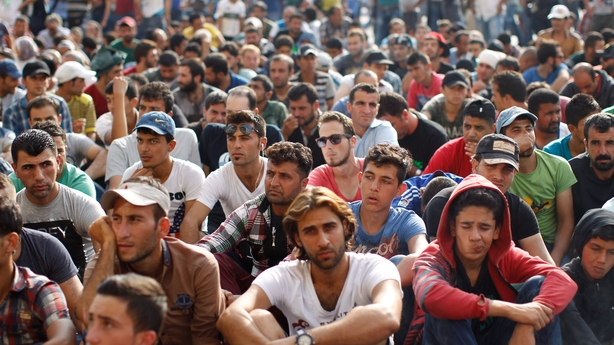 Europol identifies 30,000 suspected people smugglers
Nearly 30,000 suspected people smugglers have been identified by European authorities since the start of the year.
The figure was disclosed by the head of the EU's law enforcement agency as he told reporters criminal activity is at "very high" levels as gangs attempt to exploit the migrant crisis.
Rob Wainwright said investigators across member states have opened up a total of 1,400 new cases in 2015 alone.
The director of Europol also described trafficking gangs as "agile", with members adopting new tactics such as using social media to "recruit" victims.
Europol Chief of Staff Brian Donald said the EU was facing a crisis of management due to the current influx of migrants and refugees.
Speaking on RTÉ's Morning Ireland, Mr Donald said the volumes are such that police and border guards are being faced with unprecedented problems.
Mr Donald said there was strong element of organised crime supporting the movement of migrants across Europe.
"In the last year since we set up a specific project in relation to this crisis, there's been 1,400 cases ongoing with almost 30,000 suspects reported to Europol and in our systems and that's just since the beginning of 2015.
He said Europol is playing an important role in helping the police community across Europe "upgrade" its response to the gangs involved.
"So it's quite clear to us and quite clear to member states that we're working with that there are criminal gangs and networks which are across the whole of the EU that are helping migrants to continue their journeys to wherever they want to go."
Mr Donald said one criminal gang operating over a period of six months is estimated to have made €71 million.
However he said he did not believe the crime groups are among the causes of the migratory flows but said they are exploiting them.