Homelessness charity Focus Ireland has warned family homelessness has reached yet another crisis point in Dublin.
It said 71 homeless families were referred to its homeless family team in April, the highest figure on record.
The charity called on Minister for the Environment, Community and Local Government Alan Kelly to issue an urgent ministerial directive to local authorities to provide suitable emergency accommodation to any family facing homelessness.
Focus Ireland's Director of Advocacy Mike Allen said the charity is increasingly coming across families sleeping in cars or other inappropriate places.
The charity has written to Minister Kelly calling for an increase in rent supplement to match market rents to keep families in their existing homes.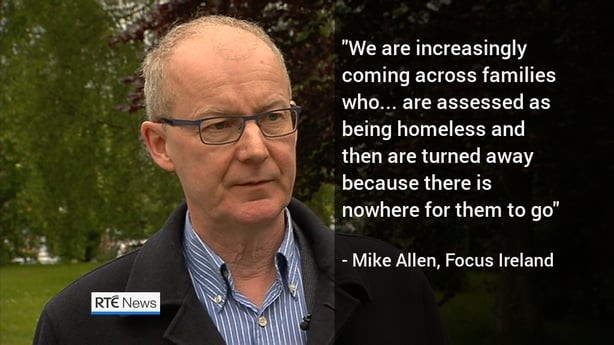 Mr Allen said without immediate action and resources, it is simply a matter of time before young children and their parents are sleeping on the streets.
He said while the charity is currently able to provide shelter for them, they are going to reach a point where they do not meet a family or they do not have the resources themselves.
He said Focus Ireland does not want this to become something that people take for granted.
"When you go to you Paris, you'll walk past families who are in tents sleeping on the side of the road.
"We want to make a very clear statement that Dublin does not want to be a city like that," Mr Allen said.
He added that this problem is becoming an issue in other cities including Cork and Galway.
The charity stressed that prevention is the best cure and an increase in rent supplement would keep families in their existing homes and prevent them becoming homeless.
In response to the figures, a spokesperson for Mr Kelly said a series of actions have and are being taken to address the situation for those facing homelessness.