A broad range of campaigners from sectors across Irish society who are calling for a Yes vote in the marriage referendum attended a rally in Dublin City Centre this afternoon.
Entertainers, teachers' union and students' union representatives, politicians and LGBT rights activists came together in Merrion Square for what they called the "final countdown" to the same-sex marriage referendum on 22 May.
The event was organised by NOISE, which has been campaigning for marriage equality since 2007.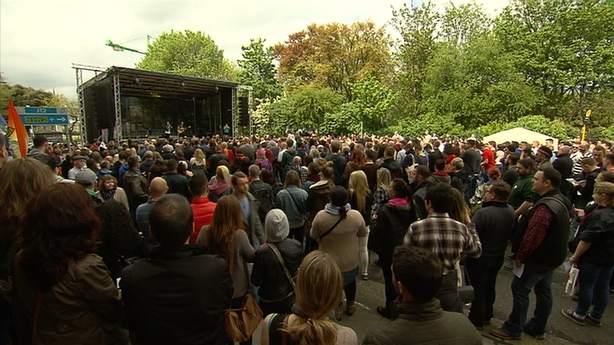 "Every vote counts and we urge people to use their voice for a positive change in Irish society.  This is a historic opportunity for Irish people to be on the right side of history and vote yes," said Max Krzyzanowski of Noise.
Host, comedian, actress and author Tara Flynn told the crowd that they could not be complacent, and that if the British elections told them anything it was that polls could be wrong.
She told the crowd that they were voting for equality and called on them to "love those who were thinking about voting no into voting yes."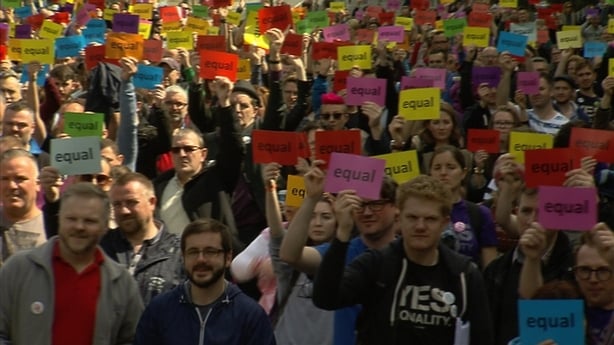 Earlier, the Catholic Bishop of Limerick said if the same-sex marriage referendum is passed, there could be legal challenges to school text books that do not promote same-sex marriage and male-female marriage equally.
Bishop Brendan Leahy has also said the Government should be able to protect gay people's civil rights without undermining the meaning of marriage.
In a pastoral letter, which was read at today's masses in Limerick, Bishop Leahy said he cannot support the Government's proposed amendment to the Constitution which would redefine marriage.
He singled out for special mention its impact on children, who he said have a right to be raised by a mother and father, except when this is not possible.
Bishop Leahy says a Yes outcome could lead to legal challenges to school text books that do not equally depict same‐sex couples and male‐female couples as images of parenthood.
Urging the banishment of homophobic attitudes, he said the State should be able to find a way to protect gay people's civil rights without undermining the meaning of marriage that he says is as old as the hills.
He says of the 34 same‐sex marriage referendums held in the United States, only four were carried, while three were defeated in Europe.
However, Bishop Leahy's comments have been challenged by the Faith in Marriage Equality group. 
FiME spokesperson Dr Richard O'Leary said: "The bishop might acknowledge that Catholics after careful reflection may in good conscience decide to vote Yes to civil marriage equality."
Dr O'Leary said he "welcomed Bishop Leahy's call for what the bishop described as 'greater sensitivity to people with a homosexual orientation and the banishing of any homophobic attitudes'."
However, Dr O'Leary added: "I have seen literature inside churches in Limerick from 'Vote No' campaign groups which is insensitive to gay people and conveys homophobic attitudes.
"I would ask Bishop Leahy to advise the priests in his diocese that they stock inside their churches only official church literature on the referendum."
Elsewhere, the Bishop of Kerry Bishop Ray Browne said that a marriage (made up of man and woman) is not the same as the union of two people of the same sex. 
He said: "To distinguish is not to discriminate but to respect differences."
Bishop Browne said: "Married love is a unique form of love between a man and woman which has special benefit for the whole of society."
He said: "To seek to redefine the nature of marriage would be to undermine it as the fundamental building block of our society."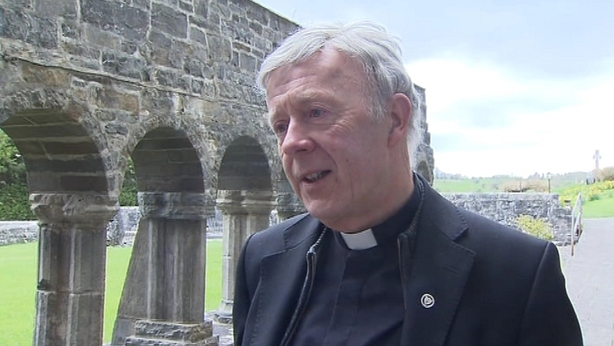 The Archbishop of Tuam Michael Neary said the forthcoming same sex marriage referendum is not about equality but about the place of the family in Irish society.
He said voters were being asked to redefine the family and take away the right of children to grow up with a mother and father.
Archbishop Neary said that Church opposition to the proposed amendment was not due to conservatism but rather because of the importance of marriage as it presently exists.
Dr Neary said this view was not disrespectful of people who were attracted to others of the same sex and that everyone should be treated with love, dignity and respect.
While not explicitly asking churchgoers to reject the proposed amendment to the Constitution, Bishop Neary said people should "reflect deeply" before changing the definition of marriage.