The Taoiseach has said that the right to equal marriage applies to civil marriage and not to church or faith-based unions.
Speaking at the launch of Fine Gael's Yes campaign in the same-sex marriage referendum, Enda Kenny said that the State respects religious freedom and does not seek to encroach on any church or faith.
He said heterosexual marriage will not be diminished by same-sex marriage and that the institution of marriage will be enriched by it.
Mr Kenny called on parents and grandparents to get on the bus and knock on doors and persuade their neighbours about why they should vote yes.
The Taoiseach called on the people of Ireland to "open their hearts" to marriage equality.
Meanwhile, independent Senator Rónán Mullen said a Yes vote would be discriminatory to children.
He said the Government has engaged in a strategy of spin and denial about what the referendum is really about.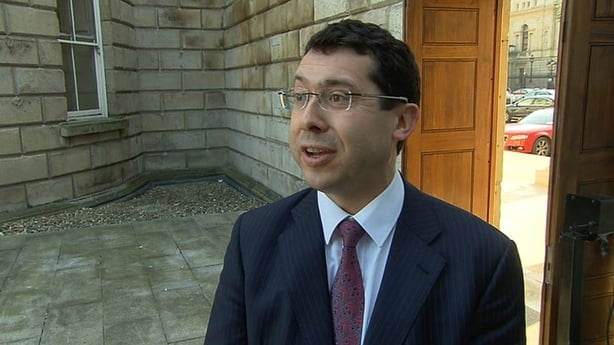 Mr Mullen said civil partnership law already respects same-sex couples' relationships and gives same-sex couples the same rights as married ones.
Speaking on RTÉ's Today with Sean O'Rourke, Mr Mullen raised concerns about surrogacy by homosexual couples should the referendum pass. 
"The last bit of mothering the child will have in that situation is the nine months that they have with their surrogate mother," he said.
Mr Mullen said he knew many people who would vote No, but were not saying it publicly.
He said a Yes vote would copper-fasten recent legislation on surrogacy and children's rights. 
Minister for Agriculture Simon Coveney said the referendum will not re-define marriage, but is about not discriminating against people on the basis of their sexual orientation.
He said the referendum on 22 May is about simply allowing a group of people in, who in the past have been locked out of marriage and all the benefits it brings.
Speaking on the same programme, he said he would have taken a traditional view of marriage in the past - that it should be between and a man and a woman.
However, he said his experience over the past ten years had changed his views to understanding that Irish society is complex and diverse.
He said young people who are gay need to be supported and encouraged by the State and their relationships also need to be recognised as equal relationships.
Mr Coveney said if marriage as an institution is a positive stabiliser for heterosexual relationships, it can and should be the same for same-sex couples.
He said in the Constitution there are very strong protections around marriage as one of the fundamental pillars of society and to exclude people from that protection essentially continues to discriminate against them.
Mr Coveney said regardless of the issues around parents and children, which he says need to be clarified in law with proper regulation, the issues of recognising loving relationships equally is what people will be voting on next month.
He accused the No side of not wanting to debate that fundamental issue and said they continue to bring emotive issues such as children and surrogacy into the argument.
Meanwhile, Minister for Health Leo Varadkar has said he will be devastated if the marriage referendum campaign does not pass.
Losing the referendum would be worse than losing an election or losing his seat, he said.
He said a No vote would be a majority deciding that a minority does not have the right to be equal but that they can be ministers teachers or judges.
Mr Varadkar said that it would make it difficult for people who are not out to come out and for young gay people who are grappling with their sexuality. 
Stormont rejects same-sex marriage
Meanwhile, a proposal to have same-sex marriage legalised in Northern Ireland has been rejected.
It is the fourth time the divisive issue has been defeated at the Stormont Assembly and comes hours after under-pressure DUP health minister Jim Wells resigned amid controversy over remarks about same sex relationships.
A blocking mechanism was used by the Mr Wells' colleagues to ensure the motion's defeat.
The motion was brought forward by Sinn Féin.
South Down MLA Catriona Ruane said they wanted to "drown out the bile" put forward by opponents of equal marriage.
She said: "Together we will build a society that includes and embraces."
The SDLP's Colm Eastwood said: "We need to be seen to be embracing all members of our community.
"There is no reason why the north of Ireland should be the only place on these islands that doesn't have marriage available to same sex couples."
DUP Assembly member Peter Weir said his party opposed same sex marriages.
"This is not a serious debate. Clearly this motion is an attack on the symbolism of marriage and the institution of marriage and an attempt to redefine marriage.
"My party believes, and I believe also, that marriage is between one man and one woman and once you redefine that you lose the essence of marriage itself."
Hotel criticised over No poster stunt
Elsewhere, the Mothers and Fathers matter group has criticised a Dublin hotel which offered a discount to patrons who could prove they stole posters promoting a No vote.
The Charleville Lodge Hotel made the promotion on its social media page.
Keith Mills, spokesman for the group, said No posters have been "subject to an orchestrated campaign of theft, defacement, and vandalism".
He described this as "an attack on democracy" and called on Yes campaigners to condemn the move.