French President Francois Hollande has vowed to introduce tougher penalties for "racist, anti-Semitic or homophobic" remarks in the wake of last month's militant attacks in Paris.
Speaking at an annual dinner hosted by the country's Jewish community, Mr Hollande called for "faster, more effective sanctions" against hate speech.
He added: "I want such speech to come under criminal law rather than press laws."
Mr Hollande said anti-Semitism should be treated as an aggravating circumstance in the prosecution of all offences.
Would-be jihadists would also face stiffer punishment under a draft intelligence bill to be unveiled next month, he said.
The dinner was marked by the absence of the rector of the Great Mosque of Paris, Dalil Boubakeur, outraged over comments by a Jewish community leader, Roger Cukierman, blaming young Muslims for anti-Semitic violence.
Mr Cukierman said he "deeply regretted" Mr Boubakeur's absence from the dinner, adding: "Jews and Muslims are all in the same boat and I hope that contact will swiftly be re-established."
Seventeen people were killed in January's attacks, including four Jews gunned down at a kosher supermarket in Paris.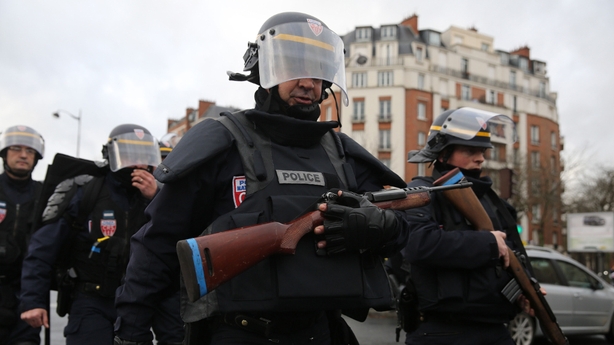 Since then, soldiers and police have been deployed outside synagogues and Jewish schools.
Last month, the country's main Jewish group said the number of anti-Semitic acts doubled in France during 2014, with acts involving physical violence leading the increase.
France is home to Europe's largest Jewish population, estimated to be between 500,000 and 600,000, as well as the continent's largest Muslim population, estimated at around five million.
French migration to Israel hit a record high last year of 6,600 people, and many believe the trend will accelerate.
France is still on high alert following last month's shooting rampage by three jihadists who attacked the Charlie Hebdo satirical magazine, the Jewish supermarket and police officers over three days.
The attacks were the worst in France in decades.
The violence in Paris and more recently in Copenhagen, where two people were shot dead in attacks on a cultural centre and a synagogue, has sparked fears of a major threat from radical Islamists.