France is to recruit thousands of extra police, spies and investigators to boost national security and intelligence, Prime Minister Manuel Valls said.
He warned the threat remained high after 17 people died in the most deadly Islamist attack on French soil two weeks ago.
Mr Valls said the state would hire 2,680 in the police, justice, intelligence and defence sectors by 2018 for anti-jihadi work, surveillance and security.
Several thousand planned job cuts in the army are to be cancelled and dozens of extra Muslim clerics deployed to work with potential militants in France's overcrowded jails.
"The fight against terrorism, jihadism and radical Islam will be a long haul," Mr Valls told a news conference after the measures were agreed by President Francois Hollande's cabinet.
"The first requirement is that we further reinforce the human and material assets of our intelligence services," he said.
Speaking after the 7-9 January attacks Mr Valls conceded there could have been "shortfalls" in monitoring and justice arrangements.
France is struggling to monitor an estimated 1,200 radical Islamists and some 200 people who have returned from fighting with militant groups in Syria and Iraq.
Meanwhile, four suspects have been charged with assisting one of the Islamist gunmen who carried out the Paris attacks, a prosecutor said.
Four men aged between 22 and 28 were charged and remanded in custody last night.
Three of them are suspected of having bought "equipment" for Amedy Coulibaly, who gunned down a policewoman on 8 January  and killed four people in a hostage drama at a Jewish supermarket the next day.
The suspects from the Paris suburbs, who were identified as Willy P, Christophe R, Tonino G and Michael A, were charged with "a terrorist conspiracy to harm people".
One of the four was also charged with weapons possession, Paris prosecutor Francois Molins said.
Since the attacks, police have been searching for accomplices in the entourages of Coulibaly and the two Kouachi brothers who killed 12 people in an attack on Charlie Hebdo magazine.
Coulibaly was shot dead by police in a raid to free the supermarket hostages.
Said and Cherif Kouachi were killed in a near simultaneous police assault on a print works north of Paris where they had holed up.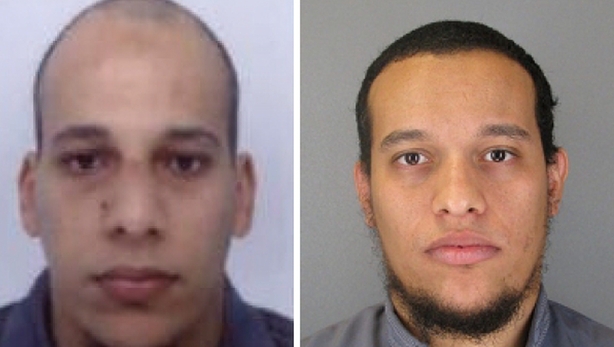 Mr Molins admitted that while the probe into Coulibaly's attacks was progressing, investigators had few leads on people who might have played a role in the Charlie Hebdo attack.
Initial findings from the investigation into Coulibaly's supermarket attack "gave reason to think the target was not chosen randomly on the morning of the 9th" and had been staked out before, he said.
Three of the four suspects charged over the attacks had visited stores selling military equipment "three or four times" in December to buy equipment for Coulibaly, "namely tactical vests, several knives, a Taser and teargas canisters," he added.
Some of the equipment was found on Coulibaly after his death.
Mr Molins said the trio was also present during the purchase of Coulibaly's Renault car and that the DNA of one of the suspects was found on two guns discovered at Coulibaly's home and on a glove retrieved at the supermarket.
Three of the four suspects had previous convictions for theft.
Both Coulibaly and Cherif Kouachi, the younger of the brothers, had served time in prison.