In the Vatican Pope Francis prayed for victims of human trafficking and called on governments to act against what he called "the shameful scourge".
He was marking the Church's First International Day of Prayer and Awareness against human trafficking.
Meanwhile in Thurles Co Tipperary the new Archbishop of Cashel and Emly Dr Kieran O'Reilly has said the UN estimates that 21 million men, women and children are enslaved through global trafficking.
Addressing the congregation at his installation in the diocese Dr O'Reilly said 700,000 people are trafficked across international borders each year.
He said the frightening reality is that more people are enslaved through trafficking today than during 400 years of transatlantic slave trading.
Dr O'Reilly said the contemporary trade is a direct violation of the right to freedom, dignity and equal rights enshrined in Article One of The Universal Declaration of Human Rights and that it is not just happening in distant countries.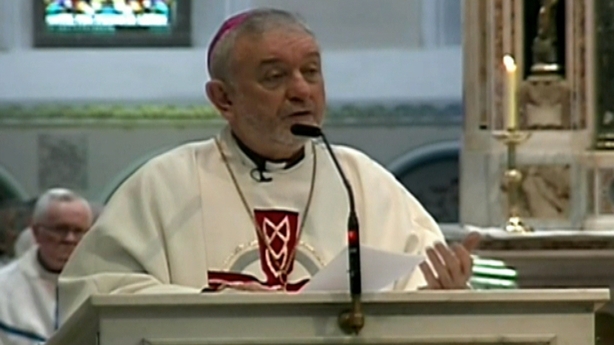 Noting that it also concerns our own country, he said we have a responsibility to effectively challenge and tackle trafficking which exists here in Europe where wealthy countries are a source of demand for trafficked humans.
He told worshippers the first step we can take to address the problem is to open our eyes to the reality that trafficking may be happening around us in our local communities.
Dr O'Reilly said Irish people are directly or indirectly encountering the victims of the crime who have been found in different sectors of society. He added that very often those trapped in this world are bound by what Pope Francis calls "invisible chains."
He urged his listeners to stay alert to this reality and work in our local communities to eradicate it.
Writing about human trafficking in his Apostolic Exhortation Evangelii Gaudium (The Joy of the Gospel), Pope Francis states all those guilty of "comfortable and silent complicity" in relation to this crime have "blood on their hands" (211).