Pope Francis celebrated a huge open-air Mass for a rain-drenched crowd of millions in the Philippine capital Manila.
He appealed to the world to "learn how to cry" over the plight of poor, hungry, homeless and abused children.
The crowd was estimated by city officials to be six million people.
They filed into Manila's Rizal Park and surrounding areas to attend the event that closes Francis's week-long trip to Asia.
The 78-year-old Pope, wearing a transparent yellow poncho over his white cassock, was driven through the ecstatic crowd in a "Pope mobile" modified from a jeepney, the most popular mode of transport in the Philippines.
He stopped often along the route to kiss children and bless religious statues on the day the Philippines celebrates the feast of the infant Jesus.
The faithful held up rosaries in a forest of uplifted arms as he passed by.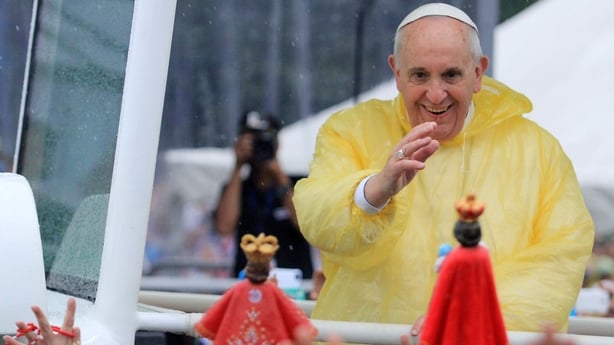 Some people in the capital of Asia's only predominantly Catholic country had waited during the night for gates to open at dawn.
The gates opened nine hours before the start of the mass, which is due to last nearly three hours.
Organisers said they had expected as many as six million people, more than the five million who flocked to a mass there by Pope John Paul II 20 years ago.
Earlier, thousands of students welcomed Pope Francis to their campus at the University of Santo Tomas.
The crowd sang songs and waved Vatican and Philippine flags ahead of the Pope's arrival.
One student and volunteer at the event explained why the youth connected with Pope Francis so easily.
"I think what the youth love about Pope Francis is his simplicity, his humility. He is one who shows the love of Christ for children" said Louis Gabriele Marie Thomas.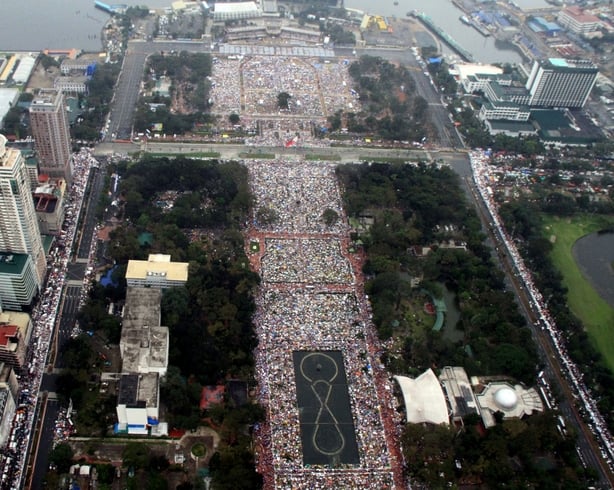 The Pontiff diverted from the prepared text and noted there were more men than women in the crowd.
"Women have much to tell us in today's society," he said to applause from the crowd.
He added: "(We) don't allow room for women but women are capable of seeing things with a different angle from us, with a different eye.
"Women are able to pose questions that we men are not able to understand."
Pope Francis has said that, while the Catholic Church's ban on women priests was definitive, he wants to appoint more nuns and other women to senior positions in the Vatican.