An emotional Pope Francis, wearing a plastic poncho over his vestments to protect him from the wind and rain, has met survivors of Typhoon Haiyan in Tacloban.
The typhoon was the Philippines' worst natural disaster, killing about 6,300 people 14 months ago.
"I would like to tell you something close to my heart," the Pope told worshippers, putting aside his prepared homily to deliver a moving, impromptu address.
"When I saw from Rome that catastrophe, I felt that I had to be here. On those very days I decided to come here. I am here to be with you. Perhaps a little late, I have to say, but I am here," he told emotional worshippers.
About 160,000 people wearing yellow raincoats cheered when Pope Francis emerged from his plane in the coastal city in Leyte province, 650km southeast of Manila.
The strong wind of Tropical Storm Mekkhala blew the white skull cap from Francis' head and rippled his white cassock as he disembarked in Tacloban.
The Pope cut short his visit to Leyte by about four hours and returned to Manila before the weather worsened.
He stopped for a quick lunch with Haiyan survivors but skipped a blessing of the Vatican-funded Pope Francis centre for the poor.
"The weather forecast says ... it's going to get much worse. So I apologise to you all. I'm sad about this, truly saddened," the Pope said.
There were moans of disappointment from hundreds of priests, nuns and others at a cathedral in Palo, which was severely damaged by Haiyan.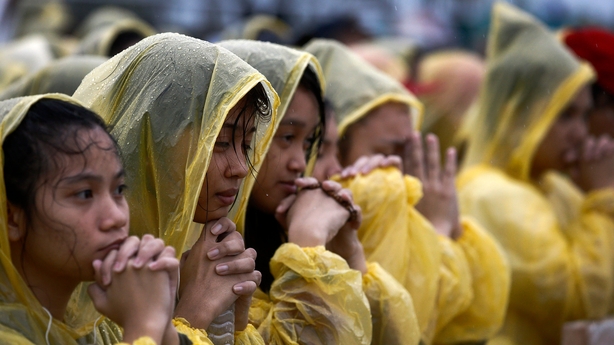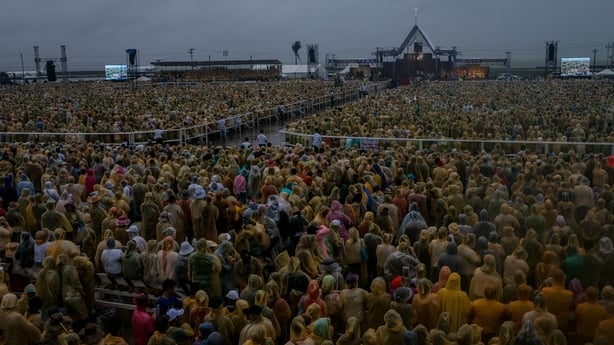 Thousands of worshippers, many with tears in their eyes, stood amid puddles in a mud-soaked field as the Pope comforted them during a morning mass.
He said he "respected the feelings" of those who felt they had been let down by God because of the disaster but implored them to move forward in their faith.
Nearly 3,000 victims are buried in the city's almost half-hectare mass grave site. Hundreds are still unaccounted for.
He asked the crowd to hold a moment of silence for the victims and thanked all those who helped the survivors of the worst recorded storm ever to make landfall.
"This is what comes from my heart and forgive me if I have no other words to express," Pope Francis said.
Today's storm was an eerie reminder of Haiyan, which hit the same area with 250km/h winds and created a seven-metre high storm surge, wiping out almost everything in its path when it swept ashore on 8 November 2013.
Haiyan destroyed about 90% of Tacloban city in Leyte.
More than 14.5 million people were affected in six regions and 44 provinces. About one million people remain homeless.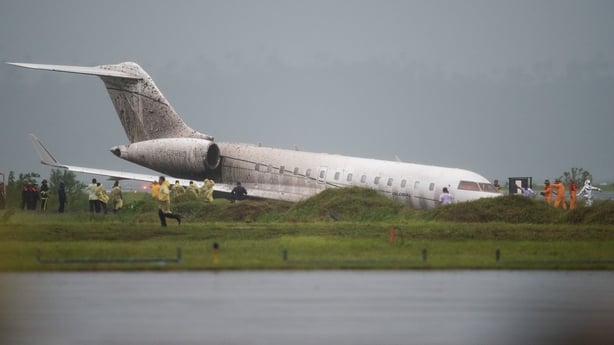 Meanwhile, a plane carrying top aides of Philippine President Benigno Aquino overshot a runway in stormy weather, shortly after Pope Francis's plane took off from the same airport.
The plane's nose wedged into the mud at Tacloban airport but no-one was injured.
Elsewhere, a woman working as a volunteer for Pope Francis's mass was killed as the stormy weather sent steel scaffolding crashing on to her, a church spokesman said.
The scaffolding hit the 21-year-old woman in the chest and pinned her to the ground, killing her, said Fr Amadeo Alvero, spokesperson for the Archdiocese of Palo.
He said she was one of many volunteers helping at the mass the Pope had given earlier in the day.