Judges should give written reasons for sending people to prison, according to a report on the criminal justice system.
The Penal Policy Review group also said the continuing use of imprisonment must be reduced.
It recommended that all Government departments consider crime prevention when formulating public policy.
It also said a mechanism should be established to ensure implementation of the report within six months.
The report recognised the futility of putting so many people in prison and said the unnecessary use of imprisonment must be severely reduced.
More than 13,000 people were jailed last year, with over 7,300 committals for non-payment of fines.
The Government has yet to implement all aspects of the long-promised legislation whereby people would have to pay their fines instead of going to jail.
However, courts will not be able to make attachment orders to social welfare payments.
The report also identified the link between crime and the failures of social policy manifested in addiction and homelessness.
The group was strongly of the view that information and precedent on sentencing should be available to judges.
The report recommended that some offenders be jailed for weekends only.
It also said a new open prison should be built and it was critical of unstructured temporary release.
Offenders who have received community service are less likely to re-offend than those who are sent to prison and the report recognised the value of community return and supervision.
It also said there should be greater use of earned remission in prison.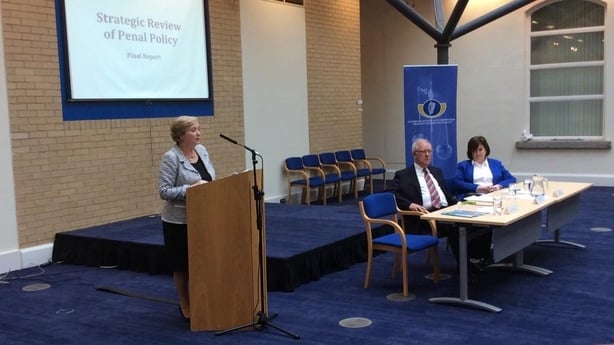 Minister for Justice Frances Fitzgerald  published the report this afternoon and welcomed its main findings.
She said: "I am determined that serious offenders and serial offenders must continue to be imprisoned. Society expects and demands nothing less.
"But while prisons must remain part of the answer, prison must not be the only answer.
"Prison is not the only solution when it comes to those convicted of lesser, non-violent offences. Research proves supervised community sanctions can help in reducing reoffending, thereby reducing crime."
The Irish Penal Reform Trust has said it endorses "the vast majority of the recommendations".
IPRT Executive Director Deirdre Malone said: "IPRT strongly considers this report as a blueprint of how Ireland's penal system can and should play its part in a fairer and safer society.
"The Strategic Review Group has clearly set out the core goals of an effective penal system as one that balances punishment with what actually works to address offending. 
"The significance of this report is that it represents consensus across a range of expertise and backgrounds, including criminal justice agencies, victims groups, and civil society."