Hundreds attended memorials today to mark the Dublin and Monaghan bombings, the worst in the history of the Troubles.
The bombs killed 34 people, including a women who was nine-months pregnant when the four car bombs went off on this day 40 years ago.
Wreaths were laid at a special memorial on Talbot Street in Dublin.
The Taoiseach Enda Kenny urged the British Prime Minister and the Secretary of State for Northern Ireland to allow access to British documents on the Dublin-Monaghan bombings.
Mr Kenny laid a wreath along with the members of the Justice for the Forgotten group.
The group announced last Wednesday that it is suing the British government to get access to classified files they believe will confirm collusion in the bombings.
Almost 300 people were injured in the no-warning bombs, three in Dublin and one in Monaghan in the space of 90 minutes.
The Ulster Volunteer Force was blamed.
Earlier this week, Tánaiste and Minister for Foreign Affairs Eamon Gilmore called for information to be released.
Margaret Urwin, spokeswoman for Justice for the Forgotten, said she hoped action would follow.
"The Tanaiste issued a strongly worded statement and restored funding for which we are very grateful," she said.
"For a long time we have been asking that the Taoiseach issue a statement, he has called in the parliament on the British to act but I think it's much more significant when they make a statement, and a public statement is significant.
"We hope it will be followed up by action by the British."
Justice for the Forgotten alleges some of the bombers were British agents and that security forces knew about the terror plot in advance.
Ms Villiers said she will continue to hold talks with the Government over the bombings.
"The passage of time does not lessen the pain and loss for those who lost loved ones to terrorism during the Troubles," she said.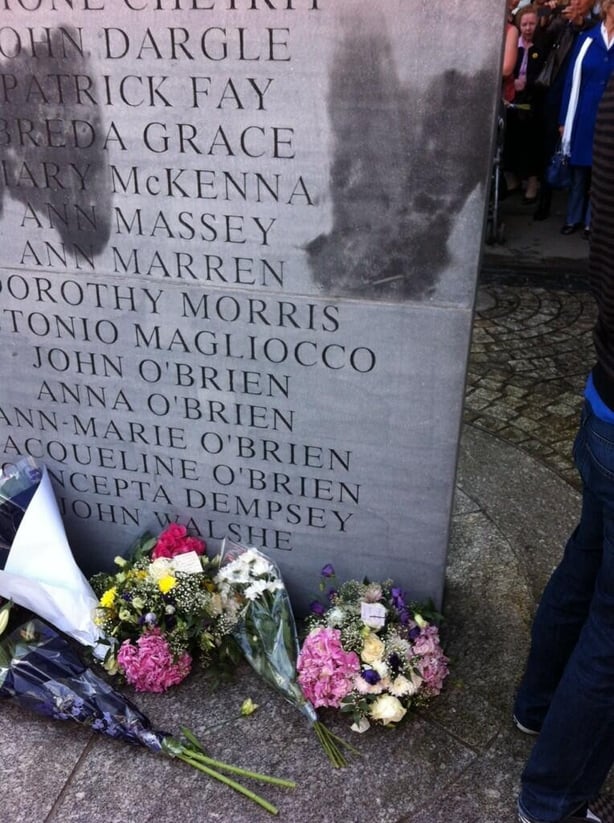 Author and historian Tim Pat Coogan delivered an oration before a memorial mass was celebrated at the pro-Cathedral in nearby Marlborough Street by Archbishop of Dublin Diarmuid Martin.
In his sermon the Archbishop said great strides towards reconciliation have been made in the 40 years since the bombings.
"But we also know that reconciliation will only be lasting when it is based on truth," he said.
"In a modern human rights culture, which fights against impunity and seeks reconciliation in truth, it is anachronistic that there are still those who place obstacles to the revelation of the truth of what happened in these bombings 40 ago."