Mourners flocked in their tens of thousands to South Africa's central government buildings to say a personal goodbye to Nelson Mandela on the final day of his lying in state in Pretoria.
Such was the crush of people wanting to see Mr Mandela's body in the Union Buildings, that the government asked others to stay away from the park-and-ride facilities set up to take mourners to the area.
"We cannot guarantee that every person who is presently in the queues at the various centres will be given access to the Union Buildings," the government said in a statement.
Winding queues snaked for kilometres from the government site perched on a hill overlooking the city, well into the heart of the capital.
The body of South Africa's first black president was lying in state for a third and final day before being flown tomorrow to the Eastern Cape for a funeral on Sunday at his ancestral home in Qunu, 700km south of Johannesburg.
Mr Mandela died last week aged 95.
"I don't mind waiting, today is the last day and I must say thank you. I am who I am and where I am because of this man," said Johannesburg resident Elsie Nkuna, who said she had taken two days off work to see Mr Mandela.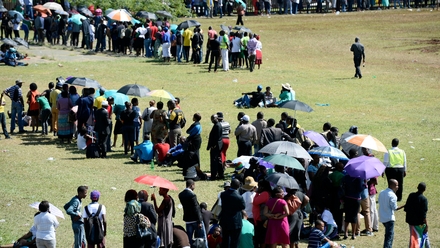 Filing past the coffin, some pausing to bow, mourners viewed the body laid out in a green and gold batik shirt, a style that he wore and had made famous. His face was visible.
His grandchild Mandla sat beside the coffin, acknowledging mourners with smiles.
In the heat of the South African summer, army chaplains and medics handed out bottles of water and sachets of tissues.
The huge turnout surpassed the two previous days by far.
About 21,000 people paid their last respects on Wednesday and 39,000 yesterday, Presidency Minister Collins Chabane told broadcaster SAfm.
More than 50,000 people turned out today.
Some had been queuing since yesterday.
"We were hungry and thirsty and did not have money for food. The thought that I must be here to pay respect kept me going," said Leena Mazubiko, who had travelled from eastern Mpumalanga province.
The week of mourning since Mr Mandela's death on 5 December has seen an unrivalled outpouring of emotion for the statesman and Nobel peace laureate, who was honoured by a host of world leaders at a memorial service in Johannesburg on Tuesday.
But the homage to a man who was a global symbol of reconciliation has not been without controversy.
South African President Jacob Zuma, who is leading the national mourning ceremonies, was booed by a hostile crowd at Tuesday's memorial, a worrying sign for the ruling African National Congress six months before elections.
There has also been a storm of outrage and questions over a sign-language interpreter accused of miming nonsense at the same memorial.
The signer has defended himself, saying he suffered a schizophrenic episode.
Compared to Tuesday's mass memorial, Sunday's state funeral at Qunu will be a smaller affair focusing on the family, but dignitaries, including Britain's Prince Charles and former US President Bill Clinton, will also attend.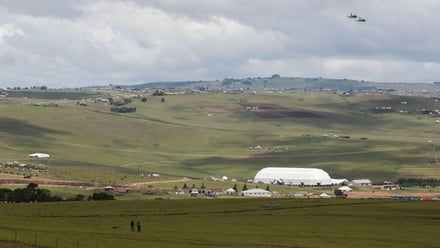 The Qunu funeral will combine military pomp with traditional burial rituals of Mandela's Xhosa clan.