More than 70 leaders from across the world are flying to South Africa for memorials to former president and peacemaker Nelson Mandela.
US President Barack Obama, Raul Castro from Cuba, Zimbabwe's Robert Mugabe and President Michael D Higgins will be among those attending tomorrow's main send-off in Johannesburg's Soccer City stadium.
Tánaiste Eamon Gilmore is also due to attend the event along with three former Dunnes Stores workers, who went on strike in support of the anti-apartheid movement.
The 95,000-seat stadium in Soweto, the township that was at the heart of the anti-apartheid struggle, will host the main memorial ceremony for Mr Mandela, who died on Thursday aged 95.
"The whole world is coming to South Africa," foreign ministry spokesman Clayson Monyela said, playing down concerns about organising logistics and security for such a large event with only five days' notice following Mr Mandela's death.
Mr Mandela, South Africa's first black president, passed away peacefully in the company of his family last week after a long battle with a lung infection.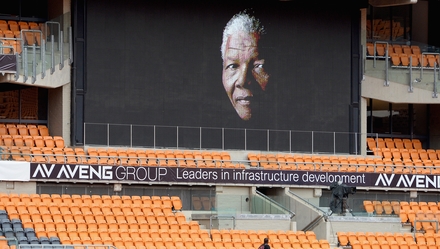 The FNB stadium was the site of Mr Mandela's last public appearance, when he waved to fans from the back of a golf cart at the final of the 2010 soccer World Cup.
"We're obviously not starting from scratch in terms of organisation," Mr Monyela said. "We've got a system that kicks into play whenever you've got events of this magnitude."
Since his death, South Africa has been gripped by an outpouring of emotion unrivalled since Mr Mandela's release from 27 years in apartheid prisons in 1990, and his victory in the first all-race elections four years later.
Yesterday, worshippers filled churches, mosques, synagogues and community halls, offering praise and prayers for a man celebrated as "Father of the Nation" and a global beacon of integrity, rectitude and reconciliation.
"The fact that international leaders are making their way to South Africa at such short notice reflects the special place President Mandela holds in the hearts of people around the globe," Presidency Minister Collins Chabane said.
After tomorrow's event, Mr Mandela's remains will lie in state for three days at the Union Buildings in Pretoria, where he was sworn in as president in 1994.
He will then be buried in Qunu, his ancestral home in the Eastern Cape province.
Only "very few" world leaders will attend the Qunu funeral, Mr Monyela said, adding the event would be more of a family affair.