A national day of prayer and reflection has been held in South Africa for former president Nelson Mandela, who died on Thursday.
South African President Jacob Zuma urged people to attend events to celebrate the life of their former leader.
Tens of thousands of people have already turned out to remember Mr Mandela at his home in Houghton and in Soweto where he lived many years ago as a young lawyer.
Multi-faith ceremonies took place all over the country.
In Johannesburg, Mr Zuma attended a service at Bryanston Methodist Church.
Mr Mandela's former wife also attended the prayer service alongside Mr Zuma.
It was Winnie Mandela's first appearance in public since the former president's death.
She left the service without speaking to journalists present.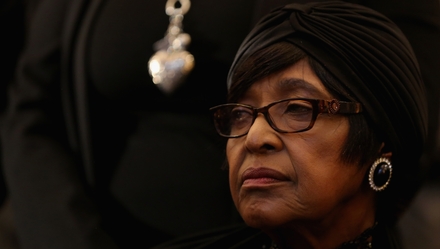 Members of the congregation chanted "Mama Winnie" as she was driven away.
During the service, President Zuma said South African people must pray not to forget "Madiba's values".
He said Mr Mandela stood for freedom and fought against those who oppressed others.
"He believed in forgiving and he forgave," he said.              
The Nelson Mandela foundation held a ceremony at its headquarters and in a township outside the city, while Kathy Kathrada, a fellow inmate at Robben Island, hosted a ceremony of remembrance.
Mr Kathrada spoke about Mr Mandela in what is being billed as a celebration of his life.
President Michael D Higgins and his wife Sabina are travelling to South Africa today and will attend the state commemoration for Mr Mandela on Tuesday.
US President Barack Obama will also attend the memorial at the FNB stadium in Soweto, as will UN Secretary Ban Ki Moon.
Following that Mr Mandela's remains will lie in state for three days at union buildings in Pretoria.
He will be buried in his home village of Qunu next Sunday.