Investigators of the Boston Marathon bombings have narrowed their focus on a man seen depositing a bag at the bomb scene before the blasts, but the suspect has not yet been identified and no arrest has been made.
The suspect is said to have been seen on surveillance video taken at a Lord & Taylor department store between the sites of the blasts.
The twin blasts on Monday killed three people including an eight-year-old boy and injured 176 others, some of whom were maimed by bombs packed with ball bearings and nails.
President Barack Obama, who will travel to Boston tomorrow for a memorial service, has called the bombings an "act of terror".
It was the worst attack on US soil since security was stepped up following the attacks of 11 September 2001.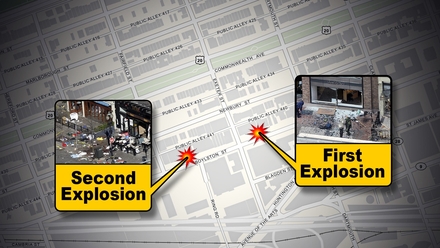 A stretch of Boston's Boylston Street almost a mile long and blocks around it remained closed today as investigators searched for clues.
Cities across the US went on heightened alert after the blasts.
In Washington, the US Senate shut its mail facility for a few days after Republican Senator Roger Wicker of Mississippi received post that tested positive for the poison ricin.
Reports of suspicious letters also came in from congressional offices in Michigan and Arizona.
In New York, bomb squad investigators were called in and the central terminal at La Guardia airport was evacuated due to a suspicious package.
Two passengers and their bags were removed from a flight at Boston's Logan airport. Both cases turned out to be false alarms.
At the scene of the marathon, investigators recovered material that was being reconstructed at the FBI laboratory in Quantico, Virginia, said Richard DesLauriers, the FBI's special agent in charge for Boston.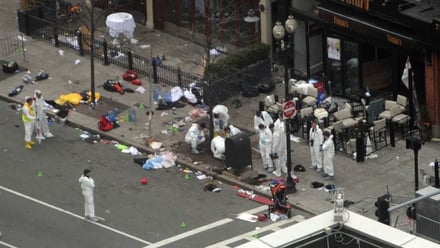 Hundreds of people turned out at Boston Common last night, where runners a day earlier had boarded buses to the take them to the race's start line, singing songs including "God Bless America."
Hospitals are saving the shrapnel pieces doctors pick out of the wounded for police.
The fragments include metal, plastic, wood and concrete.
Among the items recovered at the bomb scene were pieces of black nylon that could be from a backpack.
Fragments of ball bearings and nails, and the remains of a pressure cooker device were recovered.
Bomb scene pictures taken by investigators show the remains of an explosive device including twisted pieces of a metal container.
At least one bomb and possibly both were built using pressure cookers as the container, black powder or gunpowder as the explosive and ball bearings as additional shrapnel.
Doctors said some victims would have to endure several operations over the coming days.
The youngest to die was Martin Richard, eight, who lived in the city's Dorchester neighbourhood.
Officials identified a second person killed as Krystle Campbell, 29, of Medford, Massachusetts.
She was "the daughter that every father dreams to have," said Medford Mayor Michael McGlynn, who said he had confirmed the death with her father.
"She had a great sense of humour and freckles and red hair that brought her right to her Irish roots," Mr McGlynn said.
The third victim was a Chinese citizen Lu Lingzi
She was a graduate student at Boston University.
The FBI leading the investigation has asked witnesses to submit any photos of the blast site.
The blast site had been crowded with tens of thousands of spectators, race staff and volunteers and runners.
Many of them have turned in thousands of images, authorities said.