US President Barack Obama has said it is not yet clear whether the Boston Marathon blasts were the work of a foreign or domestic group or a "malevolent individual".
Speaking in the White House, Mr Obama called the blasts an "act of terror" and urged people to be vigilant after yesterday's attacks that killed three people.
He said there is still much to be investigated in what was the worst attack on US soil since 11 September, 2001.
"Any time bombs are used to target innocent civilians, it is an act of terror," Mr Obama said.
A pressure cooker stuffed with gunpowder and shrapnel caused at least one of the blasts at the Boston Marathon that killed three people and injured 176 others.
Investigators who found pieces of black nylon at the scene suspect the bombs used in yesterday's attack were in dark-coloured bags that would have been heavy to carry.
An FBI official said: "there is no sense of a motive and no indication as to who planted the bombs and detonated them, he said, condemning it as a "heinous and cowardly act".
Officials investigating the marathon bombing have said that no additional explosive devices were discovered other than the two that detonated near the finish line.
A total of 176 people were hospitalised in the aftermath and 17 people remain in a critical condition, Boston Police Commissioner Ed Davis said at a press conference.
The director of the trauma programme at Boston's Children's Hopsital said: "When these kids came in ... they were just so badly hurt, just covered with singed hair and in so much pain, it was just gut-wrenching,"
He said: "Pulling nails out of a little girl's flesh is just awful."
At least 10 people had limbs amputated as a result of their injuries, officials at hospitals said.
Chief of trauma surgery at Massachusetts General Hospital George Velmahos, told reporters: "Some of them woke up today with no leg and they told me that they are happy to be alive."
He said: "they told me they thought they would die as they saw the blood spilling out,"
The decision to amputate was easy, he said: "We just completed the ugly job that the bomb did."
Police last night searched a Boston area apartment of a Saudi Arabian student who was injured in the blast, law enforcement sources said.
But reports today suggest the student will be cleared of suspicion.
Police are sweeping the entire 26.2-mile (42km) route of the race for possible clues and have cordoned off the area around the blasts in the heart of Boston's shopping district.
The annual Boston Marathon, held since 1897, attracts an estimated 500,000 spectators and some 20,000 participants every year.
Spectators typically line the race course, with the heaviest crowds near the finish line.
Blasts as many runners reached finish line
The blasts happened a few seconds apart at about 7.50pm Irish time yesterday.
Many runners were heading for the finish when a fireball and smoke rose from behind cheering spectators.
Some of the injured suffered amputations and shrapnel wounds.
An Irish surgeon at Massachusetts Hospital, James McDaid, said many of the injured treated at the hospital had to have limbs amputated because their injuries were so severe.
"The types of injuries were mostly leg injuries, were mostly lower limb trauma. Very sadly, unfortunately most of the leg injuries were so severe they were unsalvagable," Dr McDaid said.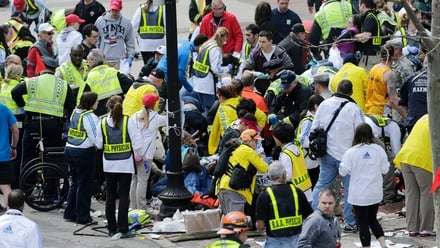 Ambulances, fire trucks and dozens of police vehicles converged at the scene, and spectators could be seen crying and consoling each other.
"It sounded like a sonic boom," said Melissa Stanley, who watched her daughter cross the finish line four minutes before the explosions.
The dead included an eight-year-old boy and Krystle Campbell, 29, of Medford, Massachusetts.
Medford Mayor Michael McGlynn said: Krystle" had a great sense of humor and freckles and red hair that brought her right to her Irish roots,"
He said, She was "the daughter that every father dreams to have," said
The identity of the third person killed in the attack has not been released by officials.
At Boston Children's Hospital, the list of the injured included a two-year-old with a head injury, a nine-year-old girl with leg trauma and six other children under the age of 15.
Major US cities on alert following bombings
The blasts put police on alert in major cities across the United States, including in Washington DC and New York.
Officials in Britain and Spain said the London and Madrid marathons would go ahead on Sunday, but security plans for both races were under review.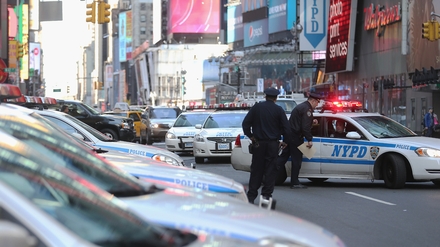 Boston Commissioner Davis called the bombs "powerful devices".
The two devices using gunpowder as the explosive were packed with ball bearings and other shrapnel to maximise injuries, said a senior law enforcement official briefed on the investigation who declined to be identified because of the sensitivity of the information.
The FBI has taken lead on the investigation with help from several other federal, state and local law enforcement agencies.
FBI Special Agent Richard DesLauriers said: "It is a criminal investigation that is a potential terrorist investigation," he said, while declining to elaborate on initial findings or where the inquiry was headed.
In addition to domestic law enforcement, intelligence agencies such as the CIA and the National Counterterrorism Center have joined the investigation.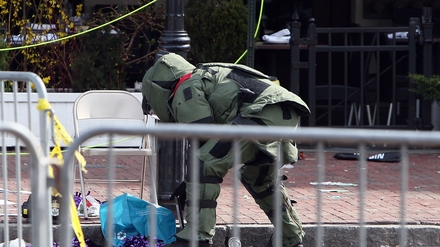 50 runners listed Ireland as place of residence
The Department of Foreign Affairs said it has no reports of any Irish casualties so far.
According to the official Boston Marathon website, 50 competitors listed Ireland as their country of residence, and 108 have listed Ireland as their country of citizenship.
The department is advising anyone who is concerned to contact them on 01-4082000.
Taoiseach Enda Kenny described the bombings as "an act of insanity".
Speaking as he arrived at Government Buildings this morning, Mr Kenny said he sympathised with the people of Boston, which he described as a city that is "so Irish".
Eugene Coppinger, a guide with Sports Travel International, said one Irish spectator had been unaccounted for in the aftermath of the blasts, but had since turned up safely.
Over 12 Irish people travelled to Boston with the company.
Mr Coppinger said the woman, who was a wife of one of the runners, got lost on her way back to the hotel, but eventually made it back safely.
He praised the efforts of emergency personnel who took control of events straight away.
"It looked chaotic but under the circumstances, they got people out of the area as quickly as they could and managed to deal with the many injuries that were there," he said.
Minister for Foreign Affairs Eamon Gilmore said the Irish consulate in Boston was evacuated, but it will still provide services to Irish people in the city.
He said: "Arrangements have been put in place to enable people to keep in touch with our consular services and with our department and we will maintain that service for anyone who has a concern about a family member in Boston."
The US flag is flying at half-mast at the US Embassy in Ballsbridge in Dublin.