The Government has set out its spending plans in a Dáil statement by Minister for Public Expenditure and Reform Brendan Howlin.
Main points:
Budget 2012 at a glance
€475m cut in Social Protection
€543m cut in Health
Third-level student contributions rise by €250
Cut of six weeks in fuel allowance
Reduction in child benefit for third and subsequent children
Brendan Howlin's Budget speech
Comprehensive Expenditure Report

2308 The Frontline credits are rolling, so that's our cue to do the same. Not roll the credits, but rather just rap this live tracker up.
Thank you all very much for reading, and for your comments, and we hope you can join us on Tuesday for round 2.
Remember, Morning Ireland from 7am will have extensive analysis of round 1.
Oíche mhaith.
2307 Pat Leahy says "there is no doubt" that the Budget will pass.
2304 Suzanne Kelly says our whole tax system is out of date and doesn't meet the demands of the 21st century.
2303 Professor Brendan Walsh says there hasn't been a radical, root-and-branch reform of public expenditure to increase efficiencies; he believes that is a disappointment.
2301 Pat Leahy of The Sunday Business Post reckons today was a return to "salami-slicing" of expenditure, with "no big moves".
2258 Camille Loftus, social policy analyst, says the Central Statistics Office found that 'enforced deprivation' almost doubled last year.
2257 Tax lawyer Suzanne Kelly says allowances now are bigger - even when they are reduced - than they were in 2004.
She says things are going to get even harder and that's why she believes this is this government's "easiest budget".
2253 A new panel has joined Pat Kenny on The Frontline.

Professor Brendan Walsh says the Government has no choice but to do what it is doing. He says the European Central Bank should print more money.
2243 Mary Lou McDonald says the Government should have focused on higher earners rather than "hacking away" at education, etc.
2239 Mr Rabbitte says the whole purpose of being in a programme with the IMF and the EU is to allow the economy "to resuscitate itself".
2235 Minister Rabbitte says one-third of our tax revenues "fell out" from 2007 to 2010.
2229 Stephen Donnelly says research from Harvard shows that in the last 200 years only one country ever managed to get out of recession through cuts.
The country? England during the Industrial Revolution.
2224 Mary Lou McDonald says today was a "failure of leadership". She adds that if we are serious about being a knowledge economy, then you have to invest in education, not make cuts.
2222 Sean Fleming says it's time for the Government to take responsibility for their own decisions and not to be "arguing about what happened last year".
2218 Mr Rabbitte says we have to pull together, we are in an unprecedented crisis and that neither the public sector nor the private sector are responsible for it.
2216 Minister Rabbitte says the unions would have regarded freezing increments as an attack on the Croke Park Agreement.
2213 The panel on The Frontline is Minister for Communications, Energy and Natural Resources Pat Rabbitte, Fianna Fáil's Sean Fleming, Sinn Féin's Mary Lou McDonald, and Independent TD Stephen Donnelly.
2205 Garda Damien McCarthy of the Garda Representative Association says the closure of 31 garda stations is a complete "shock" and that nobody has told the gardaí in those stations where they are going to go.
2155 Sara Burke, a health policy analyst, says 2012 will be "by far the hardest year facing the health system".
2152 Ned Costello, Chief Executive of the Irish Universities Association, says "research is going to be completely eviscerated over the next five years" due to budget cuts.
2147 Brian Mooney, a guidance counsellor who writes for The Irish Times, tells Pat Kenny on The Frontline that due to education cuts in the Budget "children are going to die, they will commit suicide, all for the sake of saving money".
He added "it's the end of guidance counselling as we know it in this country".
2115 A Frontline Budget Special follows the 9 News.
2100 Early Childhood Ireland has said it has concerns about the adjustments to the free pre-school scheme, particularly the 2% capitation grant reduction and an increase in the child-to-teacher ratio.
2040 Joe Little: People on Disability Allowance aged between 16 and 18 will lose over €500 a month in the New Year due to reforms in the Budget.
Currently the age-group receives €833 a month, but that will fall to €310 when they are transferred onto Domiciliary Care Allowance in four weeks' time.
New claimants for Disability Allowance aged between 18 and 21 will receive just over half the current payment, while new applicants aged between 22 and 24 will get just over three quarters of it.
The weekly cuts amount to €88 and €44 respectively.
2012 "We will set about reorganising our structures as directed by the Minister, in order to continue to deliver efficient, flexible and effective military capability to the State into the future." - Defence Forces Chief of Staff, Lieutenant General Sean McCann.
2010 Fianna Fáil's health spokesperson Billy Kelleher said moves which increase charges on private patients in public hospitals are "a false economy."
He questioned the health minister's claim that such a move would generate up to €143m. He said in reality these costs will be passed on to healthcare customers in the form of increased premiums.
1946 "Closing these [garda] stations makes no sense, economically or socially. However there will be a profound impact on the communities directly affected." - Fianna Fáil Justice Spokesperson Dara Calleary.
1943 "Our concern is that this proposal will have a significant implication on the affordability of health premiums and will reduce the number of people covered by private health insurance." - Siobhan Fay, Managing Director Aviva on plans to increase private bed charges in public hospitals.
1937 Irish people deserve a better, fairer Budget based on equality, says Sinn Féin leader Gerry Adams.
Despite promises by Fine Gael and Labour for a new Government Budget, "it's the same old story", said Mr Adams in his response to the Taoiseach's address last night.
1930 "Both government parties made education a priority earlier this year and committed to protecting frontline staff which in primary schools is the classroom teacher." - INTO General Secretary Sheila Nunan.
"In the vast majority of primary schools where overcrowding is worst, this commitment has been met for next year."
1920 "This [35%] cut is out of all proportion to cuts to other non- governmental organisations and shows a complete disregard for the equality which is essential if Ireland is to recover from this economic crisis" - National Women's Council of Ireland Chief Executive Susan McKay.
1902 "Supporting children and young people to remain in education and training and supporting them into work should have been a priority in the budget," James Doorley National Youth Council of Ireland
"Instead, many of the changes are regressive and will damage the education, training and job prospects of the most disadvantaged young people."
1856 The beating drums of protesters can be heard as David McCullagh interviews Sean Fleming and Mary Lou McDonald on the Six-One News.
1851 The Minister of State at the Department of Health Roisin Shorthall has said for the 56,000 on the long-term illness scheme next year the estimated cost is about €15m.
1850 "People on social welfare are already struggling everyday to make ends meet and have taken hits in other parts of this budget," - Sinn Féin's Dessie Ellis.
1849 Joan Burton briefs the media on the reduction in Social Protection funding.
1847 Speaking on RTÉ's Six-One News, Minister Brendan Howlin said the Labour Party protected the election commitments it made as best as it could but that the party knew when they went into government they would have to make harsh decision.
Howlin said 44% of students would not be affected by the decision to raise the student registration fee because they were in receipt of a grant.
He also said that means testing Child Benefit would be an expensive process and taxation of the payment was not possible.

1834 Open-parent family organisation One Family has said Ireland's poorest families have been "abandoned" by today's Budget and left to face the worst.
1831 Health Minister James Reilly said it was possible that up to €800m could be taken out of the health budget this year.
He said last year it sought to take €1bn out but managed around €800m.
Minister Reilly said there would be some cuts to services and an impact on patient services in the next 12 months.

1824 The Union of Students in Ireland has said the €250 increase in college fees will cause "enormous hardship for families" while only raising around €16m for the Exchequer.
It said further cuts to third level institutes will put them under pressure to maintain standards while also dealing with an increase in student numbers.

1821 Roisin Shortall said the Government is determined to start on the road of fundamental reform in the health service and welcomed the provision of €15m in the Budget that would enable a start of the roll out of these reforms.
1820 The Society of St Vincent de Paul has welcomed the Government's decision to maintain the basic social welfare rate.
However the group said it is concerned that many families it works with will be further disadvantaged by changes in areas like Rent Supplement, the Winter Fuel Allowance and the Back to School Clothing and Footwear Allowance.
1818 The Irish Dental Association says a 2% reduction in health spending when the number of medical card holders has increased by 500,000 means thousands will be denied proper dental care.
1815 The groups representing members of the Defence Forces have said they are very disappointed that a major re-organisation of the forces has been initiated as part of the Budget.
PDFORRA said they were both surprised and angered by the decision and said while it would bring significant savings, it would result in considerable disruption for soldiers and possible further barrack closures.

The Minister for Defence Alan Shatter said that the number of brigades will be cut from three to two as part of the review - arising from the drop in personnel numbers to 9,500.
Mr Shatter said no further barrack closures are envisaged arising from the streamlining of the forces and that military strength will be maintained at present numbers.


1811 Thomas Pringle of the Dáil Technical Group has responded to the Taoiseach's State of the Nation address last night.
The Budget will make us pay even more for a mess we did not create, he said.
1809 In Fine Gael's New Ireland it will only be cold 26 weeks of the year as opposed the usual 32 weeks. Enda the weather God! - Jonathan O'Brien of Sinn Féin.
1807 The Irish Federation of University Teachers has criticised the Budget's 2% cut in funding to higher education.
The group said the move clashes with IMF policy, which says that investment in the area helps future recovery in countries in economic difficulty.

1806 The Garda Representative Association says it opposes the closure of 31 garda stations and reduced opening hours for a further 10.
It said that closing these stations breaks up a network that has served the State well through many crises.

1802 This is not the end of the story as the Health Service Executive was carrying a deficit of between €150m and €200m into 2012 - Health Minister James Reilly.
He said there were other measures to pay for including the EU agency directive and announcements to come tomorrow, including VAT which could cost another €50m.
1801 Watch an extended version of the Six-One News with Bryan Dobson and Sharon Ní Bheoláin.
1758 We cannot continue to maintain services unless psychiatric nursing is exempted from the moratorium. The Government must recognise that we have made our contribution and we cannot give any more!' Psychiatric Nurses Association General Secretary Des Kavanagh.
1755 The Irish National Organisation of the Unemployed has welcomed the Government's decision to maintain the basic rate of social welfare payments.
The group also welcomed the Labour Market Activation fund and said it looked forward to finding out more details of the Pathway to Work policy.

1754 "We have decided that resources could be better deployed and more effectively used on the frontline if those particular stations no longer had to be staffed and maintained.'' - Garda Commissioner Martin Callinan
''In the coming months local garda management in places where a station will close will consult with local communities to determine how best to continue to deliver a policing service in their area."

1752 "Today's budget cuts announced by Minister Brendan Howlin are savage, senseless and stupid" – People Before Profit Alliance TD Richard Boyd Barrett.
"The most obvious victims of today's budget are the children of this country."
1750 Fianna Fáil's Willie O'Dea says the Government's measures to create jobs will not have a meaningful impact and amount to "tinkering around the edges of the Jobs Crisis".
He said the measures included appear to have been "an afterthought".
1747 Minister for Education Ruairi Quinn said he would like to be in a position to confirm whether or not the student registration fee faces a further increase next year but he cannot.
Speaking on RTÉ's Drivetime, Minister Quinn said: 'For the moment the increase in student registration fees is €250 for the next academic year."
The Minister said there were very difficult decisions to be made because the country is facing an increase in the population, with an extra 70,000 young people entering the education system within the next seven years.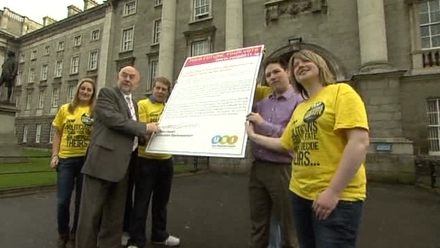 1746 The Irish Medical Organisation has expressed "grave concern" at the impact on health services of the cuts announced today.
The organisation's president, Dr. Ronan Boland, said the year ahead would see massive pressure on health services which were already "near breaking point".

1741 Children's charity Barnardos has expressed concern at the impact that social welfare changes will have on low income families.
They said the decision to cut Child Benefit rates for the third and subsequent child would put larger families under increased pressure.

1740 "To cut the fuel allowance by more than 20% is going to create huge hardship among the most vulnerable of older people," - Age Action spokesman Eamon Timmins.
1738 The number of full-time equivalent staff in the public service is to fall by 5,965 next year as a result of the cuts programme announced in the Comprehensive Expenditure Report.
More than half of the job cuts will be in the health service, where the number of full-time equivalent positions is to fall by 3,200.
The Local Authorities are to lose 770 full-time staff positions.

1734 The Irish Association of Suicidology has welcomed the inclusion in Budget 2012 of an additional €35m for the development of Community Mental Health Teams.
1732 The Budget has 'blunt vision' accompanied by 'blunt cutting' - Independent TD Catherine Murphy.
She said it was an opportunity for the Government to be bold and strike for real and focused reform but instead it went for an austerity model.
1731 Sinn Féin's Caoimhghín Ó Caoláin says the cut of €543m will devastate the health services.
He also described cuts to child benefit as "another attack on children in low income families".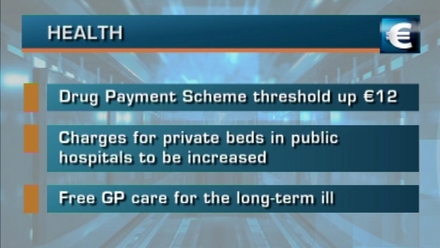 1730 The TUI has said a cut in teacher numbers will be a disaster for schools and said they would be "catastrophic" for the life chances of the most vulnerable.
1725: Garda station closures: This represents a further loss of contact with local communities throughout the country and will inevitably lead to a rise in crime in some areas - Association of Garda Sergeants and Inspectors Deputy General Secretary John Redmond.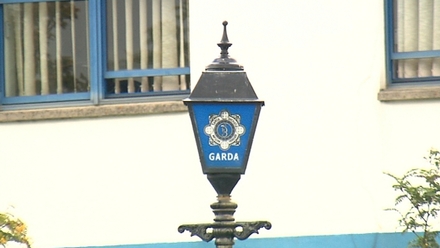 1723 "Health and social welfare payments have been cut by approximately €1bn and no amount of Orwellian double-speak can wipe away that reality," Workers Party President Michael Finnegan.
1719 Changes to Jobseekers' Benefit payments will mean a cut of up to 20% for part-time workers, Minister Burton.
The cut, which will take effect next July, arises from a reduction in the number of days on which the benefit is calculated.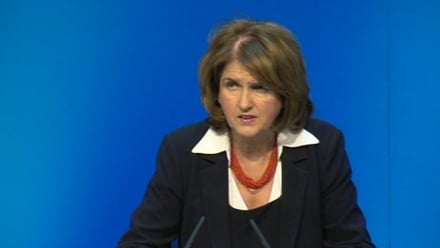 1716 Minister for Social Protection Joan Burton said she valued universal child benefit.
She said she has appointed an advisory group, chaired by Ita Mangan, to look at the issue of family supports in relation to child benefit and other income supports for families.
She anticipates the group will report by the end of March.

1712 Watch the Minister's speech to the Dáil, accompanied by the text of the speech.
1708 VHI Healthcare has warned that today's announcement to increase charges on private beds in public hospitals will double what it pays for customers using them.
It says the change would result in a premium increase of at least 50% if it is to continue to cover all public hospitals.
1706 The Irish Primary Principals' Network says the capitation grant cut will deepen schools' debts.
1705 Check out RTÉ.ie/Business for details of the breakdown of the cuts in individual departments.
1703 Dáíl speeches by Stephen Donnelly, Clare Daly and Catherine Murphy of the Technical Group.

1700 Minister Brendan Howlin is holding his media briefing in Government Buildings.
1659 Joan Burton said Ireland should move towards a system where everyone has an entitlement to one weekly income support payment only, with no special arrangements or top ups for particular groups.
She said it was no longer possible to have a social welfare system where some people get more than one primary payment weekly if we want to avoid reducing the level of weekly payments generally.
1656 Fare increases for bus and rail travellers are due next year because of cuts to CIE's subsidy.
Transport Minister Leo Varadkar today announced cuts totalling just under €22m to CIE and the rural transport scheme.
He said fare increases are a matter for the National Transport Authority.
But he said he would be asking Irish Rail, Dublin Bus and Bus Éireann to absorb some of the 8% loss in funding through cost reduction.
1652 Dáil speech by Fianna Fáil's Seán Fleming
1651 Dáil speech by Sinn Féin's Mary Lou McDonald

1650 The Small Firms Association has criticised proposal to reduce redundancy rebates.
"Budget 2012 should have done more to cut current expenditure, rather than its heavy reliance on reducing capital expenditure and raising taxes once again. Real reform of the public service is required." SFA Director Patricia Callan.
1648 The Comprehensive Review of Expenditure points to cuts of €254m in jobseeker's benefit payments.

These savings will come from paying jobseekers' benefit on the basis of a five-day week – as opposed to six days - which will reduce payments to part-time workers.

For example, a part-time employee working two days a week and claiming jobseeker's benefit is currently paid 66.6% of the weekly payment as a supplement to their earnings. From now on they will be paid 60% of the entitlement.

1642 "We're extremely concerned that the fuel allowance year is being cut back from 32 weeks to 26. This will disproportionately affect older people, who tend to use more fuel generally and to have less energy-efficient homes" - Maureen Kavanagh, Active Retirement Ireland Chief Executive.
1640 The Irish Cattle and Sheep Farmers' Association has described the Government's announcements on expenditure cuts as providing mixed signals to the farming community.
They said the cuts were not as severe as previously anticipated however the measures announced will translate into some cuts to farm income.
1639 The ASTI says today's Budget cuts mean the majority of second-level schools will lose one teacher and schools will see a reduction in funding for their day to day running costs.

1636 Joe Mag Raollaigh: Around a dozen people are engaged in a drumming protest outside Leinster House. A number are carrying Occupy Dame Street banners, while others drum on pots, biscuit tins and drums.
1635 Farmers have expressed serious concern about cuts to their payments. IFA President John Bryan said he is disappointed at the severity of the €50m cuts to the disadvantaged area and reps schemes.
1634 The Comprehensive Expenditure Report indicates that increased charges for health services of €79m are planned for 2012 with further increases of €108m planned for 2013.
However, the precise details of what these charges will be for are not outlined.
These charges will be in addition to the increase in fees for private beds in public hospitals.
1630 This Government is determined that, alongside the very painful budgetary decisions we have to make, we must implement our plan for economic recovery and job creation - Minister for Jobs Richard Bruton
1627 Minister for Health Dr James Reilly has said that some public nursing home units will have to close. He said 2012 would be a very challenging year and it would not be possible to protect all services.
1625 The Construction Industry Federation has said the redundancy rebate reduction from 60% to 15% has huge cost implications for employers, leading inevitably to some company failures.
It said this in turn will put greater pressure on the insolvency fund, from which employees are paid 100% of their statutory redundancy entitlements.
1623 Protestant Secondary Schools Ireland has said the decision to increase the pupil-teacher ratio in private schools may force hundreds of Protestant children from the schools of their ethos because of their inability to pay the increased cost.
They said this will damage the fabric of the Protestant community in the Republic.
1622 The Minister for Justice Alan Shatter has announced that 31 garda stations are to close during 2012.
Eight stations that are already non-operational will not re-open. Several stations in Dublin will have their opening hours reduced to 8am-10pm.
1620 The UNITE trade union says the first half of Budget 2012 will take at least 15,000 potential jobs out of the Irish economy.
1617 The Department of Health Budget 2012 briefing is now live
1616 This Budget is the Government's doing and cannot be blamed on Fianna Fáil. Minister Howlin is an "equal opportunities butcher". - Socialist Party TD Clare Daly.
1613 With fuel poverty, lone parents' allowance, child benefit and third level grants, the poorest will pay the most - Fianna Fáil.
1611 Reacting in the Dáil, Independent TD Stephen Donnelly says today's cuts will devastate families. He says the country cannot cut and tax its way out of its problems.

1608 The biggest problem with Budget 2012 is that it won't work - SIPTU General President Jack O'Connor.
The burden of adjustment is still falling disproportionately on those least able to bear it although the balance is better than previously.

1606 The increase in the registration fee will put students under even more pressure in a time where families are already struggling to send children to college. This is a short-sighted move by the Government. - Macra na Feirme National President Alan Jagoe
1603 ISME says it is livid at the decision to reduce the employers' redundancy rebate from 60% to 15%.
1601 The overall scale of Budget 2012 is about right, but the adjustments could have been made in a way that was less damaging to growth and employment - IBEC Director General Danny McCoy.
1558 The Back to School Clothing and Footwear Allowance will reduce from €305 to €250 for children aged 12 years or more and from €200 to €150 for children aged four and over.
1557 Child benefit will remain at €140 per month for each of the first two children, but the rates for the third and subsequent children will be standardised to €140 per child over the next two years.
That means the rate for the third child will fall to €148 next month and €160 for subsequent children.
1555 The Government's announcement of reductions in the six-day week for jobseekers' benefit calculation is a cynical smoke and mirrors exercise to cover up a major cutback - Fianna Fáil Social Protection Spokesperson Barry Cowen.
This is a direct attack on the welfare rights of part time workers and is another straightforward broken promise by the Government.

1551 If you are overwhelmed by the information in the Minister's Budget speech, then read our summary of today's key points.
1549 The fair way to tackle the deficit is to tax wealth - Sinn Féin's Mary Lou McDonald.
1547 Today's budgetary statement is a triumph of spin over substance - Fianna Fáil's Spokesperson on Public Expenditure and Reform Seán Fleming
The Government is intent on "protecting their friends and cronies in high places" whilst placing charges on the less well-off.


1543 Joe Mag Raollaigh - Labour's Willie Penrose, Tommy Broughan and Joanna Tuffy immediately left the Dáil when Brendan Howlin finished.
1541 Older people, the young and carers are taking the pain for the "greed of the ruling classes" - Sinn Féin's Mary Lou McDonald.
Fine Gael and Labour promised something different but today's Budget consigns those to the "dustbin of sleeveenism".
Government has chosen to follow the policies of its predecessors in Fianna Fáil.
1540 Budget2012 announcement is highly regressive, targets disadvantaged sections of society rather than delivering more ambitious reform - Fianna Fáil
1535 This is a Government of two parties working very hard together - Fine Gael's Pascal Donohoe.

Priority is to ensure that people currently in work are protected and then to get those without jobs back into the workforce.

1534 Social welfare changes: From January 2012, the age of entitlement for Disability Allowance will increase to 18 years in line with other social welfare payments.

As a compensatory measure, the age of entitlement for Domiciliary Care Allowance will be extended from 16 years to 18 years of age.

For new claimants aged 18-24, the rates of payment for Disability Allowance will be aligned with Jobseeker's Allowance rates for that age group.

People who are aged under 25 years and are already in receipt of a full-rate Disability Allowance payment will not be affected.

From January 2012, the employer rebate of statutory redundancy payments will reduce from 60% to 15%, saving €81m in 2012.
1530 Minister for the Environment Phil Hogan has announced the publication of the Bill to provide for the introduction of a household charge of €100 per house from 1 January.
Mr Hogan said the charge would raise €160m to fund services provided by local authorities.
1527 Elsewhere, French President Nicholas Sarkozy and the German Chancellor Angela Merkel have called for a change to the EU Treaty to be concluded by March.
1522 Garda: €79m cut in spending on gardaí, through payroll and pension savings, concentration of resources in high priority areas and greater use of civilian staff and the Garda Reserve.
Foreign Affairs: €52.9m cut in Overseas Development Aid.
Defence: €17m will be saved by reducing personnel.
Education: The charge for primary school transport is to be doubled, from €50 to €100.
Agriculture: €30m cut from the Disadvantage Area Scheme and €19m from the Rural Environment Protection Scheme.
1512 Fianna Fáil's Sean Fleming is responding to the Minister's statement.
1510 ''No Government, whatever its numbers, wants to be the bearer of bad news. But, our options are extremely limited. The public knows this. It is wary of those who offer simplistic options.
''We are at the start of a reform process. Today and tomorrow are significant days in that process but our work is ongoing.
''Our resources are now more scarce but we do have some choices. And this Government is choosing to divert those scarce resources - albeit not at levels we previously enjoyed - to those areas of the economy and society where they are needed most.''
1507 The Minister also announced a reform of the budgetary process, including:
A sustainable expenditure plan.
Introduction of a multi-annual expenditure framework, including proper structural planning, based on priorities and upon reform, with full public input and Dáil oversight.
Introduction of evidence-based expenditure policy including a "tough, clear new Value for Money Code ... to re-double the processes for ongoing scrutiny and evaluation across the entire Irish public service."
Build performance information into the annual estimates, which can be scrutinised by Dáil Committees at the same time that public money is being requested.
Enhance the role of the Oireachtas, including moving to a 'whole of year' budgetary timetable to allow for Dáil Committees to engage earlier on Estimates allocations.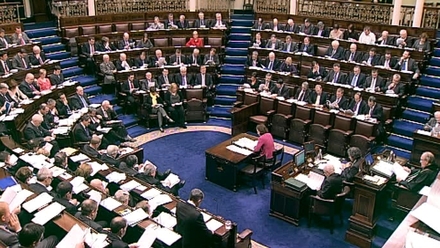 1505 Three key areas - social protection, health and education - contain measures that will yield savings of over €1bn in 2012.
Selected measures from other areas include:
Agriculture, Marine and Food - savings of €105m.
Transport, Tourism and Sport - savings of €45m.
Environment, Community and Local Government - savings of €34m.
The Government's decisions will reduce public spending to €55.8bn in 2012 compared with €57.7bn in 2011.
Spending ceilings set for 2013 is €54bn, 2014 is €52bn.
1503 Other education measures: A 2% reduction in core funding for higher education will secure savings of €23.6m.
Increase of €250 in the third level student contribution will secure savings of €18.5m.
Changes to fee and maintenance supports for new post-graduate students and reducing maintenance grants generally will deliver savings of €12.6m.
1500 Education expenditure will compromise around 17% (€8.6bn) of all current expenditure next year.
The measures in the education area which I am announcing today will save €132.3m in 2012.
Measures include:
A requirement for Post Primary Schools to manage guidance provisions within their existing Pupil Teacher Ratio allocations, which will save €10.4m.
A reduction in capitation grants to schools by 2% making savings of €7m.
Phased withdrawal from 2012 of supports in some schools from earlier disadvantage schemes, pre-dating the current DEIS programme, will make savings of €6.5m.
Reduction of costs associated with trainee and apprenticeship schemes will yield €19.2m in savings.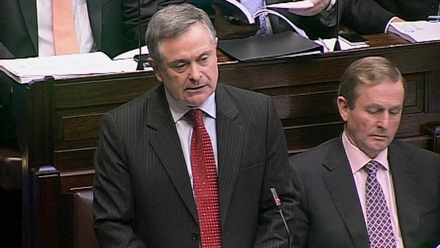 1457 Health is allocated €13,644m in 2012. A reduction in numbers and containing pay costs will save €145m.
Introduce measures to reduce the price of drugs to save €112m.
Increase the monthly threshold from €120 to €132 under the Drug Payment Scheme to save €12m.
Improve the generation and collection of private income in public hospitals to save €143m.
Secure 2% efficiencies in disability, mental health and children's services, saving €50m.
1455 The Government has decided to reduce the fuel season from 32 to 26 weeks. This will save €51m next year.
Changes to the one-parent family payment will save €20.7m.
Changes to the redundancy and insolvency scheme to reduce the employer rebate from 60% to 15% will save €81m.
Increasing minimum contributions and reviewing rent limits will yield savings of €55m in rent supplement.
Changes to the present system of concurrent payments will save €21.8m in 2012.
1453 Over two years we will standardise the rates of payments for child benefit for all children. This will save €43m next year.
We have decided to base the payment week for jobseekers' benefit on a five-day week rather than the existing six-day week basis. This will save €5.9bn next year.
1451: Social protection: I believe that we have a duty to protect the most vulnerable in our society, and to provide the safety net of social protection in what are very extraordinary times.

1450 Pensions: It is estimated that, by the middle years of the century, annual spending on public service pensions will be about €5bn per annum in 2010 terms, if no action is taken.
The new single scheme will reduce this annual expenditure by about 35% or €1.8bn.
1448 The public service pay bill will fall by €400m in 2012.
By the end of this year, the number employed in the public service will be below 300,000. Next year, the Government plans to reduce the size of the public service by a further 6,000.
By any standards, this reduction of 37,500 or 12% of staff, against 2008 levels, by 2015, is significant and poses enormous challenges.
I am pleased to announce that there will be some limited recruitment in to the Public Service in early 2012.
The overall cost of paying public servants will have fallen by €3.5bn, or 20%, over the seven-year period from 2008 to 2015.
1445 On reform: "Reforming how Government works to reduce costs and protect the frontline services is also a guiding principle. This Government is a reforming government."
1444 On jobs: "We need to keep people working and to get others back to work. Budget 2012 makes further inroads to dismantling barriers to employment, complementing progress or re-orienting labour market activation and training policy."
1442 The difficult decisions made were based on three guiding principles: Fairness, Jobs and Reform.
On fairness: "We must ensure that the burden of recovery is shared fairly and that the most vulnerable in our society are protected as far as possible."
1440 In the education sector, demographic pressures mean that we need more teachers and classrooms to accommodate more children. This is unavoidable.
1439 In a recession, the Government is a spender of last resort.
1438 Over the period 2009 to 2012, nominal current voted spending will be down from its peak by almost 7%.

1437 Our country has suffered the greatest economic crisis in living memory leading to a large fall in Exchequer revenues.
1435 Our position has stabilised. 12 months ago we were Europe's problem, now problems in the European and global economy threaten our recovery.
1434 Brendan Howlin opens his speech with a recognition of former Minister Brian Lenihan's contribution to the country.
1433 Minister Brendan Howlin is taking his seat in the Dáil and is due to start speaking shortly.
1420 Live coverage of the Budget has begun on RTÉ One and here on rte.ie.
1400 Philip Boucher-Hayes: New post graduate students will not receive maintenance grants any longer.
1352 There will be no change to the headline social welfare rates - Brian Dowling. Health – No increase in prescription charges. No annual fee for medical card.

1445 Brian Dowling on cuts: €550m health, €500m social protection, €130m education, €100m justice.

On child benefit there will be cuts to third and fourth child rates, which will be phased in over two years. Total saving is €45m.

Fuel allowance cut to 26 weeks from 32 weeks. Savings of €50m.

Back to school allowance abolished for two and three-year-olds. Savings of €30m. Fraud control will bring savings of 40m. Administration savings of €20m.
1330 Economic Research Unit economist Michéal Collins tells the News at One that that he expects the Budget to include significant reform in social welfare.
1320 TV3 has invited the leaders of the opposition to respond to Enda Kenny's address on Wednesday's edition of Tonight with Vincent Browne.
The leaders if Fianna Fáil, Sinn Féin and the technical group would speak for three minutes and then take part in a post-Budget debate.
1301 "We're live on RTE 1 TV from 2.20pm with Part 1 of Budget 2012 - speech by Min for Public Expenditure & Reform Brendan Howlin," - Bryan Dobson on Twitter @bryansixone.
1300 David Davin-Power, Sean Whelan and Joe Mag Raollaigh look ahead to the Budget on the One News. Over on News at One, Brian Dowling outlines what the Budget will contain.
1225 The Irish Senior Citizens Parliament has called on Minister Howlin not to reduce the fuel allowance season, saying it would put vulnerable families at risk.
1220 Enda Kenny's State of the Nation address had an average audience of 1,199,000 and 60.23% share. The peak was 1,231,320 at 21.39. RTÉ's Nine News had just under 800,000 viewers.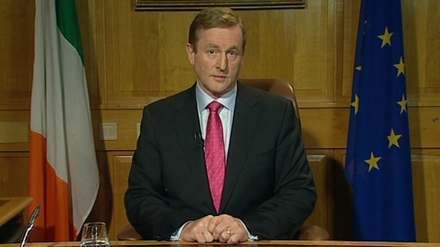 1215 David McCullagh reports that a large slice of the savings are expected to come from payroll, with a 10% cut in overtime, a 5% reduction in allowances, and previously announced reductions in staff numbers.
1210 As Ireland prepares for a difficult Budget, elsewhere there is hope of a sweeping solution to the eurozone debt crisis.
Stock markets have risen ahead of meeting between French President Nicolas Sarkozy and German Chancellor Angela Merkel this afternoon.
1120 RTÉ News ran a series of reports in the build-up to the Budget, where people spoke of their fears of what is to come.
1107 Photographers waiting for a glimpse of Brendan Howlin outside the Dáil.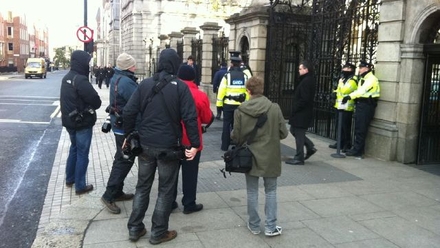 1103 If you missed today's Morning Ireland, you can listen to it here
1100 Brendan Howlin will outline €1.4bn worth of cuts to Government spending programmes. He is expected to deliver his statement at around 2.30pm.
That €1.4bn added to the €750m reduction in capital spending already announced will bring the total spending reduction next year to €2.2bn.
The two biggest spending departments - Health and Social Welfare - will bear the brunt, with cuts of close to €500m each.
A reduction in child benefits for third and subsequent children, and a shorter fuel allowance season - moving from 32 to 26 weeks - are understood to be typical of the type of savings being introduced.
Education spending is expected to fall by some €150m, with measures such as a rise in college registration fees and a reduction in the pupil teacher ratio in fee paying schools.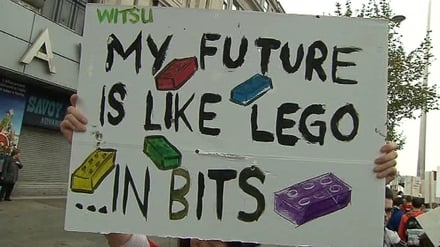 A smaller than expected cut in social welfare will have to be made up by around €250m in savings across a range of Government departments.
1055 Across the public service, savings will be expected from tighter management of overtime and possible reductions in allowances.
There will be significant changes to the way departmental accounts are set out and managed, and spending limits for each department for each of the next three years will be published.
1050 Coverage on RTÉ One television begins at 2.20pm. RTÉ Two will broadcast the end of the minister's speech and Opposition replies from 3pm.
An extended Drivetime will begin on RTÉ Radio One at 2.30pm and there will be coverage on RTÉ Radio One and 2FM bulletins throughout the day.
RTÉ.ie News and Business will have comprehensive coverage of Budget 2012, including a live blog with user comments, an embedded live video player, as well as the Budget's key points.
There will also be updates on Twitter (@rtenews).
Budget coverage will be available across both days on RTÉ News Now - available on Saorview, online and on mobile - as well as on the RTÉ Player.

All text content will also be available on RTÉ's mobile platforms (m.rte.ie/news, RTÉ News Now app on iPhone, iPad, and Android), while the main Budget content will be available on RTÉ Aertel.