This morning...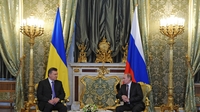 +++ The Presidents of Russia and the US have been speaking to each other about the crisis in Ukraine. Following a one hour telephone conversation - their second in a week - the two leaders released separate statements. Mr Putin said the authorities in Kiev had made decisions on Crimea that were illegitimate. He said Russia and the United States were still far apart on finding common ground. The White House said that Mr Obama urged Mr Putin to accept the terms of a potential diplomatic solution. This would entail direct talks between the Russian and Ukrainian governments, the return of Russian troops to their bases and the deployment of international monitors.
+++ Government leaders attending the second and final day of the Congress of the European People's Party in Dublin are expected to address the crisis in Ukraine. The Congress, which brings together Europe's main conservative parties, will select a candidate today to lead the centre right parties into the European Parliamentary elections in May.
+++ Over 67 euro million has been refunded to around 77,000 consumers who were sold Payment Protection Insurance by eleven credit institutions since July 2007. The figures are contained in a Central Bank report on a review it carried out into the sale of PPIs. Refunds were paid where people were found not to have been eligible to benefit from the product they were sold or where the product was not suitable for the policy holder. Payments were also made when the institution could not demonstrate that it had complied with the Consumer Protection Code.
+++ A Californian car dealer who lost half a million dollars gambling in Las Vegas is suing the casino for letting him play when he was drunk. Mark Johnston, who's 52, contends that the Danton Grand Casino should have prevented him by law from wagering the sum on table games over 17 hours. The casino said it will be pursuing Mr Johnston for the debt.