Ingredients
When it comes to cooking, I can't stress enough my love of compounding flavours. This is a perfect example. Spiced-up fishcakes with a cool refreshing salsa & a creamy garlic mayo. It can be served as a starter or serves well for lunch. With some extra effort, it serves up very well if you are trying to impress someone for a special occasion.
Makes: 4/6 cakes
400g Hake (small dice)
1 Egg
1 tbsp potato starch or cornflower
200 g mash potato
1 tbsp red curry paste
2 scallions, finely diced
Zest of 1 lime
Reserve the juice for the salsa
1 tsp salt or 1 tbsp of fish sauce
To coat the fish cakes:
4 tbsp flour
100g breadcrumbs
1 egg beaten with 100ml milk or water
Salsa
½ peeled cucumber (very small dice)
½ peeled apple (very small dice)
1 scallion (very fine slice)
Juice from the reserved lime
4 mint leaves
1tbsp of olive oil
1 tsp salt
Garlic Mayo
100g real mayonnaise
3 cloves roasted garlic
Juice & zest of 1 lemon
1 tsp black pepper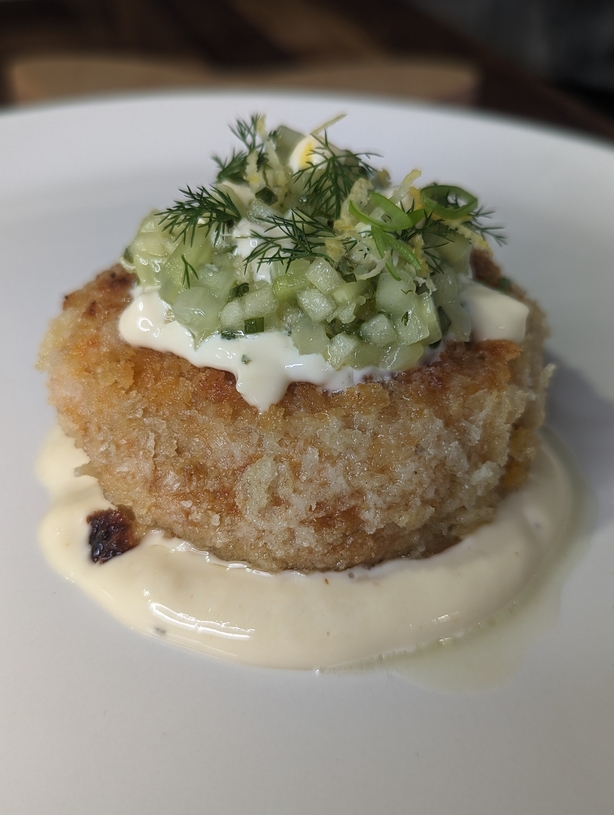 Method
In a large mixing bowl, combine the fishcake ingredients.
Divide the mix into six portions and shape the cakes using your hands. Place onto a tray lined with parchment paper. Chill in the fridge for at least 30 minutes
Place the flour, egg and breadcrumbs in three separate bowls. Remove the cakes and dust in the flour, followed by the egg wash and finally the breadcrumbs.
Pan fry the fishcakes until golden brown on each side, 7/8 minutes – if you have an air fryer you can cook the fishcakes accordingly4. In a bowl, mix the ingredients for the salsa together & set aside
For the mayo roast the garlic in tinfoil for 30 minutes, 160 degrees, gas mark 56. Squeeze the garlic from the bulb once cooked & mix with the mayo, pepper & lemon juice.