Catherine Fulvio's Easter Surprise Cake.
Ingredients
Serves 8 to 10
For the cake
225g softened butter
200g caster sugar
1 tsp vanilla extract
5 eggs
300g plain flour
1½ tsp baking powder
60ml milk
For the filling
350ml Freshly Whipped Cream (1 medium carton)
3 tbsp icing sugar
½ tsp vanilla extract
200g strawberries, hulled and sliced
For the buttercream
120g softened butter
300g icing sugar
100ml Double Cream
½ tsp vanilla extract
Pink colour food paste
Lilac colour food paste
Yellow colour food paste
Extras
5 to 6 Easter chicks, to decorate
12 colourful mini Easter eggs, to decorate
1m pink or lilac ribbon, to tie around the cake (optional)
Method
Preheat the oven to 180?C/fan 160?C/gas 4.
To prepare the cake, brush 2 x 20cm cake tins with melted butter and line the base with parchment.
Place the butter, sugar and vanilla extract and whisk until light and fluffy. Add the eggs and whisk well.
Sift the plain flour and baking powder together and fold into the egg mix.
Add just enough milk to form a soft cake batter.
Pour in the prepared tins and bake for about 20 to 25 minutes or until a skewer is inserted and it comes out clean.
Fold the Freshly Whipped Cream, icing sugar and vanilla extract together.
To prepare the buttercream, place the butter into a mixer and whisk until fluffy, spoon in the icing sugar while still whisking. Add the Double Cream and whisk for a further 2 to 3 minutes until light and fluffy.
Divide the buttercream into 3 bowls, leaving more in one bowl as you will need it to cover the top of the cake. Add pink and pale lilac into the smaller amounts of buttercream and stir yellow colour paste into the other bowl. Mix each very well and spoon each colour into disposable piping bags without nozzles.
To assemble the cake, place one sponge cake layer on a cake stand, using a large scone cutter, cut a circle and fill the hole with the mini eggs. Spread cream over and arrange the sliced strawberries on top. Place the other sponge layer on top.
To decorate, begin with snipping the lilac buttercream piping bag and pipe around the base of the cake, 1/3 of the way up. Follow with the pink buttercream, 1/3 of the way up and then use the yellow buttercream around the other 1/3 and on the top. Use a spatula to smooth around the cake, dip your spatula into hot water, wiping it before using OR you can spread the colours around the cake with a spatula.
To finish, decorate with chicks, Easter eggs on top and as optional, tie ribbon around the base of the cake.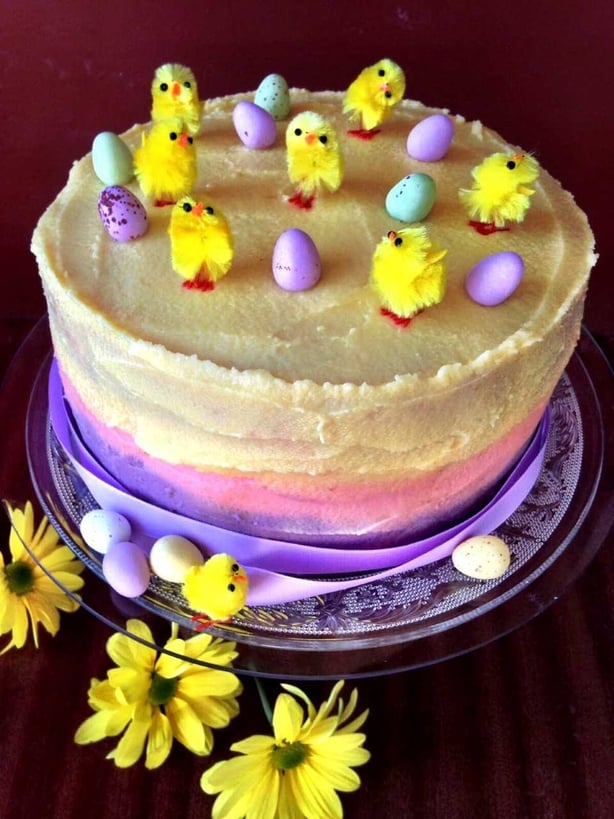 Recipe courtesy of Avonmore