Sínann Fetherston reviews a weekend of activities and a stay at the Big Style Atlantic Lodge on the Wild Atlantic Way.
To celebrate the launch of Red Bull's brand new Summer Edition Apricot-Strawberry, I was invited to attend a press weekend at the Big Style Atlantic Lodge in Co. Mayo for a weekend of yoga, surfing, hiking and - most importantly - eating and drinking.
Hosted by globally renowned Irish surfer Conor Maguire, the Summer Surf Session was an irresistible opportunity to check out one of the coolest lodgings that Ireland has to offer.
Tucked away in Killadoon, the boutique hotel overlooks some of the most beautiful coastline that the Wild Atlantic Way has to offer, and is home to a surf school, yoga studio, wood burning sauna, a cosy indoor lounge (made all the better by Mara the dog), and an outdoor fire pit worthy of any late night sing-along.
Right next door to the hotel is P. Dans, a traditional Irish pub and restaurant that has a night of Taco Fries and some tin whistle at the ready.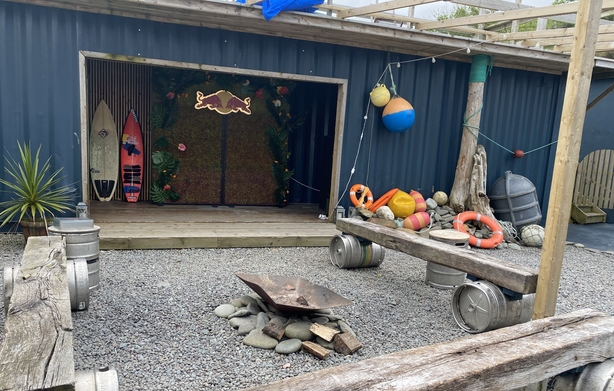 While the drive should only take about three and a half hours from Dublin, my guest and I managed to spend most of our journey sitting bumper to bumper on the M50 before getting stuck behind every tractor in Mayo.
All in all, it took five hours door to door - something to keep in mind if you're trying to make a mad dash away after work.
Despite the slow start, I could literally feel my shoulders drop with every step I took towards the check in desk.
From the stunning scenery, to the smell of wood burning on the fire pit, to the feel of salt air breezing across skin, the lodge instantly immerses guests into a holiday bubble, allowing them to leave all of life's tensions at the door.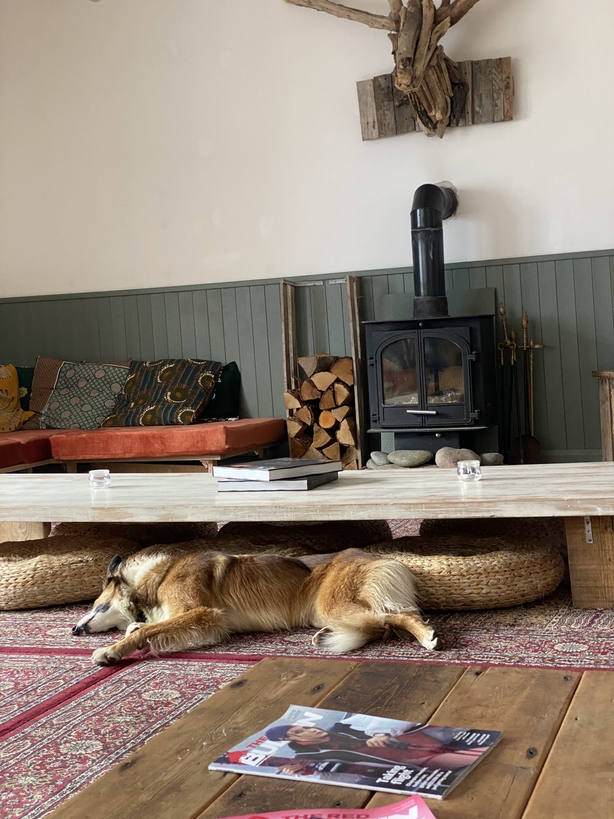 On arrival, Paco (the resident surf instructor, hiking guide, pizza chef and porter) showed us to our lodgings: a pared back en-suite consisting of two beds, a small vanity table complete with chair and mirror, and some small shelves for storage.
Sprinkled with boho-chic detailing, the accommodation is simple, minimal, and in keeping with the lodge's surfer aesthetic.
Once unpacked, we followed our noses to the communal dining area where we were treated to a vegan dinner from chef Cat Hitchcock who offered up bowls of sweet potato curry brimming with flavour.
This was swiftly followed by a trip to P. Dans for a packet of Tayto for dessert - all in the name of balance, of course.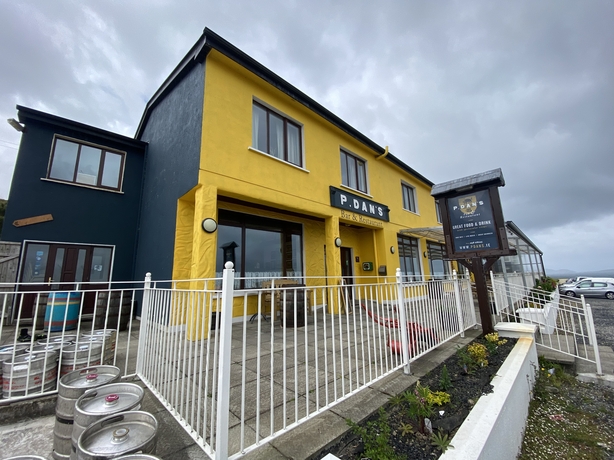 The following day began with an 8am yoga class under the instruction of guest yogi Gena Kenny. Looking out at some gorgeous coastal views, the class focused on balance and gratitude, with Gena guiding the group through gentle movements, light stretches, and positive affirmations.
Feeling spectacularly zen, we made our way to breakfast to fill our plates with the best banana bread I have ever had the pleasure of eating along with fresh yoghurt, nut butter, berries, compote and granola, as well as some melt-in-your-mouth vegan sausage rolls.
Thoroughly fed, we hopped into our cars and followed a convoy to a nearby beach to get some time by the sea.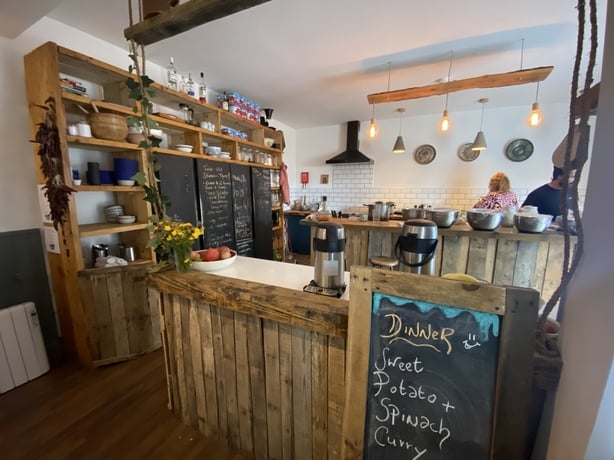 Due to a previous injury I had to settle for a quick dip in the waves, but the rest of the group enjoyed some choppy surfing under the tutelage of Conor Maguire, an athlete who made headlines over lockdown when he caught a monstrous 90-foot wave that earned him three nominations at the Global Big Wave Awards.
Speaking about his passion for the "addictive" sport, Maguire explained that, despite the cold weather and need for wetsuits, Ireland is among the best surfing spots in the world and should be enjoyed by locals whenever possible.
"Surfing in Ireland is a whole experience," he explains. "It's really nice to try and push yourself to get out there even when the weather is not great, it's really rewarding at the end of it when you take your wetsuit off, you feel great."
"People come from all over Hawaii and Australia to come here and spend time in Ireland and brave the elements just to hopefully get these waves once or twice a winter," he adds. "That kind of puts it up there with the best places in the world."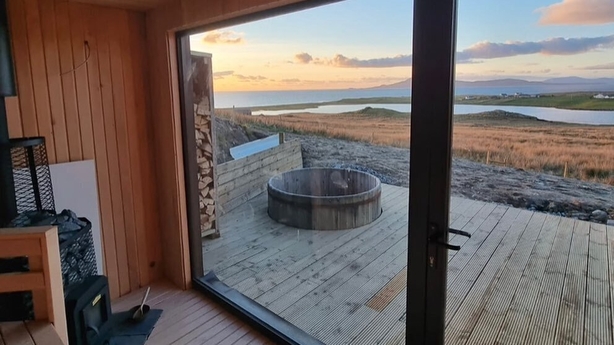 On returning to the lodge, guests had the option of visiting The Big Dipper - a small area across from the hotel that is home to a 10-person sauna lined with sweet smelling Alder wood, a highly Instagrammable outdoor hot tub, and a chilled outdoor plunge pool.
As one of the oldest guests on the press trip at the creaking age of 32, I opted for a nap. The 24-year-old TikTokers did assure me, however, that it was a stunning experience.
To warm us up after our very rainy trip to the beach, chef Hitchcock whipped up a hot cup of soup and the most colourful vegan bowl I've ever laid eyes on.
Working our way through layers of tofu, pineapple, pomegranate, yellow rice, chillies, cucumber, carrot, avocado and red cabbage, I'm convinced my skin began to glow via the sheer force of the ingredients.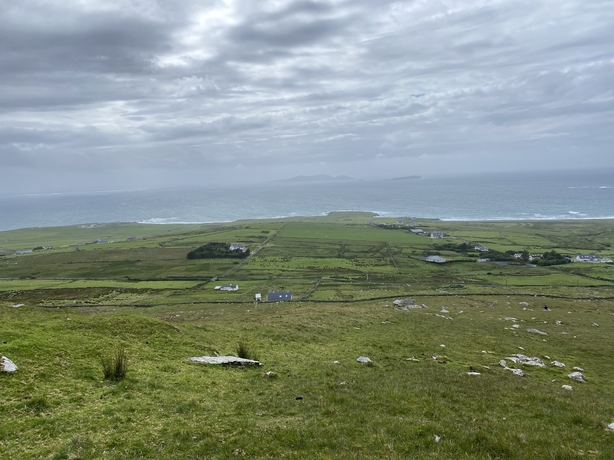 Next up was a calf-burning two-hour hike up a nearby hill, with stops along the way to visit the local wildlife (one horse, many sheep) and to check out a mystical fairy fort.
Not even the wet and windy weather could dampen the spirits of our two guides who motivated our group up comically steep sections of the trail before enjoying some truly epic views from the top.
On making it back down the grassy slope, and following a quick shower and change, it was on to the most competitive part of the weekend: a mocktail making challenge conducted by Master Mixologist and Drink Stylist Luke Tynan.
Stepping away from the well-known combination of vodka and RedBull, Tynan created a series of colourful, non-alcoholic drinks with the brand's latest offerings to give our group a much needed shot of energy before sitting down to dinner.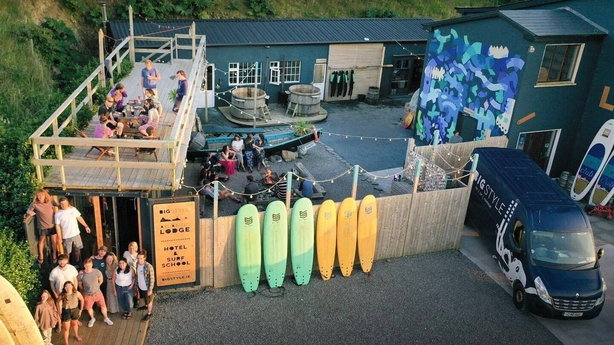 The team at BigStyle pulled out all the stops for our final night by creating some truly decadent pizzas in their outdoor wood-fired pizza oven.
The best part? You can watch the sourdough Neopolitan-style pizza bases being made from the dinner table.
Using 00 flour imported from Italy, the handmade bases were topped off with locally sourced ingredients including goat's cheese and caramelised onion. It's also worth noting that gluten-free options were on offer.
To see out the jam-packed day, guests were invited to sit by the fire pit and take in some live music from the Open Air Stage.
A dream weekend by any standards.
The details
I was invited to the Big Style Atlantic Lodge by RedBull Ireland to attend their Summer Surf Session.
A Weekend Escape begins at €310 per person and includes a two night stay, two two-hour surf lessons, a two hour hike, two morning yoga classes, two breakfasts, lunches and dinners as well as homemade snacks, a one hour spa session, and evening activities such as bonfires and live music.
For more staycation inspiration, check out our reviews of a stay in the Titanic Hotel in Belfast, a quick trip to Waterford City, and an active exploration of Cavan and Longford.