We're fully in the 'Zoom boom', according to experts, where 'tweakments' like Botox, filler, laser procedures and more have never been more popular – or accessible.
But aside from the fox brows, the BBLs, the lip flips and the thread lifts, there are a range of treatments becoming available that can be used to enhance your health and bodily fitness, that just happen to make you look better naked, too.
Sounds fake? Unfortunately for us gym goers, who have been sweating it out in Pilates for abs, it's not. Turns out there's a machine out there that not only melts fat, but tones and builds your muscles in what one expert calls a "brain trick" and a "gym cheat".
Kim Kardashian, Megan Fox, Denise Richards and Drew Barrymore are just some of the celebs that have given it their stamp of approval, but what does this treatment do exactly?
We need your consent to load this Instagram contentWe use Instagram to manage extra content that can set cookies on your device and collect data about your activity. Please review their details and accept them to load the content.Manage Preferences
The treatment
The EmSculpt Neo was created by BTL Aesthetics, a 25-year-old company with its roots in physiotherapy. The machine uses radio frequency and HIFEM – high intensity focused electromagnetic energy – to "liquify" fat cells, according to Aesthetic Consultant Dee Mac Mahon.
When it comes to all things aesthetic, Mac Mahon knows what she's talking about. She has run the gamut when it comes to the beauty industry, with 16 years of experience behind her and contracts with Johnson & Johnson among others. "I fell into it. Totally fell into it", she tells RTÉ Lifestyle.
"Fast forward, middle of COVID, I was thinking 'what's my next project?' and really, BTL is the one to beat in the world in aesthetics at the moment."
Fast forward again to a couple of phone calls, and three months later, in January 2021, Mac Mahon was in charge of the rollout of BTL aesthetic devices across Ireland, as well as their cardiology and physiotherapy devices.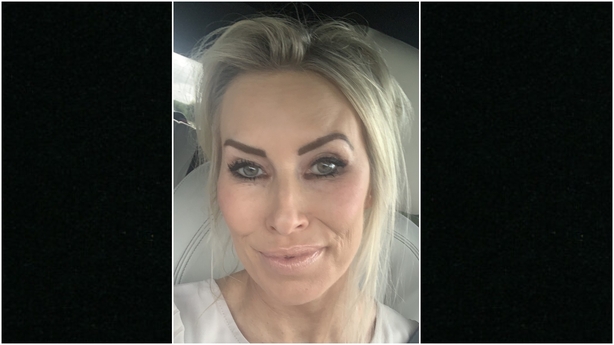 How does it work?
"It's a synchronised radio frequency where the angle of the radio frequency is travelling through the fat tissues and liquefying them, essentially. It's kind of interrupting the fat metabolism", Mac Mahon explains.
"The fat cell has interrupted its ability to work and function because its environment has been changed. And so your brain is deeming it as broken. Your macrophage come in and they basically say, 'oh, broken cells, take it away'. We literally are excreting it through the Lymph, and our livers then are excreting it out."
At the same time, the device causes your muscles to contract to such an intensity that it's the same as doing 20,000 crunches in 30 minutes - but without the pain of a workout.
"There's an element of a brain trick involved in these devices", she says. "Your brain is under this massive exercise mode and it's never quite experienced this intensity before, and so it reacts chemically as though it's doing a high-intensity workout."
"If you could go to the gym and you could do 20,000 sit ups in half an hour, would you do it? You would, but you can't because it's not humanly possible. Is it humanly possible now? Yes."
As well as simulating thousands of crunches on the abs, the machine can be used on various parts of the body, the most popular so far being "tummy, bums and bingo wings".
How much is it?
EmSculpt Neo treatments are available at a variety of clinics across Ireland including Thérapie Clinic, Laser and Skin, The Institite of Dermatologists, Beacon Dermatology, plastic surgeon Siun Murphy and the South William Street Clinic & Spa.
Prices may vary slightly from clinic to clinic but, on average, a course of four sessions will cost approximately €2,500-€3,500 depending on which clinic you visit.
An alternative but similar treatment is the EmSculpt which costs approximately €500 per session with four sessions falling between €1,000 - €2,000 depending on the clinic. However, it is important to note that the EmSculpt does not have the of radiofrequency technology of the EmSculpt Neo.
Undeniably, this range of treatments doesn't come cheap and won't be accessible to everyone. However, Mac Mahon insists that, for those who can afford it, the benefits go well beyond the aesthetic and is a sure fire way to get results.
Who is it for?
Whether you're an athlete looking to get strong for match day, a new mum struggling with abdominal separation (also known as diastasis recti), or someone who is simply trying to get into shape, this treatment could be the perfect hack.
As a mother herself, Mac Mahon says that EmSculpt Neo is particularly appealing to new mums but insists that women should feel no pressure to "bounce back". Instead, she recommends that people view these treatments as a helpful tool for returning to a fitness when the time is right.
"You can't be breastfeeding when having these treatments," she explains, "but, when you're finished that lovely piece of your life, this is going to accelerate your ability to get back. Then you can be stronger and fitter and in better form to keep up the gym and not lose the faith."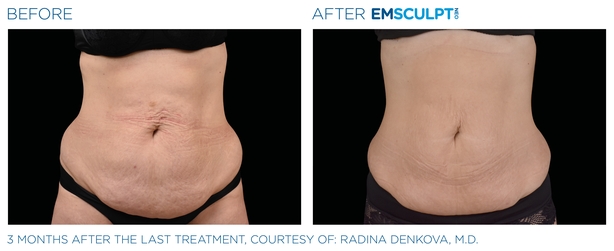 Other potential clients include athletes for whom these treatments could be a time saver for getting competition ready, with the machine offering a specific way to work on chosen area of the body.
"A lot of athletes are coming in to build up strength," explains Dee. "It's kind of to give them that extra one per cent. There's not much excellence between a lot of people in Ireland and a professional so it's about going that extra per cent. From a core strength perspective people, without a shadow of a doubt, will be stronger."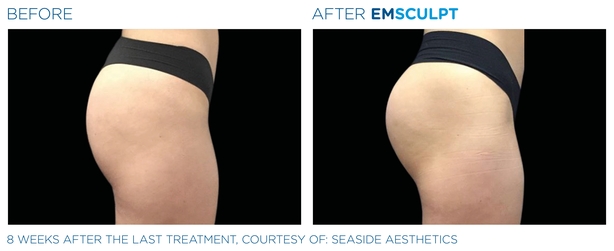 And as for those who simply want to get fit and have the money to spare? It's a dream way to get in shape.
Of course, Mac Mahon reminds us that "your end point depends on your starting point", meaning that in order to get the best results, a healthy diet and exercise alongside the treatments is best. If you're already quite fit and trim, the results of the treatments will understandably be more dramatic.
"It depends on your ultimate goal. If you really want to maximise the muscle growth, you should support your body with protein," says Mac Mahon. "You can't be going on a crash diet because your body needs the energy."
"Ultimately, we're tricking it into thinking it's doing this insane exercise, so it won't be able to be as efficient if it's not getting the proper fuel it needs."
"This is an investment," she adds, "You will have a 30% reduction of fat, and the reason for that is the metabolic trick. Your brain thinks you're doing this insane exercise and you're metabolically breaking down fat."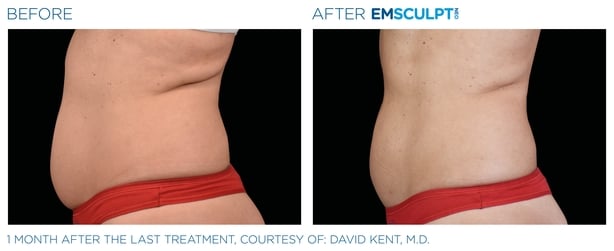 The facts and figures
A number of studies were conducted by a range of cosmetic surgeons to test the efficacy of the EmSculpt Nep on various parts of the body.
In one study, conducted by Carolyn Jacob, David Kent and Omer Ibrahim, 41 subjects received three 30-minute treatments on their abdomens. Their follow up MRI images showed a 30.8% reduction in subcutaneous fat and 26.1% increase in muscle thickness at three months.
The study found that the simultaneous application of RF and HIFEM resulted in a comfortable treatment that 91% of subjects were satisfied with.
This treatment is FDA approved but, as with any medical procedure, you should ask your doctor if this procedure is right for you. It is also worth noting that the treatment can not be used on someone who is pregnant, breast feeding or menstruating.
Review
To see the results first hand, we here at RTÉ LifeStyle were invited to trial the treatment over four weeks in order to post an honest review. Check out the results here.