Each year, Twitter rakes through its millions of viral videos, top trends and global conversation topics to create its Year in Twitter, a round up of everything we've been talking about, laughing over, crying over and trying to pass the time with.
In another year largely defined by disconnection and chaos, there were many moments of connection and unity and when things got confusing, upsetting, frightening or enraging, many of us turned to our Twitter timelines.
As for Irish Twitter, it seems that dancing, Irish businesses, sport stars and hope for a better future were what got us talking the most.
Covid, Cristiano and crypto
Unsurprisingly #covid19 and #covid19ireland topped the list as the most used news hashtags on Irish Twitter during 2021, as people tried to share information and updates.
Coming in in second place was #micaredress and the struggles of mica-affected homeowners, while in third was the tragic disappearance and passing of Belfast schoolboy Noah Donohoe (#noahsarmy) in June.
As sure as death and taxes, the #LeavingCert was the fourth most popular hashtag, as students discussed exams papers and shared their worries about revision online. In fifth place for the second year in a row, #brexit continued to dominate the news agenda.
Taoiseach @MichealMartinTD has said it is "clear as daylight" that if people do not get vaccinated against #Covid19 they are jeopardising their personal health and the health of others | https://t.co/vcyjuvPXBE

— RTÉ News (@rtenews) December 5, 2021

When it came to international news, sport dominated Irish Twitter, as the #mufc hashtag was flooded with news of Cristiano Ronald's move to the club and devoted fans discussing the club's challenging year.
For the first time, #bitcoin entered the top of the list as one of the most discussed international topics this year, reflecting the global surge in conversations around this theme.
In fact, Crypto Tweets grew by a massive 42% in the year after lockdown. And continuing the football theme, #euro2020 and #lfc were the next most discussed hashtags, followed again by #brexit.
Sometimes the fervent wish Ireland were in the Euros just sneaks up on you at the strangest times #EURO2020 pic.twitter.com/pHDinJR5BT

— Neil Delamere (@neildelamere) June 25, 2021
Love Island, Line of Duty and Dune
It's not just the news we come to Twitter to debate, but television shows, making the site one of the most enjoyable places to be during a TV binge. For an incredible third year in a row #LoveIsland tops the list for the most talked about entertainment moment on Irish Twitter.
Is it just me or is the kissing getting louder? 💋 #loveisland

— Laura Whitmore ⚡️ (@thewhitmore) July 12, 2021
Meanwhile, #Eurovision is always one of the biggest nights of the year on the platform and it came in second on our list. We couldn't come together to celebrate in person but we did share our #StPatricksDay together on Twitter.
As we come to the end of a fantastic #StPatricksDay in Ireland, we want to say a HUGE thank you to all our friends and followers, here at home and overseas, who have joined us today to celebrate #StPatricksDay, our #GlobalGreening and the island of #Ireland 💚☘️☘️ pic.twitter.com/SRsRQezOh4

— Tourism Ireland (@TourismIreland) March 17, 2021
There was a couple of years wait for Season 6 and a Ted Hastings' "Houl yer whisht" but the return of #LineOfDuty and AC12 had Irish Twitter gripped, and rounding out the list is the TV show on the lips and at the fingertips of the country every Friday night, the #LateLateShow.
Thank you for having us @RTELateLateShow that was incredible! Here's our performance of Starlight 💫https://t.co/P8jfSzWqO2 pic.twitter.com/PRYJrD9qUK

— Westlife (@westlifemusic) December 4, 2021
Even if we couldn't go to the cinema together at certain times throughout the year, that didn't mean we couldn't talk about our favourite new movies together.
During 2021, the five most talked about movies on Irish Twitter were Zack Snyder's Justice League in top spot, followed by Spider-Man: No Way Home, even before it sees its official release here, and The Suicide Squad (2021), Black Widow and Dune (2021) taking third, fourth and fifth.
The 1984 version of Dune has just been added to @NetflixUK & Ireland. I've never seen it, but it has been described to me as "David Lynch's Star Wars", and if that isn't a recommendation, I don't know what is... pic.twitter.com/DOoneoE0ey

— Rory Cashin (@roarEcashin) December 3, 2021
Hope, sport and connection
There was enormous outpouring of hope throughout the year, which shows in Ireland's most liked tweet, as newly inaugurated President of the United States Joe Biden shared his first post as President, writing "It's a new day in America".
It's a new day in America.

— Joe Biden (@JoeBiden) January 20, 2021
We love a trend in Ireland, and it's no different when it comes to dancing trends. Irish Twitter stepped up to the challenge by the Swiss, as @gardainfo's take on the #JerusalemChallenge had users tweeting their support in droves, making it the most liked tweet from an Irish account.
We have stepped up to the Swiss police @fedpolCH #JerusalemaChallenge. Gardaí across Ireland answered the call to give the public we serve a lift in these challenging times. #StayTogether #homeStaySafe pic.twitter.com/sbLdkk54hB

— Garda Info (@gardainfo) February 2, 2021
Cristiano Ronaldo coming home to Manchester United was undoubtedly the most retweeted sporting moment of 2021, as supporters of all clubs set to debating the monumental trade.
Closer to home Rhys McLenaghan's terrific performance at the Tokyo Olympics 2020 brought the country together once again, making his tweet about it the most liked Irish sporting post.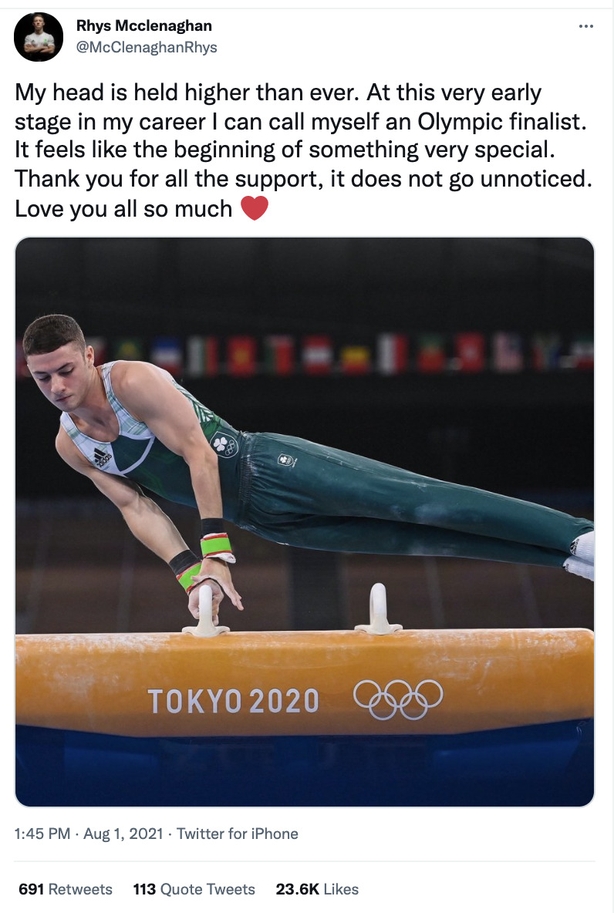 Proving Twitter can be a place for compassion and connection, Irish fans came together to share Jimmy Carr's grief at losing his friend, fellow comedian Sean Lock.
Brutal news about Sean Lock today.
I loved him. I'm watching clips of him right now - laughing & crying. I'll miss him so much.

— Jimmy Carr (@jimmycarr) August 18, 2021
When beloved Dublin bookshop Chapters announced it would be closing its doors after 40 years, tributes and stories of wandering through the aisles flooded our feeds.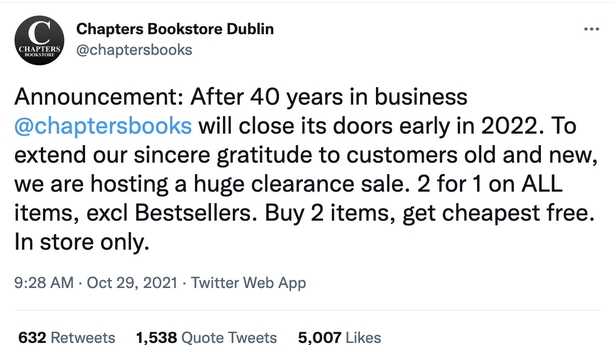 Most viral moments
And when Instagram, Facebook and WhatsApp crashed in the Great Online Blackout of 2021, leaving Twitter one of the only social media platforms standing, the site's own account gave everyone a chuckle with its self aware "hello literally everyone" tweet.
hello literally everyone

— Twitter (@Twitter) October 4, 2021
Of course, Twitter is best known as a place for debate and discussion – sometimes good-natured, sometimes less so – so when Weetabix suggested serving their classic cereal with a tin of baked beans, Irish Twitter wasted no time in, ahem, digging into the debate.
Found the best way to serve it pic.twitter.com/YTizKUgbef

— Justine Stafford (@JustineStafford) February 9, 2021
If you're looking for distraction, you won't be looking long on Twitter as there are enough viral videos and threads to keep you entertained for weeks, and 2021 was no different.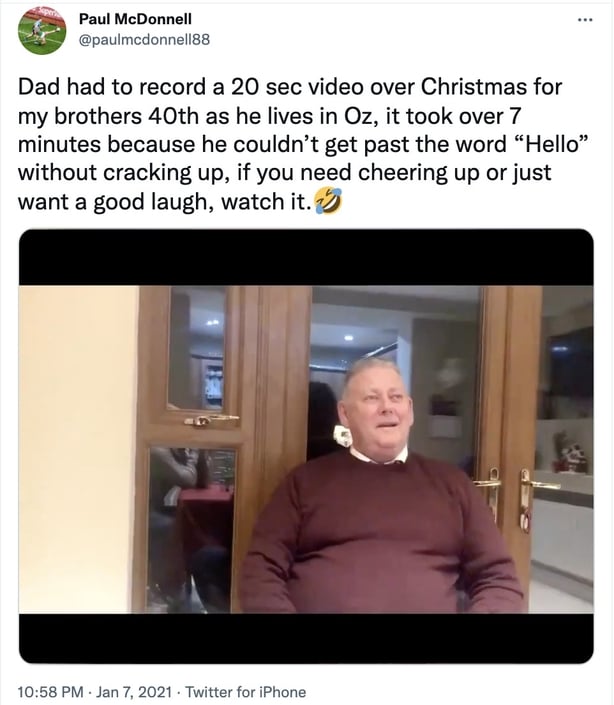 A father's hilarious attempt to wish his son a happy 40th birthday quickly went viral, while one user triggered one of the funniest Twitter threads with her nod to "anyone who tries to be fashionable in Ireland", prompting hundreds of users to share their own humbling fashion moments in Ireland.
Props to anyone who tries to be fashionable in ireland i wore a red beret once in waterford and someone called me super mario

— lady of sophistication (@janky_jane) August 15, 2021