In tonight's episode of Celeb OP, Gerald and coach Karl Henry clash over the celebrity solicitor's excess exercising in the States. We caught up with Gerald to ask how his diet and exercise where affected while overseas.
At the Celeb Op launch, RTÉ LifeStyle caught up with Gerald Kean and noticed a bronze glow about him. He revealed that he had been over in the States...which lead us to ask, how did holidaying and Celebrity Operation Transformation mix?
"I went to Florida for a couple of weeks with a lot of the lads", Gerald said, "to drop Kirsten to university over there. I felt that if I could get out of the States without going against the advice of the experts, I was going to be very happy with myself."
"It was difficult because everywhere there's food, there's lots of restaurants, there's lot of choice. And the portions are absolutely phenomenal, as everyone knows."
So how did Gerald stay disciplined? For him sticking to the Operation Transformation plan was vital.
"I stuck to my plan. I had my oatmeal in the morning with water and a little of fruit. Then at lunch time I had tended to have a bit of chicken in pitta bread with low fat salad cream. And in the evenings I stuck with a stir fry or a bit of fish. So I did well!"
"But getting out of the States wasn't easy. But I did it" he said.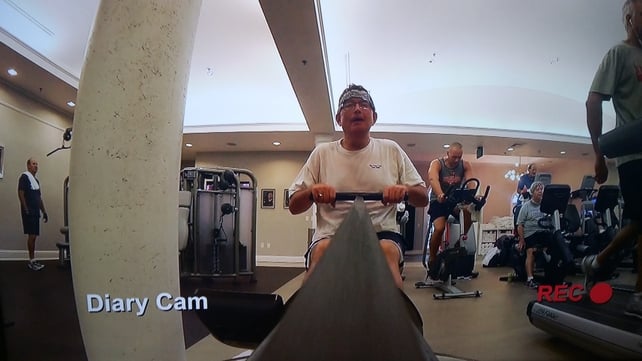 While Gerald kept his diet in check overseas, what about his exercise? As we learned in a preview, Gerald and coach Karl Henry clash this week over his exercise regime.
What's Gerald's side of the story?
"While I was in the States I did exercise" Gerald said. "I stuck to the plan, 45 minutes max in cardio. Heart rate between 125-135. I did it and enjoyed it. And stuck to water.
"No cigars, no red wine, no alcohol at all. No bars of chocolate, so I was very pleased!" he added.
Listen to Gerald Kean's interview with RTÉ LifeStyle here:
Tune into Celebrity Operation Transformation Episode Two, where the weight-loss of the five leaders will be revealed along with Gerald and Karl's clash, tonight at 9.35pm on RTÉ One.