Gerald told Ray during their interview on RTÉ Radio 1 today that he is set to receive some words of warning on this week's show which will air on RTÉ One TV tomorrow night at 9.45pm. Fitness expert Karl Henry didn't hold back saying that he feels Gerald was over exercising and straying from his plan.
At the first weigh-in, celebrity solicitor Gerald Keane lost an impressive 1 stone 3lbs. His target for his second weigh-in? 3lbs. But it was revealed on the Ray D'Arcy show today on RTÉ Radio 1 today that his weight-loss this week was......an incredible 6 lbs!
Despite his success, the main tension for this week's episode came from Karl Henry's disapproval of Gerald's weight loss. In a preview clip, we heard Karl Henry tell the celebrity solicitor: "The man of excess. Before Operation Transformation, it was work, and eating out. And you did it at full tilt."
"Personally, I think Operation Transformation has become your next excess. You're plotting your own course. That's a course for disaster. You're over-training. You're working too hard. You're doing more than what I told you to do, even despite the fact you said you're not. I know you are..."
"You're 58-years-old, you can't do this. You can't sustain this. It's not healthy for you, it's not good for you. And this time next year, you won't keep it off you, if you keep doing this." Karl finished.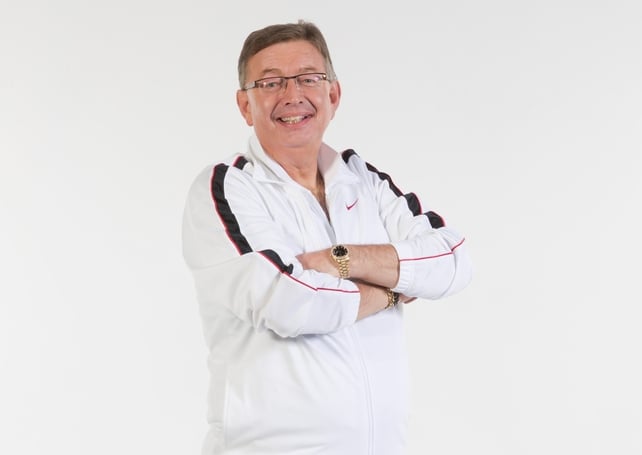 Ray asked Gerald how it felt to hear that from Karl: "Yeah it was a bit of a shock" Gerald admitted, "Karl's a great guy, and he's a friend of mine. I've huge respect for him. I tried to put it nice as I can to him that he was wrong." 
"The reason I say that is, first of all I lost 1 stone 3 lbs. Elaine got high fives for losing 1 stone 2 lbs. And she's a lot lighter than I was, and her eating habits weren't near as bad. They really weren't. She'd say that herself. And she has done great."
Karl said that a breakdown in communication was the main problem between himself and Karl. "I think the problem is that it was difficult because I was in the States" Gerald said.
"And to be fair to Karl he probably didn't see that when I was working out with the machines I stuck to the plan. In fact the criticism of myself is that I didn't do the full plan. I was doing less than what he told me to do!"
Gerald reckoned that it looked as if he was over doing it or working far more than what he actually was. Ray proposed that maybe what Karl said was coming from a place of concern, something Gerald and Aoife agreed with.
"The guy is superb, and I totally accept that! There's no criticism of Karl here!" Gerald added, leaving no hard feelings.
Make sure to tune into Celebrity Operation Transformation Episode Two, where the weight-loss of the other four leaders will be revealed, tomorrow night at 9.35pm on RTÉ One.