Who are you?
I'm Sean Cullen. I'm a 20-year-old fitness enthusiast and 3rd year business student at Trinity College. Most people online know me as "cullenfitness" which is the name of my Instagram profile. I'm new to the fitness industry and have only recently started my Youtube channel but already am seeing massive growth and a great general response. I offer insights into the life of a student bodybuilder, how to balance college, friends, social life and the gym along with my own twisted sense of humour.
We need your consent to load this YouTube contentWe use YouTube to manage extra content that can set cookies on your device and collect data about your activity. Please review their details and accept them to load the content.Manage Preferences

What brought your brand about?
I started my Instagram profile first just over a year ago and have amassed over 6,000 followers since then.
I started it originally as a way to track my own progress in the gym but I soon noticed that people genuinely cared about what I was posting.
So, I started doing information based posts trying to help people make progress in the gym. People continued to be interested and it's grown from there. Now I'm on Instagram, Youtube, Snapchat and also now offer personalised online coaching to clients.
Describe your audience! Who is your target?
The obvious answer for this is to say people involved in fitness but I don't like to limit myself to purely fitness either. I would hope that people without the slightest interest in fitness would enjoy my content and follow me too. Younger people who are new to the gym tend to follow me to look for guidance in the gym. I always get a lot of young guys coming up to me in the gym and asking questions and I love that!
What's your media diet?
I have the exact same routine when I wake up in the morning. First, I check my emails to see if clients have been in touch over night or any companies with regards to sponsorship. Next, I check Instagram to see how many likes the photo from the night before finished up on. Finally I'll check Snapchat and reply to a few questions I will have received over night.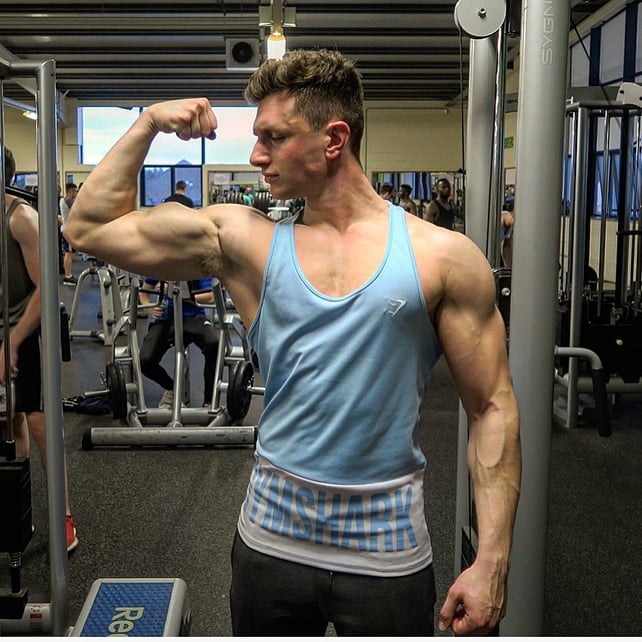 Name three people you respect in the industry.
There are so many people i look up to and respect in the fitness industry but there are three that really stand out for me.
First, Rob Lipsett for everything he has done in the Irish fitness industry. He was the first real Irish fitness YouTube celebrity and is a great role model for young people and a great all round guy in person.
My single biggest inspiration and person I respect the most is Steve Cook. Steve is arguably the most well known fitness celebrity and such a down to earth and genuine person who has achieved incredible success through fitness.
Last but by no means least is Christian Guzman. What Christian has done in a couple of years is nothing short of incredible and extremely motivating to someone like myself. To have built a clothing company that is now in the top two biggest fitness clothing companies globally in just two years and at the age of 23 is mind blowing.
If I could emulate even a fraction of the success and influence that these three guys have had, I'll have done something right.
Proudest post? Finest moment to date?
This one is easy as it's something very recent. Rob Lipsett recently subscribed to my YouTube channel and told me to keep up the good work. That was a really big deal for me as I knew one of my inspirations was watching my content.
What is your attitude to well-being, mentally and physically?
Well-being is something that shouldn't be taken lightly by people today. I think the two are very much interlinked. If you have a happy body you will have a happy mind and vice versa. So, start something today that makes you happy. Something you've been putting off or worried about starting, just go and start it. You'll feel better for it.
How has your life changed since you started your blog/brand?
My life hasn't changed that drastically since the introduction of 'cullenfitness'. I get recognised in gyms a little bit more and even sometimes out and about in town I have people asking to take a picture with me, I don't think that will ever feel normal as to me, I'm just a normal 20-year-old.
Whats your favourite and least favourite thing about fitness and fitness trends on social media?
My favourite thing about fitness and fitness trends on social media is the platform it has provided for people like me to reach thousands of people through our phones. In general, the fitness community is very nice and supportive.
Something I'm not a fan a fan of is the amount of misinformation that people are fed through mainstream media. People looking to turn a quick profit promising that you'll look like x or y if you do this or that. Unfortunately it doesn't work like that. There is no magic formula or "quick fix" for fitness. It takes time and effort and this level of misinformation does annoy me.
Tell us a secret - something we should know about you?
I used to be obsessed with playing the guitar and singing and wanted to be Noel Gallagher from Oasis. I also did stage school for three years when I was younger and attribute that to my ability to talk to a camera.
What's the one thing you want people to learn from your work?
If there's one thing that people can learn from me it's that you can change yourself for the better and all it takes is the correct mindset. I was an extremely skinny teenager and decided I didn't want to enter my adult life being known as the "lanky skinny guy" I joined the gym and four years later here I am, finding myself being presented with opportunities I never imagined and a platform to influence people's lives.
We need your consent to load this Instagram contentWe use Instagram to manage extra content that can set cookies on your device and collect data about your activity. Please review their details and accept them to load the content.Manage Preferences
Where can we find you online?
You can find me on Instagram, YouTube, Snapchat @ sean5cullen or contact me for coaching enquiries at seancullenfitness@gmail.com.
Want to feature in RTÉ LifeStyle's On the Blog series? Get in touch...We'd love to hear from you on Twitter, Instagram or Facebook or e: rtelifestyle@rte.ie