Speaking ahead of tonight's show, Katherine Lynch explained how viewers get to see all five Celebrity Operation Transformation leaders facing the scales for the first time donned in their flattering lycra for the first weigh in. Ray had a sneak preview clip to see if Katherine met her target of losing 4lbs in two weeks.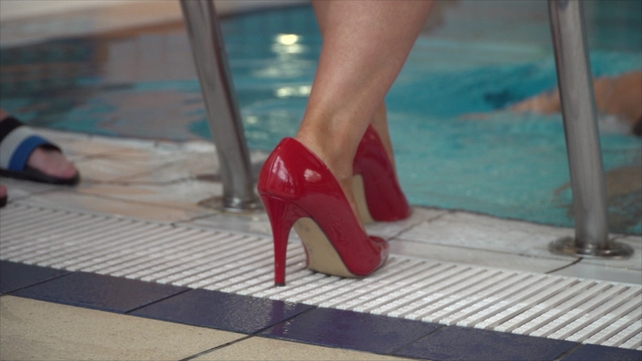 Watch a clip from the show below.
In the preview clip, Kathryn Thomas delivered the results, revealing that the comedienne had lost a total of eight and a half pounds in two weeks. It was obvious how thrilled (and shocked!) Lynch was with the result, something she could not hide in the studio with Ray.
"8 and a half pounds. My God, I lost a small baby...a big baby!" she beamed, "I must have been pregnant. Was it yours Ray?"
Joking aside, it was a phenomenal achievement which sets Celebrity Operation Transformation off to an amazing start. Ray asked if it was anything to do with her now healthier eating habits?
"It was sticking to the plan" Katherine agreed.
"It was having the breakfast in the morning. Back to old fashion eating. There's a small breakfast in the morning of like an egg and a slice of toast. Salad for your lunch. A dinner in the evening of meat and two veg. It's kind of old fashioned eating that we've forgotten about."
"That's what I've learned from it. Is that we've learned to eat more, and it's wrong" she added.
Read the starting weights for all five Celebrities here.
Listen to Katherine Lynch's full interview on the Ray D'Arcy show here, including how Leitrim's first set of traffic lights!
Dr Ciara Kelly then joined the conversation via phone to give listeners an idea of what to expect of the celebrities ahead of tonight's premiere. "Do you know what you're going to see? That they're just like you or me."
"It's great because they've got plenty of personality, they give just as good as they get...They're just as vulnerable as anyone else. Standing on the scales in your lycra, in basically your underwear, is not easy if you're a celebrity or a Joe Soap. It's very challenging, and very exposing."
A schneaky peek at tonight's show...
You can see how Katherine gets on in the first episode of Celebrity Transformation tonight at at 9.30pm on RTÉ One. RTÉ LifeStyle will be covering Celeb Operation Transformation. Make sure to follow us on Instagram, Twitter & Facebook to keep up to date!