Loads of us have kitchen gizmos and gadgets lurking in the press that we might not use as much as we should because we're not sure how to use them.
Chef Brian McDermott joined Today on Claire Bryne on RTÉ Radio 1 to share some of his favourite recipes using handy kitchen gadgets.
Rice Cooker
We've all suffered problems of too much rice, too sticky, too wet but this bit of tech eliminates all those problems. A rice cooker is almost fool proof and a consistent way to cook rice.
These machines takes up very little space as a day to day kitchen appliance and it uses less electricity that many others.
A rice cooker can also be used to cook many other items such as pasta, quinoa, lentils and even for stewing fruits.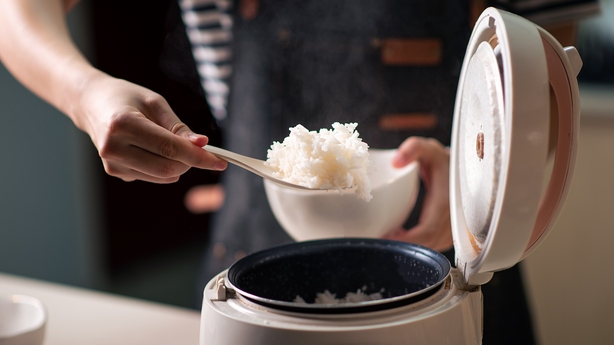 Top tips:
Wash your rice three times in cold water to remove some of the starch.
Brian uses short grain rice and likes to add flavour by adding two whole cloves, 1 bayleaf and a pinch of cinnamon.
The correct ratio of rice to water is equal quantities. This is different if cooking rice in a pot as more water is required in the ratio. In a pot, it is three times the water to the rice.
Serving:
Correct serving of rice is between 50-75g of rice per person
For a short grain rice you're talking about 18 - 20 minutes of cooking
You can get Brian's recipe for chorizo fried rice here - he says his girls are "getting" to love it. They were initially not too fond of the spicy element of the chorizo so he sometimes uses bacon instead.
It's really easy to add a bit of leftover roast chicken to this recipe too and it adds another flavour and level of taste.
Air Fryer
Air fryers have become hugely popular in recent years, but are they here to say? Absolutely, says Brian.
As well as being a faster method of cooking versus the domestic oven, it is also a lot healthier and safer than a deep-fat fryer.
He says that an air fryer is ideal for a two to three person households, but it's not ideal for bigger families. Realistically, you'd be cooking in batches with it if you have three or four kids. However, that may work if they are coming and going to different afterschool activities.
The most important thing to remember when using an air fryer is to add some variety to your recipes. If you only use it for frozen chips, why not try one of Brian's delicious dishes?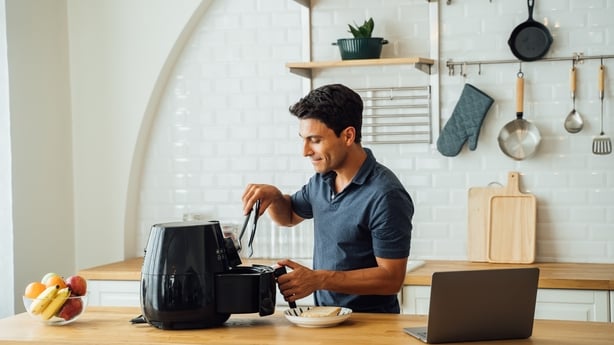 Top tip:
Put four pieces of chicken in to maximise space and get the most out of it.
You can let that chicken go cold if you don't need all four and then you have delicious flavoured chicken that you made yourself for sandwiches or salads later in the week.
Hake is a fish that needs the correct amount of cooking so timing is crucial
With his recipe you are adding acidity to it with the lemon. Adding in the tomatoes and onions helps to spread the heat around so it's not all focused on the fish and overcooking it.
When we talk about cooking fish in a basket we're talking about papillote cooking which is a French way to ensure the fish stays delicious.
You can get the recipe for Brian's lemon, thyme and pepper chicken breast recipe here and his healthy hake with lemon recipe here.
Pressure Cooker
Is this retro product worth considering as a kitchen gadget in 2022?
Well, after leaving his cooker to sit in a cupboard for six years, Brian finally found a great use for it following some great advice from an Indian chef who told him how to use it for authentic curry recipes.
For those kind of curries that in India would be on cooking for six or seven hours you can get that depth of flavour with a pressure cooker in less than an hour.
Brian says that the seal and vacuum on these machines can make them tricky, and they do take a bit of getting used to, but the benefit is that they retain the majority of nutrients in food while cooking.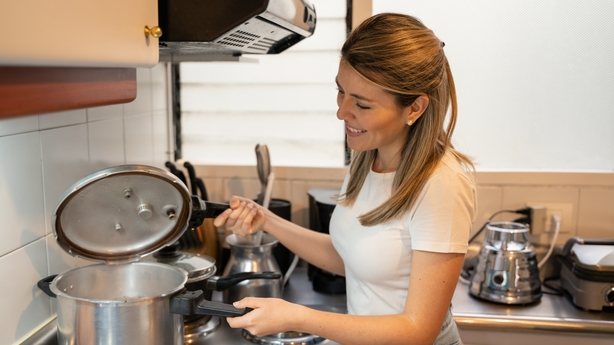 Top Tips:
Once you've closed your pressure cooker, you cannot open it again to add anything in.
A great machine for economical foods like dried beans or black beans.
Lean meats can go in a pressure cooker while tougher meats need to be cooked in a slow cooker.
There are only two cooking stages: base cooking which is browning. Then the inclusion of all the ingredients.
Use low cost diced beef for this recipe. The wet environment is working to tenderise the beef and keep the flavour in.
Get the recipe for Brian's easy beef curry here.
Food Processor
How many of us are really getting the most out of our food processors?
Recently Brian was gifted some locally-grown cucumbers and he decided to get creative. He used the slicing attachment to quickly slice all the veg and then he made a pickle out of it. This means he'll be eating Irish homegrown cucumbers in December and January.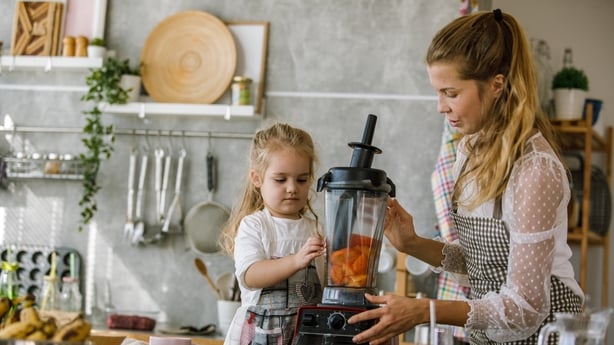 And a family favourite that many of us buy ready made in the supermarket is hummus. However, Brian says we can easily make our own at home with a food processor. It should be noted that it will only stay fresh for five or six days.
Get the recipe for Brian McDermott's homemade pickles here and his recipe for homemade hummus here.
Bread Maker
We know that during the pandemic the nation embraced bread making, but is a bread maker the way to go moving forward?
According to Brian, bread making is a great craft tradition passed on through generations and without the notion of a bread maker. He didn't have one, his mother didn't have one and his grandmother didn't have one.
Instead, he's making the case for quick and easy pan bread which will use very little energy and cut your costs because you're not turning the oven on but it's made on the hob.
Top Tip:
Store in an airtight container. Toast a slice for warm breakfast option with poached eggs.
Get Brian's recipe for a lovely bacon and cheese griddle soda bread here.
Microwave
We know that using the microwave to cook is much more energy efficient than the hob or the oven, but should we be using it to cook our meals?
For Brian, a microwave is for reheating foods and rarely does he use it to cook. He will pop his porridge in there as it's a one portion for three minute. That's about it.
He is a believer in building layers of flavour when cooking and having all the sensory delight that comes with that filling the kitchen with great smells.
His microwave never tends to smell great so he keeps it for reheating already prepared and cooked foods if required.