How much did you pay for your last meal out? And did the dish include a mix of cutlet, sausage, kidney, bacon and egg?
A recent post from Lonely Planet writer Fionn Davenport has got Irish Twitter talking. The tweet features a photo of a menu from Dublin's Gresham Hotel from 1972, listing some interesting meals and jaw-dropping prices.
Friend sent me the Gresham Hotel restaurant menu from 1972. I'll have the prawn cocktail, followed by the Gresham Grill (cutlet, sausage, kidney, bacon and egg) and then the sherry trifle. Total: £1.27 plus tip. pic.twitter.com/WOh56CcNIl

— Fionn Davenport (@fionndavenport) August 24, 2021
Fionn joined Cormac Ó hEadhra on Drivetime on RTÉ Radio 1 to discuss the menu in detail. And although the items on offer give an interesting peek into the nation's eating habits at the time (best of luck to any vegetarians in the 70s), it was the prices that caught Cormac's eye.
According to the menu, a cheese omelette in one of the capital's finest establishments would set you back 35p while a schnitzel of veal would take 98p from your pocket.
Using the CSO inflation calculator, Fionn determined that "a pound in 1972 is worth €14 in 2020". You can test out your math skills by having a look at the menu in detail below...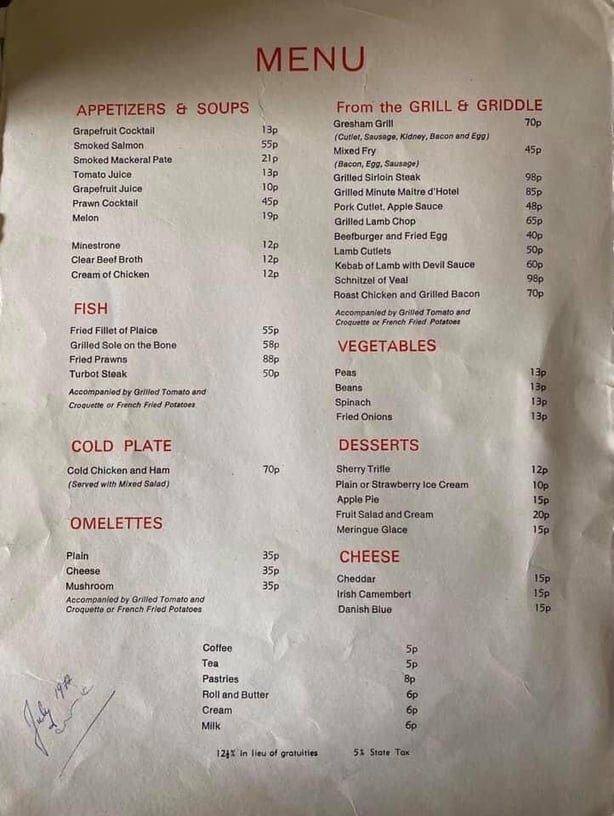 Unsurprisingly, the hotel's prices have changed a little in the past 49 years. In 1972 a beef burger and fried egg cost 40p, while today's Gresham's beef burger with smokey bacon, cheddar cheese and fries comes in at €13.95
Before you start longing for days gone by, though, Fionn reminds listeners that the quality of food has changed over time too:
"It's worth pointing out that the coffee of 1972 is not the coffee that we might know today," he explains. "In fact, I would wager any amount of money that it was a spoonful of Maxwell House or Nescafé stirred into a cup, add water from the kettle, and that's your cup of coffee."
"1972 is an interesting time in Irish culinary history, it is the dark ages seen from the view of the 90s and afterwards," he laughs. "The vast majority of Irish people would never have eaten in a restaurant or they may have done for a special occasion - for a communion or a really important birthday."
"The menu reflects a time when restaurant dining was not common place, but it's also an indicator of how conservative Irish culinary tastes were," he continues.
This little slice of food history set Twitter ablaze with memories of days gone by, the Irish diet, and obscure 70s starters. You check out some of the best tweets below:
I remember the fruit juice on the starter menu. So bizarre.

— 🥃Donald Clarke📽 (@DonaldClarke63) August 24, 2021
In 1972, my dad's was paid £17 per week. He was married with 3 children paying a mortgage. The Gresham would have been so far beyond his reach.

— Gráinne Ní Mhurchú (@grmuro) August 24, 2021
The beef burger with the fried egg is interesting. No mention of a bun. Or cheese. You'd have to ask specially now for fried onions too. Was the egg on top of or beside the burger?

— grandstretch (@fattybumbum65) August 25, 2021
Wow, Irish Camembert in 1972! Wonder who was making that, even Milleens and Coolea had not yet come into existence. @irishcheese @Culinaryireland https://t.co/JGWE2vhuDo

— Sheridans (@SheridansCheese) August 26, 2021
That was the palate of the Irish person at the time. Spuds and roast meat and green veg. It's hard for anyone under 50 now to understand how unvaried our diet was. Things have changed for sure.

— grandstretch (@fattybumbum65) August 25, 2021
Why have we abandoned kidneys? That's the only question that needs answering.

— allovernow (@allovernow2010) August 24, 2021
So posh they were calling chips French fried potatoes in 1972!! And don't be fooled by the grapefruit cocktail- half a grapefruit with a glacé cherry on top.

— JJ Kelly (@jjk65) August 24, 2021
Herself asked the important question, does anyone know what portion sizes were like back then? In many Irish (un-posh) restaurants today the plate is stacked high & some of us can't finish & leads to a lot of waste!!! https://t.co/2EUtDEo4Xz

— Dr Conor Reidy (@ReidyConor) August 26, 2021
Fascinating... A peep back in time. Vegetarian options a bit thin on the ground, mind you... https://t.co/9AaFH4dVvp

— Michelle Winthrop (@M_Winthrop) August 25, 2021
Fionn Davenport joined Drivetime on Wednesday afternoon to discuss the menu further. Listen back here at the 28 minute mark.